This hummus recipe is like nothing you've made before! It is packed full of plant-based protein, healthy fats, and nourishing spices. The bright yellow hue and bright flavors are perfect for the summer season, and it contains superfood ingredients that help fight inflammation in the body. Once you try this, you'll never buy hummus from the store again!
Why is hummus considered so healthy?
Hummus is made with some superstar ingredients and is a healthy part of your everyday diet. The main component is chickpeas, which are a type of legume. Also called garbanzo beans, they are a powerful protein source for vegans that is eco-friendly, readily available, affordable, and versatile.
Eating chickpeas is tied to improved gut health, and protection against heart disease, type 2 diabetes, and certain cancers. For another way to enjoy these tasty beans, try our Indian-Spiced Sauteed Coconut Kale with Chickpeas recipe.
Extra Virgin olive oil is also a key ingredient in hummus, contributing to its creamy texture and flavor. This traditional oil from the Mediterranean has been a dietary staple for some of the world's healthiest populations.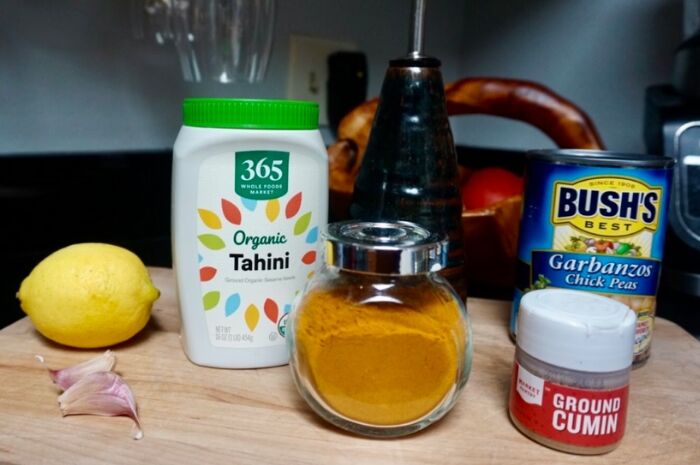 Because it is fresh-pressed, EVOO retains all the nutrients and antioxidants from the olive fruit. It is also rich in healthy monounsaturated fats, which help to lower bad cholesterol in the bloodstream.
More about Turmeric
This spice has been used in Ayurvedic medicine for thousands of years to heal a variety of ailments. It contains curcumin, a strong antioxidant that is antimicrobial and anti-inflammatory.
This compound can heal the gut, improve digestion, and even has cancer fighting properties. When mixed with black pepper, the medicinal compounds in turmeric become activated and are able to be absorbed and used by the body.
The Power of Garlic
There is more to garlic than meets the eye. Besides being a delicious, natural seasoning, this allium has some amazing health benefits. When crushed or chopped, garlic produces a compound called allicin.
This enzyme has been found to reduce inflammation, and offers antioxidant benefits. Research shows that crushing garlic before cooking allows more of this compound to be produced before the enzyme is inactivated by heat.
If you're interested in more vegan dips and sauces, check these out!
Help support Assuaged and SAVE on great vegan organic products with Thrive! 🌱
If you make any variations or have any suggestions on how to make this amazing recipe even tastier we'd love to hear for you on the comments below! Feel free to share how you used your hummus dip in the comments below and even share your own recipes with the Assuaged community on our ➡️Share Your Recipe⬅️ page!