Are you craving something sweet but don't want to consume processed sugars and artificial sweeteners? Want a simple yet tasty dessert that is easy to make and won't leave you feeling guilty? Healthy doesn't have to mean bland, and these vegan, gluten-free chocolate chip cookies are a prime example of how clean ingredients can be blended for a delicious taste! These little treats are gluten-friendly and dairy-free, and can be enjoyed by most even with food sensitivities, in moderation, of course!
What's In Vegan Gluten-Free Chocolate Chip Cookies?
The base of this cookie recipe is almond flour and arrowroot flour. Both flours are great gluten-free alternatives to traditional wheat flour and carry different nutritional boosts and baking benefits.

Almond flour is made from ground almonds boiled and peeled of their outer skin. It is generally lower in carbs and has a notably sweeter taste. This flour is also better suited for those with type two diabetes due to its potential to decrease bad cholesterol (LDL) and increase good cholesterol (HDL) in the body.
Besides the almond flour, all you need to make these tasty little treats are:
Arrowroot starch

Himalayan pink salt

Baking soda

Vanilla extract

Pure maple syrup

Coconut oil

Dairy-free chocolate chunks
What Alternatives Can I Use For Gluten-Free Cookies?
These cookies are highly customizable to your liking or dietary needs/restrictions. Here are some of the ways we like to add a twist to this recipe:
Try different flour blends, like coconut, oat, or brown rice flour

Add 1-2 tbsp of dairy-free milk if the dough is too dry

Bob's Red Mill 1-to-1 Gluten-Free Flour Blend

Cacao nibs instead of dairy-free chocolate chunks

1/2 cup of coconut sugar in place of maple syrup

Try butter-flavored coconut oil for a richer flavor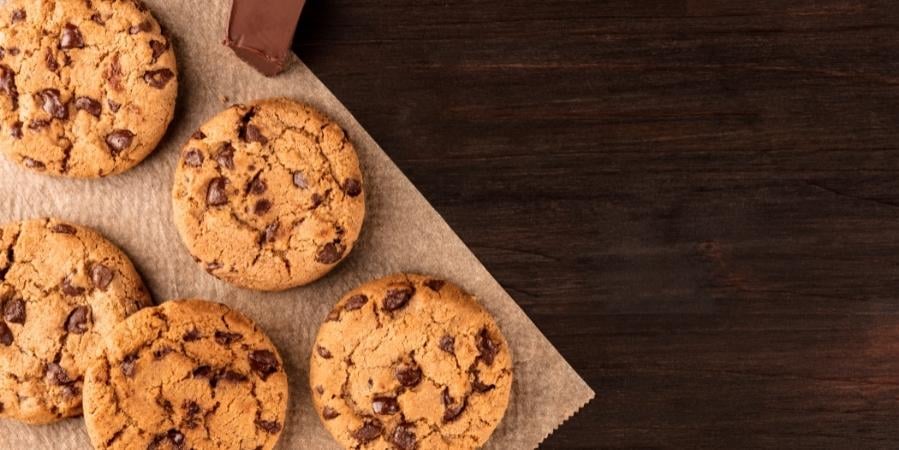 Looking for more amazing dairy- and gluten-free desserts? Here are some plant-based treats to try:
If you enjoyed making this recipe, please feel free to try some of our other recipes on our website!