This quick and tasty Chocolate Superfood Banana Nice Cream recipe is a healthy dairy-free alternative to everyone's favorite summer treat it's literally frozen bananas, a dash of dairy-free milk and you've basically got healthy ice cream alternative free of lactose!
Perfect for the summer months, this super simple homemade ice cream calls for frozen bananas as the main base, this gives the rich and creamy texture which is open to endless customizations.
Make it for yourself, make it for friends to cool off and feel good! This alternative approach is rich in minerals and fiber and is the perfect treat to beat the heat without the excess calories from fat and added sugars.

What Are Superfoods?
Superfoods are nutrient-dense foods packed with compounds such as antioxidants, fiber, fatty acids, vitamins, and minerals that support overall health and reduce the risk of diseases.
This Recipe Includes A Combination Of Superfoods!
Bananas-

Naturally sweet so additional sweeteners are optional and bananas are known for their rich source of potassium, fiber, antioxidants, as well as other vitamins and minerals.

Raw Cocoa Powder-

A rich source of magnesium and antioxidants and sufficient amounts of other minerals such as calcium, iron, zinc, and potassium.

Pea Protein Powder-

Protein extracted from yellow peas containing all nine amino acids and also a rich source of iron.
How to Make Chocolate Banana Nice Cream
Prepping for this recipe is close to effortless, simply peel slightly overripe bananas, cut it into bite-sized pieces, and then place them in the freezer for a few hours.
Frozen bananas can be kept in the freezer for up to 2-3 months under the proper conditions! This great perk leaves a ton of room for personalized creativity and a fresh smooth batch of nice cream is ready to eat in a matter of minutes!
When all the ingredients are prepped all you have to do is:
Place ingredients in the blender, add a splash of dairy-free milk of your choice, then blend until it's the consistency of soft serve.
Eat the creamy treat!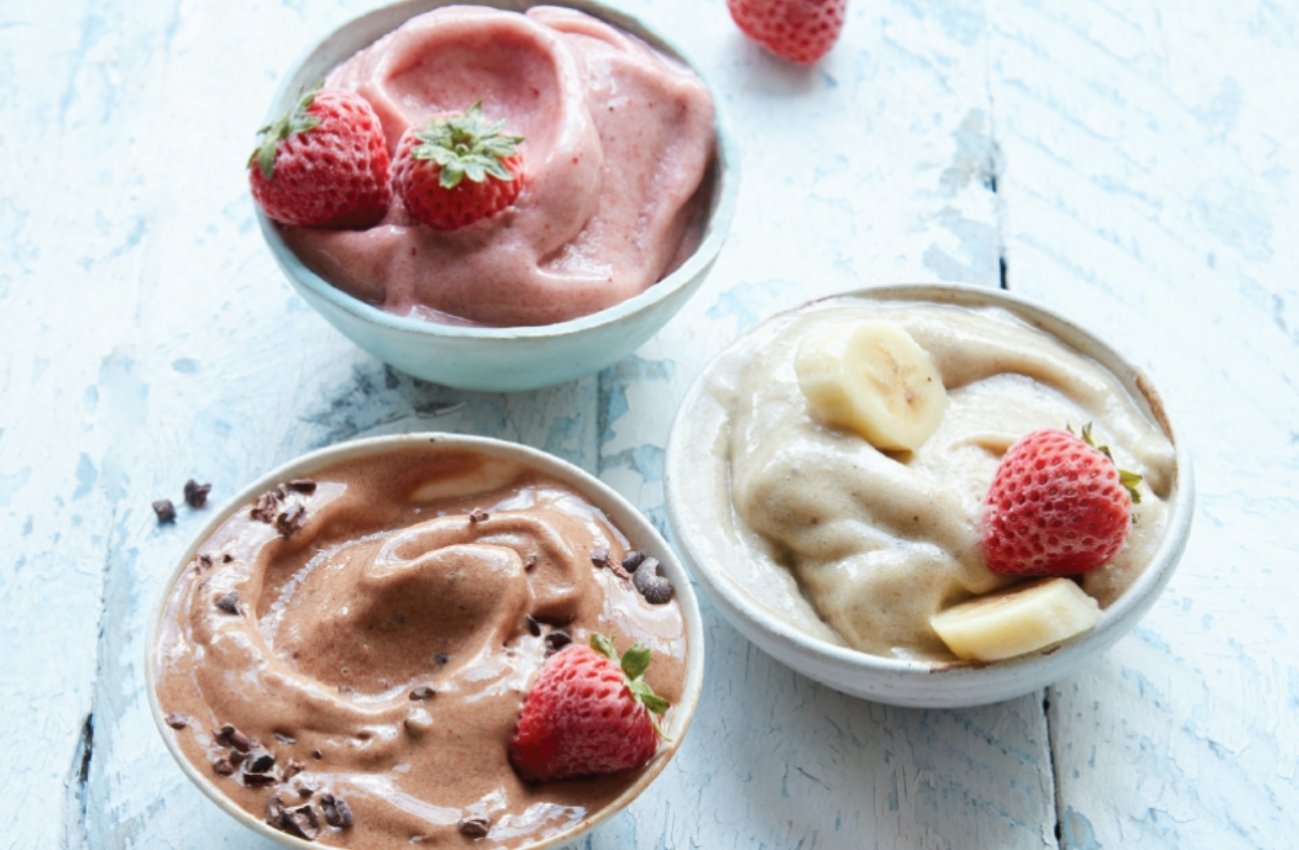 For Strawberry Nice Cream:
2 frozen bananas
1 cup frozen strawberries
1tsp vanilla pea protein powder
Splash of dairy-free milk
For Vanilla Nice Cream:
3 frozen bananas,
2 tsp vanilla extract
1tbsp vanilla pea protein powder
Splash of dairy-free milk
If You Want More Dairy-Free Dessert Recipes Check Out These Nutritious Vegan Recipes!