After returning from my holiday, I am craving something healthy that would get me back on track. You know how it goes with family holidays, you constantly snack together, enjoy ice-creams and sorbets and so on. While I love to enjoy these moments with my family with everything that comes with it, I always realize how much our bodies benefit from eating healthy and wholesome foods.
When it comes to my gut health, beetroot is one of my favorite ingredients. This easy and nutritious smoothie will boost you with fiber and restart your digestion! It is not overly sweet like most of the smoothie recipes, and it contains proper nutrients that will fuel your body!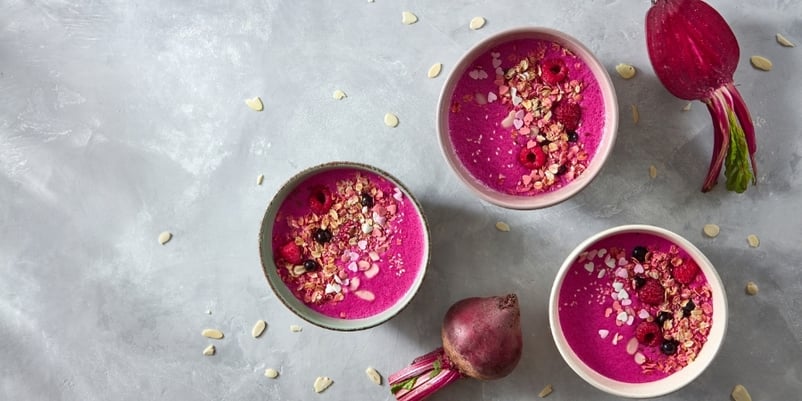 Why is Beetroot Great For You?
Beetroot is packed with micronutrients like vitamins and minerals essential for many metabolic processes in our body and help fight inflammation. Apart from that, beets are packed with dietary fiber that promotes healthy digestions and bowel movement, which is why I love to include it in my diet- especially after a week of a holiday!
How to Make Your Smoothie More Nutritious?


Smoothies are a popular healthy snack, but they are just packed with sugar most of the time. The fruit is a great source of vitamins, but it is also a source of sugar. It is important to balance all the nutrients in your meals. I like to add vegan protein and avocado or seeds for healthy fats and fiber to achieve this. Your smoothies will be more nutritious and will fill you up for longer.


Want to Try Some Other Summery & Refreshing Sugar-Free Recipes?
SAVE on great vegan organic products, meal plans, and more delivered to your front door from Thrive! 🌱 Help support Assuaged and a family or veteran in need by joining today!
Have any favorite healthy smoothies or wellness elixirs? We'd love to hear from you! Feel free to comment below and let us know how you make this recipe your own! You can even share your inspired creations with us on our ➡️ Share A Recipe ⬅️ Page!