Want to impress your weekend guests? Show your mother-in-law you're truly a whiz in the kitchen? Try making homemade yogurt! With so many options of milk alternatives, you're sure to find the right mix that fits you and your family's needs.
Never has making homemade yogurt been so easy. With four main ingredients and dozens of combinations, you're able to get creative in the kitchen with absolutely delicious results!
Don't have an official yogurt maker? No worries! This recipe can be made in a crockpot, dehydrator, or even an instant pot!
What's in vegan yogurt?
Vegan yogurt can be made of several different nuts, coconut, or soy. These milk alternatives are combined with probiotics and a thickening agent, resulting in a creamy, smooth, and delicious healthy treat.
Here's what we used in this recipe:
4 cups coconut milk
2 tbsp xanthan gum
2 capsules of probiotics
1 tbsp maple syrup
Here are some variations of the essential ingredients for your vegan yogurt recipe:
Non-dairy milk

Coconut, almond, cashew, and soy milk are most commonly used as plant-based alternatives in yogurt recipes.

Thickener

For this recipe, xanthan gum will be used, but other thickeners such as tapioca flour, agar-agar, kudzu root powder, or arrowroot powder may be used instead.

If you choose to use tapioca flour, kudzu root powder, or arrowroot powder, the thickener will need to be added to cold milk and whisked to prevent clumps and thicken appropriately. Other thickeners such as xanthan gum and agar can be mixed directly into the warm milk.

Probiotics

Probiotics contain healthy bacteria that thicken milk and give yogurt it's zippy flavor. They can be found in different forms including powder, capsules, or even in a yogurt starter kit.
There isn't necessarily a "best choice," just your preference. This recipe uses capsules, but many others have had success with other forms of probiotics.

Sweetener

Natural sweeteners are an important energy source for bacteria as they culture the yogurt. Here, you can also alter your choice based on taste preference. Popular options are maple syrup, coconut sugar, or monk fruit. The possibilities are endless!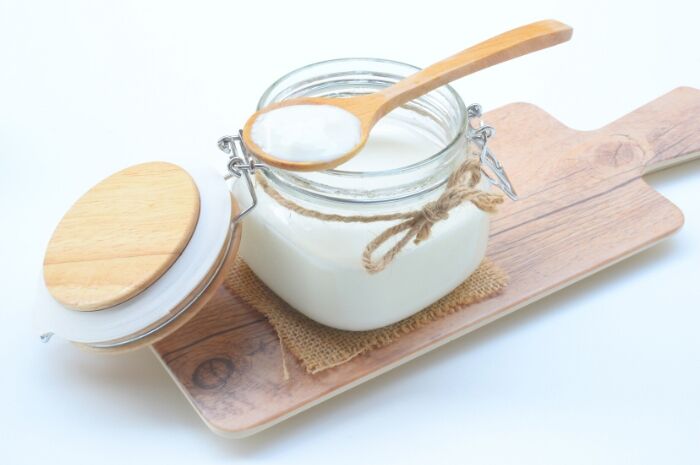 Plant-Based is Great, and Homemade is Better - Top 4 popular alternative milk choices for vegan yogurt to try at home:
Which non-dairy milk alternative is best?
Which alternative you use is completely up to you. Use your favorite nut milk such as almond, coconut, or cashew, soy milk if you're a soy lover, or even oat milk if you prefer.
If you desire to have a thicker and creamier yogurt, coconut milk is the best option. Just be sure to use the unsweetened one, or you may be enjoying an overly sweet treat!
How long does homemade vegan yogurt last?
Be sure to sterilize jars ahead of time by either running them through the dishwasher or boiling them in water!
Homemade yogurt can last up to 10 days in the refrigerator unopened. It should be eaten within 4-5 days of opening. With its delicious creamy taste and smooth texture, it's almost a guarantee it'll be enjoyed before then.
Looking for more dairy vegan-friendly alternatives? Check out some of these delicious recipes!
Help support Assuaged and SAVE on great vegan organic products and more with Thrive! 🌱


Have any ideas on how to make it even more delicious? Tell us! Here at Assuaged, we love hearing about how you spice things up in the kitchen! Feel free to comment below and let us know what you think of this recipe! We encourage you to have fun, be creative, and let your taste buds do the partying!You can share an inspired creation with the Assuaged community on our ➡️Share A Recipe Page⬅️!