Yes, it's true. Blondes do have more fun and this blondie will take your taste buds on a whole new adventure. It's decadence will even make you do a double-take on it's name.
All the chocolate and peanut butter goodness while still being vegan too, cue the singing choir please. Vegan Fudgy Peanut Butter Blondies are the newest way to anyone's heart, guilt free.

How to Make A Vegan Peanut Butter Blondie
These fudgy peanut butter blondies have a secret ingredient in them - chickpeas! Lucky for us, you can't even taste them. Once mixed together with the peanut butter, vanilla extract, and chocolate chips it's like magic. It all just becomes this sweet, gooey batter made with no refined sugar.
They're great for a midday snack or even better, a late night dessert rendezvous. Top it off with your favorite scoop of ice cream and call it a day! These blondies taste good fresh out of the oven or even the next day. They're a little softer than the average blondie but they make up for it in taste.
How Do I Know My Blondie Is Ready to Eat?
More often than not, a toothpick is our best friend in the baking world to check if we can eat our homemade goods. With vegan blondies, a toothpick is not our best friend as vegan blondies are going to be gooey.
You want to pull your blondies out of the oven when they're golden around the edges but make sure to pull them out anywhere between 15-20 minutes. Once you remove them from the oven, they'll continue to bake while cooling off. After they're cooled off, you're free to dig in.
What's the Difference Between a Brownie and a Blondie?
A blondie, short for a blonde brownie is a sweet dessert bar similar to a brownie. Texture wise, they're about the same but blondies are lighter and depending on what you add to the recipe can be a little sweeter.
What really differentiates the two are that blondies do not have cocoa powder added to them. Instead, the cocoa powder is substituted with vanilla and brown sugar for flavor. They are rarely ever frosted as the brown sugar can give the bar a butterscotch taste.
Secrets to An Even Healthier Blondie
While this blondie is already a top choice for healthy desserts, here's a couple more ways to step up your treat.
You can add strawberries and top with some vanilla yoghurt, or an extra bit of peanut butter.

If you want it to be gluten-free, substitute the all-purpose flour with gluten-free flour.

Maca powder (a Peruvian Maca root) can be added to the recipe to help support the body's ability to adapt to stress, boost your mood and improve vitality and stamina.

Substitute your regular peanut butter with all natural almond or cashew butter.

Sprinkle a little Himalayan sea salt on to bring out the natural sweetness of dark chocolate.
Want more vegan delicacies? Here's more mouth-watering desserts to try!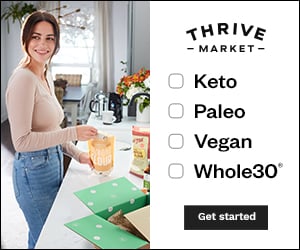 Help support Assuaged and SAVE on great vegan organic products and more at Thrive!

Did Conor's blondies turn you into a believer? Let us know your recipe outcome in the comment section below. You can even share your own plant-based recipes with the Assuaged community on our ➡️Share A Recipe⬅️ page!