Who doesn't love a dip and nibble with friends? Super easy to make, these three-coloured, flavoured hummus and veggie sticks are fun to look at, tasty to eat and great for sharing. The additional flavours like basil really adds an edge and I sometimes garnish with edible flowers for a little wow factor.
Tired of plain old hummus? Well, this vibrant twist on traditional hummus is a perfect alternative. Just pair with veggies, pita chips, veggie wraps, or grain bowls and you will never look at regular hummus the same.
How Healthy Is Homemade Hummus?
Homemade hummus is great for you, especially since it lacks the added preservatives of store bought hummus. Plus, the main ingredient, chickpeas are high in iron and protein making them a perfectly sustainable, healthy, and affordable alternative for vegans.
Tahini, another ingredient in hummus is considered to have more protein and iron than milk and most nuts. It is also rich in vitamin B, which boosts energy and brain function, as well as vitamin E, which is protective against heart disease.
How Do you Make Hummus From Scratch?
The recipe suggests using canned chickpeas, which is the easiest method; however, it can also be made using raw chickpeas or even chickpea flour!
For uncooked chickpeas, place them in a container submerged in water. Let them soak overnight. Next, drain and rinse chickpeas and add to a pot. Bring to a boil and simmer for 45 minutes to an hour or until chickpeas are tender. Once cooked they are ready to be blended. For reference, 1 cup of uncooked chickpeas makes 2 cups of cooked chickpeas.
Another great alternative to canned chickpeas is chickpea flour. Simply boil about 2 ½ cups of water with ¾ cup of chickpea flour. Stir constantly for 1 minute at medium to high heat and again for 5 minutes at medium to low heat. Let it cool and allow for a paste to form. Combine chickpea paste with other ingredients to be blended.
Store homemade hummus for up to 5 days in the fridge!
Health benefits of Basil:
Basil has various medicinal benefits making it an excellent herb to implement into recipes.
Basil contains antioxidants which fight disease
Acts as a natural anti-inflammatory
Supports liver function and helps detoxify the body
Facilitates optimal digestion
If you don't typically include basil in your diet, consider using basil essential oil as it provides additional medicinal benefits!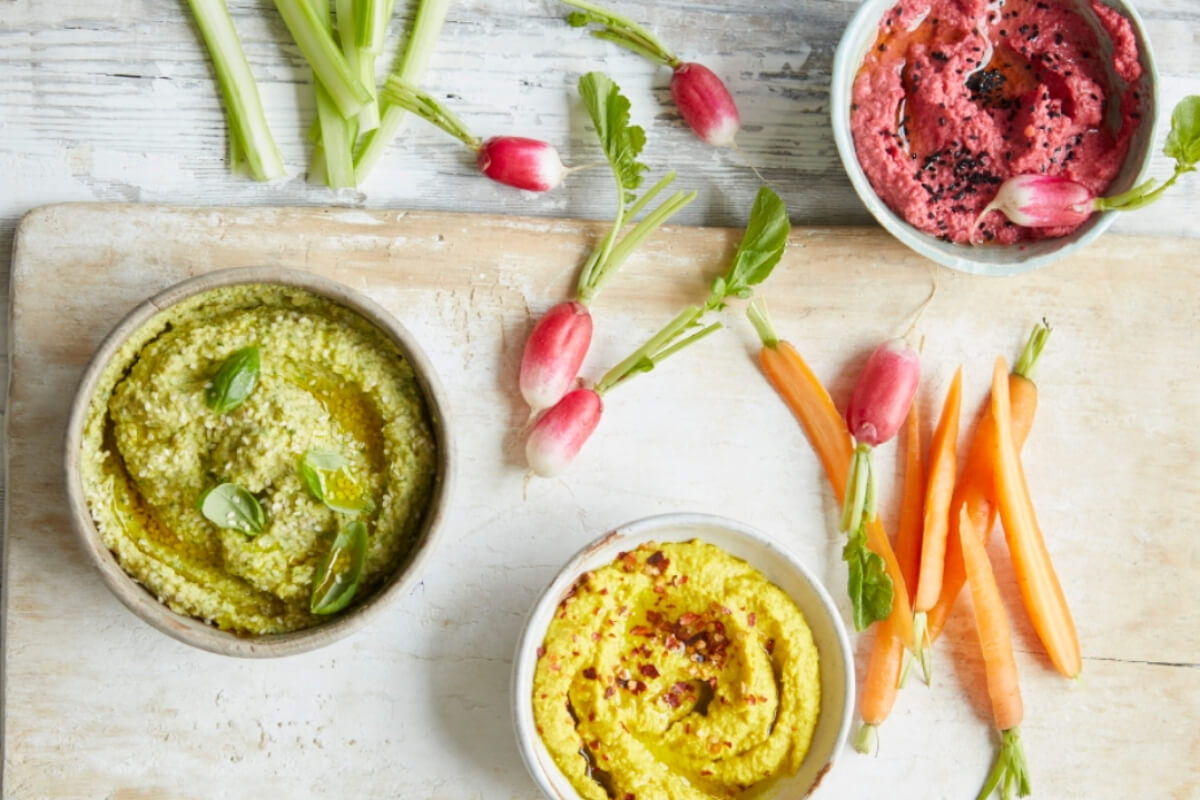 If you're interested in other vegan dips and sauces, be sure to check these out!
SAVE on great vegan organic products, meal plans, and more delivered to your front door from Thrive! 🌱 Help support Assuaged and a family or veteran in need by joining today!
Let us know how you serve up this tasty hummus recipe created by the inspiring Camille Knowles from the Beauty of Eczema, or if you make any variations to it in the comments below! If you have a plant -based recipe of your own you'd like to share with the Assuaged community, check out our ➡️Share A Recipe⬅️ page!