Beetroot is such an amazing vegetable! Not only it is super healthy but you can use it in so many ways whether it comes to vegan burgers, juices and smoothies or just having it on its own. This healthy rainbow salad with beets, sweet potato and hummus is my go-to meal every summer and I have it at least once a week. It is packed with micronutrients, fibre and tastes absolutely delicious!
How to Prepare Your Beetroot and Potato

The easiest way to prepare your beetroot and sweet potato is to roast them in the oven. Once you peel the beetroot and thoroughly wash the sweet potato, cut them into little cubes and evenly place on the baking tray.
Drizzle with olive oil and you are ready to go. I prefer to roast my beetroots because you don't ''loose'' the earthy flavour and beautiful deep colour as you do in the boiling process.

Another advantage is that you can enhance the flavour by adding spices. With this recipe, the combination of cumin and cinnamon works really well but don't be afraid to try other spice combinations you like.
Beetroots Are Full of Micronutrients:
Apart from containing Vitamin C and A, they are also a great source of potassium and magnesium. They have been shown to lower the blood pressure and the high content of fibre aids our digestion and regularity which is essential for gut health.
How to Jazz up Your Salad?
I love salads because they are super flexible. You can add any of your favourite veggies, but let's be honest, sometimes it can be quite boring! Try out some of these great additions!

Add toppings with different textures and flavours. I usually go for either sun-dried tomatoes, olives or vegan feta and combine with crunchy croutons or toasted nuts and seeds

Use dressing, guacamole or hummus. My personal favourite to go with this rainbow salad is beetroot hummus. It is so quick and easy to make!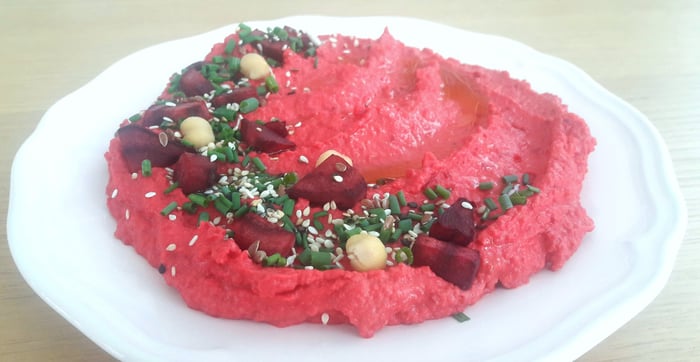 Vibrant Homemade Beetroot Hummus Dip Ingredients:
1 can of chickpeas

1 medium beetroot, diced and baked

1 tsp cumin

3 tbsp of olive oil

3 tbsp of tahini

1 lemon

3 tbsp of water

Salt to taste
Simply mix all the ingredients in a blender or food processor. Season with salt and it's done! You can store it in the fridge in a glass container for another 3-5 days. Alternatively, try our turmeric hummus recipe!
Looking for other light and refreshing meals for summer? Check out these recipes:
Help support Assuaged and SAVE on great vegan organic products and more with Thrive!
Let us know what your favorite hummus flavor or other great salad additions in the links below! Please feel free to share any delicious recipes you have with the Assuaged community on our ➡️Share A Recipe⬅️ page! We would love to hear about your yummy creations!