This recipe is a healthy Southwest twist on a classic pasta dish! The vegetables give this dish its vibrant colors and are a crisp and refreshing way to enjoy zucchini in the summer!
Not only is this dish packed with nutrients but it is also a great gluten-free substitute for your favorite pasta dish! The cilantro pesto gives the zoodles the perfect creamy texture while also keeping the dish light. But don't let that fool you, this dish is also very filling!
What are zoodles?
Simply put, zoodles are the zucchini version of the classic pasta noodle. Replacing traditional noodles with zoodles in your favorite dishes offer as a great gluten and grain-free alternative!
Are zoodles healthier than traditional pasta?
Yes! Not only are zoodles low in calories and carbs but they also offer an abundance of nutrients. One cup of wheat spaghetti noodles contains 200 calories and 42 grams of carbs while one cup of zoodles contains 38 calories and 7 grams of carbs!
Zucchinis are packed with important micronutrients such as:
Vitamins K, C, B6,
Riboflavin
Folate
Magnesium
Potassium
Overall, zoodles are a great alternative to wheat noodles as they are nutrient-dense and low in carbs and calories!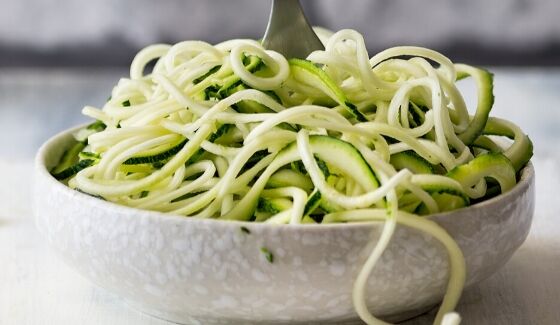 Do zoodles taste like noodles?
You may not expect zoodles to taste similar to traditional noodles but they do! Since zucchini doesn't have a strong flavor the zoodles take on the flavor of the ingredients and sauces you cook them with.
Looking for more gluten-free recipes to try? Check out the recipes below!
Help support Assuaged and SAVE on great vegan organic products and more with Thrive!
Let us know what your favorite sauce is to pair with zoodles in the links below! Please feel free to share any delicious recipes you have with us on our ➡️Share A Recipe⬅️ page! We would love to hear about your yummy creations!