A French classic from a vegan perspective
Bourguignon
Bourguignon is a rich French dish that is traditionally served with beef. Today, I am presenting you with a delicious vegan version that still carries the rich full flavors we expect from a wonderful French dish without any animal products. I have seen several tofu versions, but I personally prefer this recipe with an earthy variety of mushrooms.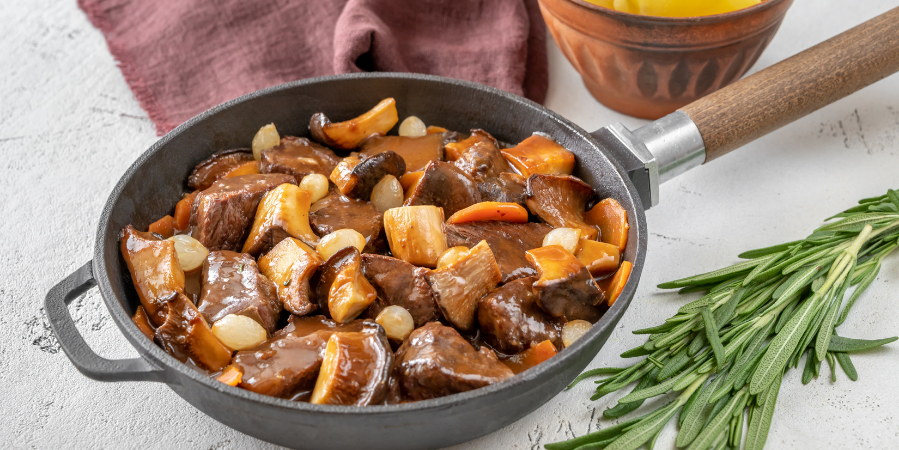 Dinner Party Delight
This is not a recipe I make very often. The rich, glossy sauce encases a mixture of mushrooms, carrots, celery, and onions to create a delectable treat that can be served with a variety of things from creamy mashed potatoes, noodles, rice, or even a cauliflower mash. It is certainly an excellent dish for special occasions and elegant dinner parties. With its heartiness, it is a great dish for a cold rainy day when you have a little bit of time. The hardest part is waiting to eat as the aromas fill the air. I hope that you enjoy it as much as we do!

The Stars of the Show
For this recipe, you will need a variety of mushrooms. There are several variety of mushrooms that can be used in cooking. This recipe uses a wonderful mix of earthy mushrooms for intense flavor. I love to use morels when they are in season. You can also use Portobello, creminis, white button, porcini, and any combination that may be your personal favorite based on availability.
Looking for more vegan cheese recipes? Check out the options below!


SAVE on great vegan organic products, meal plans, and more delivered to your front door from Thrive! 🌱 Help support Assuaged and a family or veteran in need by joining today!
Let us know how you dress up your favorite burger, and please send us a pic on the links below, we love to see your creative ideas! Also feel free to share any of your favorite recipes to make and share it with the Assuaged community on our ➡️ Share A Recipe ⬅️ page!