Whether you need to whip up some fancy dessert to offer your guests or just want to treat yourself with this chocolate caramel cake, this recipe is the one for you! It is easy to prepare and will definitely satisfy your sweet tooth. Please add your own chocolate frosting to the outer later if desired.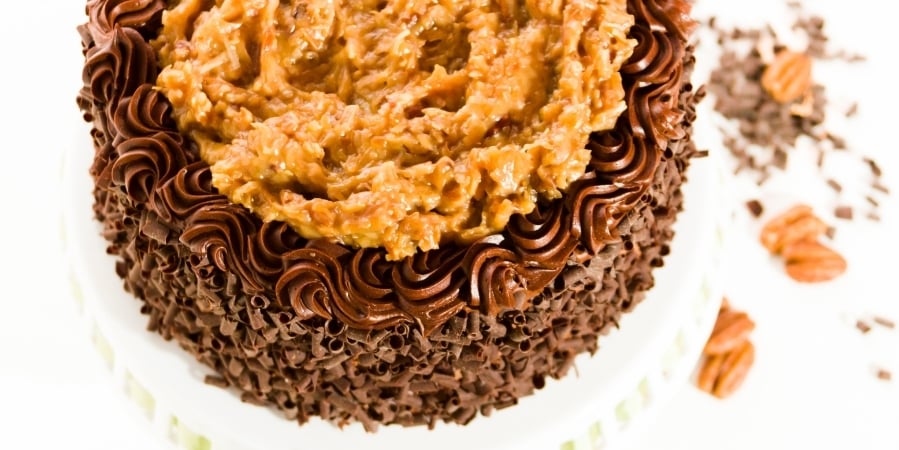 What is Vegan German Chocolate Pecan Cake Made Of?
This cake consists of all the traditional ingredients like flour, baking powder, milk, and some source of fat. To make it super chocolatey, I recommend using the best quality cacao powder you can get your hands on. To keep this cake vegan, we use coconut or almond milk and as a source of fat vegetable oil (or melted vegan butter). Instead of eggs, this recipe uses applesauce, which makes the cake lovely and moist.

The caramel sauce is made of coconut milk- it is lovely and creamy, and I guarantee you will come back for this one!
What Other Types of Sweets Can Vegans Eat?
If you're looking for other chocolatey vegan dessert ideas, try one of the following recipes! They are some of our favorites, and will totally satisfy your sweet tooth.
Check Out These Other Vegan Yummy Recipes!
Please be sure to leave a comment below if you try something new or would like to share any tips or recommendations, we can all benefit from each other's experiences! What great vegan dessert recipes are your favorite? You can also share your favorite recipes with the Assuaged community on our ➡️ Share A Recipe ⬅️ page!


Coconut-Caramel Filling Ingredients: