Choosing a vegan lifestyle doesn't mean having to give up your favorite comfort foods- including those sweet treats! Here's a vegan Eucalyptus Poached Pear with Pine Nut Granola that will satisfy that craving while still being your healthiest self.

This recipe utilizes foraged ingredients in the cuisine as the author Brad Roe, has had the pleasure of working at botanical gardens. He loves the health benefits of new and explored plants.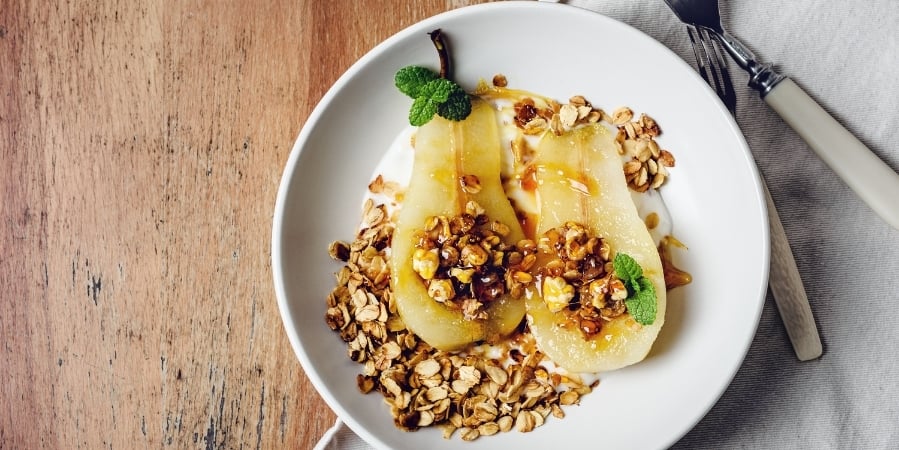 What Is Eucalyptus Poached Pear with Pine Nut Granola Made Of?
The Eucalyptus Poached Pear with Pine Nut Granola recipe contains simple ingredients such as Eucalyptus, Pear, Pine Nuts, and Granola!


What Are The Health Benefits of Poached Pear?
Pears are a healthy fruit, whether eaten raw or in poached form. In general, Pears can help improve digestive and gut health, because it adds fiber to your diet, which in return increases the nutritional value. Pears are a powerful fruit that offers antioxidants that may reduce oxidative stress.


Check Out These Other Vegan Yummy Recipes!
SAVE on great vegan organic products, meal plans, and more delivered to your front door from Thrive! 🌱 Help support Assuaged and a family or veteran in need by joining today!
Let us know how you dress up your favorite dessert, and please send us a pic on the links below, we love to see your creative ideas! Also feel free to share any of your favorite recipes to make and share it with the Assuaged community on our ➡️ Share A Recipe ⬅️ page!


Recipe below was made by Brad Roe.