This vegan egg salad recipe is a quick and easy-to-make solution for your lunch. The key to making this recipe seem like the authentic version is to bake the tofu beforehand with some turmeric and garlic powder, helping to give it firmness and texture similar to hard-boiled eggs.
Secrets To A Great Vegan Egg Salad
Using extra-firm or sprouted tofu instead of soft tofu helps to give it that authentic texture. However, to get the tofu to have perfect consistency, it should be pressed properly before being put in the oven to bake. Ideally, a tofu press should be used, but if you do not have one of those on hand, try wrapping the tofu in multiple layers of paper towels and pressing it with a heavy book instead. The tofu should be as dry as possible, with most, if not all, of the liquid drained. Once you have completed this process, cut it into bite-sized cubes, and it is ready to be baked!
Adding black salt to the recipe is another secret to making a fantastic vegan egg salad. Black salt helps to incorporate an eggy taste that the tofu can not provide by itself. However, if you are not a fan of the taste of eggs, use celery salt instead. Do NOT use both! This will make the egg salad too salty, so pick only one.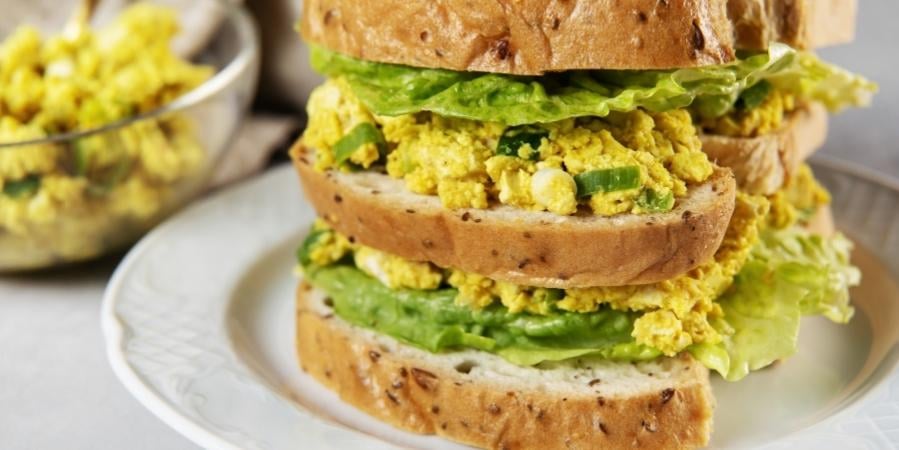 Bread Suggestions
Some great bread options for vegan egg salad include pita bread, whole grain/whole wheat bread, or corn tortillas.
Looking For More Vegan Dairy and Egg Alternative Recipes?
Help support Assuaged and SAVE on great vegan organic products and more at Thrive!
Please let us know how you use your Vegan Egg Salad recipe and feel free to share on the links below along with the different ingredients you used for your preferred taste. If you have any other awesome vegan creations and alternatives of your own, then maybe you'd even like to ➡️Share Your Recipe⬅️ with the Assuaged community!