It's spring in Central California, time to clean up the fountain and bring out the patio furniture. Wherever you live, it's the perfect time to create this dairy-free Caesar with a dressing so good that people will be begging to know what's in it. Instead of buying those packaged, processed croutons that are so full of salt they have you chugging water, considering making your own out of pocket bread. They cook while you combine the dressing ingredients, and you'll have an almost-instant Caesar salad.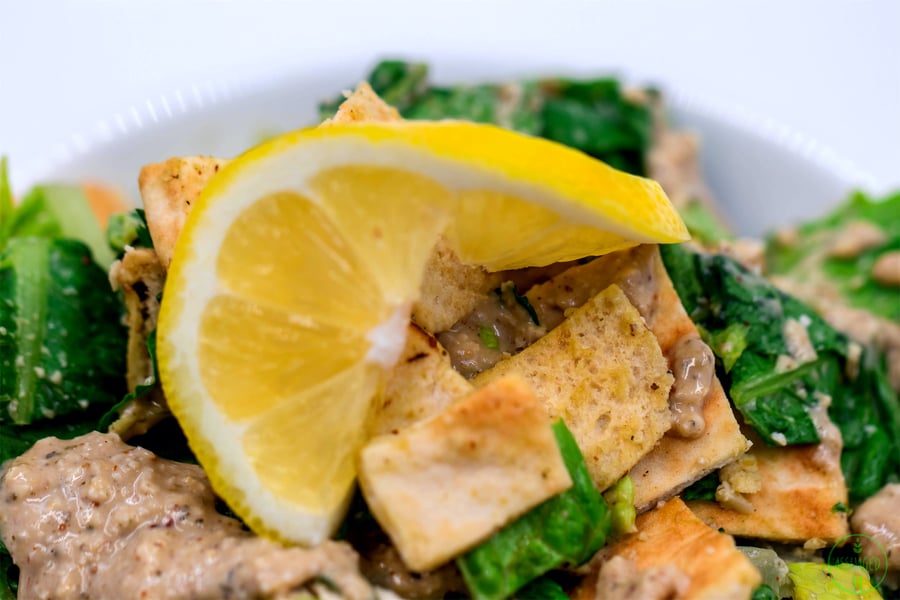 How To Make Healthy Homemade Croutons
These delicious crunchy croutons are not only super easy to make, but they are a much healthier option than any store-bought or fried varieties. Using pocket, or pita bread, cut it into squares and place on a parchment-lined baking sheet. Drizzle with oil and sprinkle with seasonings, bake in the oven, and enjoy your yummy warm croutons. Try to make sure some make it to the salad as well!
The best part is how versatile the flavor can be with these bite-size toppers. Spice them up to go add to a Southwest Quinoa Salad, or go with dill and fennel to go on top an amazing tabbouleh or fattoush salad!
What Do I Need To Make Vegan Caesar Dressing?
For those of us that love this tangy and bold, creamy dressing, but don't want the dairy, or sometimes even anchovies, 😝 here's a great simple 6-ingredient concoction sure to please!
Here's what you will need for plant-based Caesar Dressing:
Almonds
Yeast
Mustard
Liquid aminos
Lemon juice
Garlic


Take these six simple ingredients in a high-speed food processor with about 1/4 cup of water and blend! Mix until combination is smooth and creamy. If there is any dressing left over after this amazing meal, store dressing in an airtight container for up to 1 week.
This combination in itself is absolutely satisfying, BUT... there's one more step if you really want to go the extra mile for your amazingly already upgraded salad. Try making our homemade parmesan cheese, it's super nutritious, delicious, and ready in 5 minutes! Check out this easy vegan parmesan cheese recipe and let us know what you think! Share below and follow us for more great plant-based recipes.