It's raining. It's sunny. I'm setting my air conditioner on heat, and then cool, and then I'm turning it off and hoping for the best. I just finished writing my newest suspense novel and am pretending I'm not nervous as I wait to hear what my agent thinks of it.

My tomato plants are as tall as I am, but if another storm kicks up again, I could lose them. Spring is full of surprises, and not just the weather. So, what do you cook?

What about tacos? The walnutty filling will nourish and comfort you whatever the weather, and you don't have to turn on the oven. To top them, reach for the nuts again—almonds, this time for a faux sour cream you can use on everything from baked potatoes to brownies.

This quick-to-fix dish will help you sail through summer and beyond.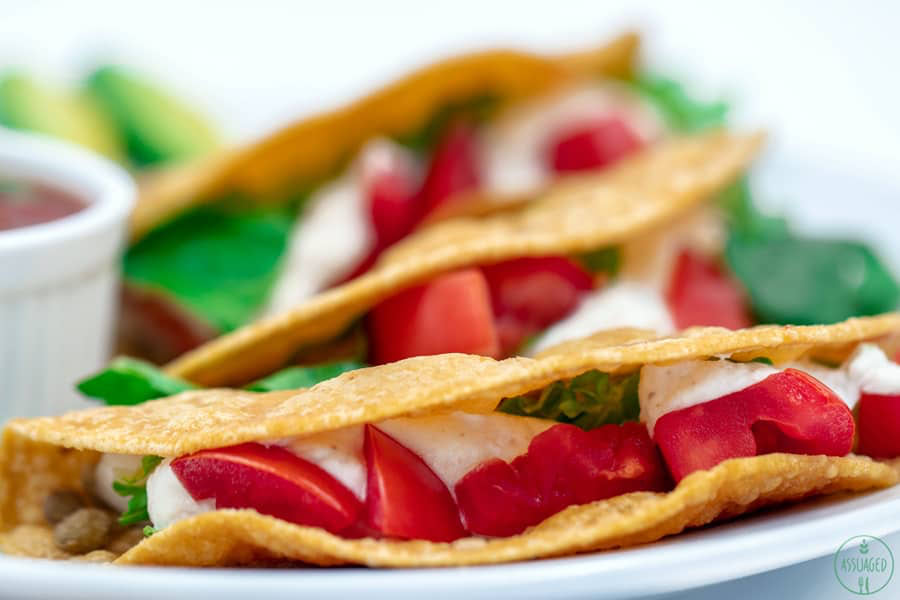 Walnut Tacos with Almond Sour Crema
PREP TIME: 35 M | COOK TIME: 35 M | TOTAL TIME: 1H 10 M


YIELD: 8



Ingredients:
1 cup organic green lentils, rinsed
3 cups vegetable broth
Salt, pepper
1 tablespoon chili powder
2 teaspoons ground cumin
1 ½ teaspoons dried oregano
Sriracha to taste
1 cup walnuts, coarsely chopped
1 small yellow onion, peeled and coarsely chopped
2 cloves garlic, peeled and coarsely chopped
Olive or avocado oil
¼ cup water
8 organic white corn tortillas
1 avocado, sliced vertically, and then cut into horizontal pieces
1 small bunch cilantro, washed, dried, and chopped
Almond Sour Crema:
1 ½ cups blanched almond slices, soaked in boiling water for at least 1 hour
Salt, to taste
2 teaspoons Bragg's cider vinegar
2 tablespoons lemon or lime juice
Combine in a high-speed blender such as Vitamix, thinning with water, if necessary.
Instructions:
Combine lentils and vegetable broth. Simmer, uncovered, until tender, about 30 minutes, adding more broth if necessary.
Combine chili powder, cumin, and oregano. Stir into cooked lentils with sriracha.
Pour mixture, along with walnuts, into food processor.
Process until coarse. Don't over-process.
Sauté onion and garlic. In large bowl, combine with lentil-walnut taco filling.
Mix well, adding water to keep it from drying out.
Cook tortillas quickly in oil, blot on paper towels and fold into taco shapes.
Fill each one with lentil-walnut mixture, avocados, cilantro, and almond sour crema.
Recipe created using The Recipes Generator

About the Author: Bonnie Hearn Hill is a full-time writer and a former editor for a large daily newspaper. She is the author of THE RIVER BELOW and over sixteen other adult thriller novels, and she teaches writing on Writer's Digest Online. Bonnie also mentors writers and speaks at numerous writing conferences. She lives in Fresno, California.
Bonnie Hearn Hill's newest thriller, The River Below, was published by Severn House. She can be reached at www.bonniehhill.com or bonniehh@gmail.com
Roasted lentil-walnut tacos with homemade vegan sour cream and all the trimmings. #vegan #justanothersaturday #amwriting #amediting

Posted by Stacy Lucas on Saturday, April 14, 2018
Browse more healthy living plant-based recipes on our

FREE

Assuaged

iOS

App!

ASSUAGED SNIPPET: There are undeniable health benefits associated with raw foods. There are essential nutrients often lost in the process of cooking. For optimal health set aside some extra raw ingredients (chopped/diced) and add them on top of this dish just before serving.
Browse more healthy living plant-based recipes on our

FREE

Assuaged

iOS

App!