This One-Pot Plant-Based Mexican Soup recipe is delicious, nutritious and easy to make!
Raise your hand if you love Mexican food! It's my family's favorite cuisine (after Indian, of course) so I am always looking for ways to making healthy and easy Mexican food.
The story behind this one is that I had some leftover brown rice in the fridge, plus some black beans and pinto beans from a salad the day before, so I added those to a standard soup base of onions and tomatoes as well as some cumin, garlic, and lime.
Together all of these ingredients make a soup so flavorful; served with guacamole and chips makes this meal the perfect fiesta!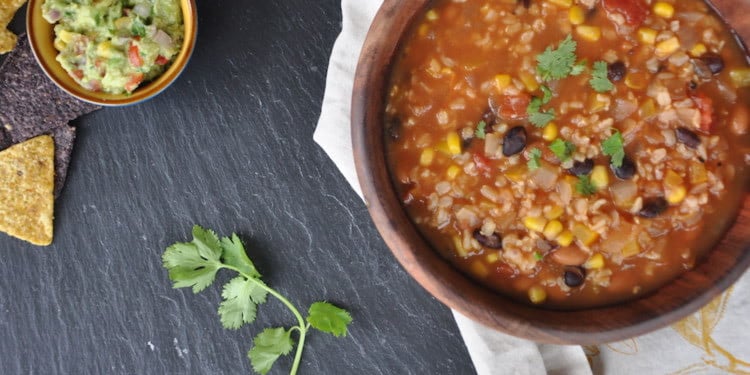 One-Pot Plant-Based Mexican Soup
PREP TIME: 10 M |
COOK TIME: 40 M |
TOTAL TIME: 50 M

YIELD: 6
Ingredients:
6 cups vegetable broth (low sodium)
1 onion (diced)
3 cups beans (cooked)
1 cup diced tomatoes (canned)
1 can tomato sauce (8 ounces)
2 cloves garlic (minced)
1 bell pepper (diced)
2 cups brown rice (cooked)
1 cup of organic corn (frozen)
1/2 teaspoon cumin powder
1 lemon
Instructions:
In a large pot, bring vegetable broth to simmer.
Add onions, cooked beans, diced tomatoes, bell peppers, jalapenos, corn, and rice. (For beans, I like 2 cups black and 1 cup pinto.)
Add tomato sauce and let simmer for about 30 minutes.
Season with cumin, lemon juice, salt, and pepper.
Serve immediately and enjoy!

ASSUAGED SNIPPET: There are undeniable health benefits associated with raw foods. There are essential nutrients often lost in the process of cooking. For optimal health set aside some extra raw ingredients (chopped/diced) and add them on top of this dish just before serving.
Browse more healthy living plant-based recipes on our FREE Assuaged iOS App!