Need a quick breakfast to get your day started? This cinnamon-maple quinoa superfood power breakfast bowl will keep your stomach full and your heart happy. It's full of flavor, healthy fats, and super customizable to your tastes!
Healthy Breakfast Bowls Tips
Breakfast bowls are a great meal to make ahead, so it could be cooked at night and prepared for the morning! This recipe calls for extra nuts and maple syrup but feel free to add an array of health boosting superfood toppings like:
Sliced, dried or fresh fruit
Cacao nibs or powder
Fresh preserves or jam
Swirl of nut butter
Camu Camu powder
Ground Flaxseed
Hemp seeds or powder
Chia seeds
Is Maca Powder a Superfood?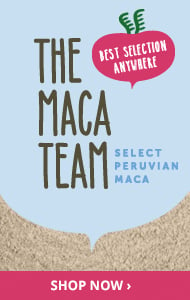 Maca Root is also an amazing superfood and adaptogen with more nutrients and multiple health benefits as well! There are 3 main colors, or types of Maca as well, each with their own set of similar and uniques attributes to offer. Find out which color of Maca is best for you here, Red, Black, or Yellow?!
Maca plant is a root vegetable, and the most commonly sold as a powder, but also comes in capsules and liquid extract. It has an earthy taste that complements hummus' nutty flavor from the tahini. Different from other superfoods, Maca is rich in iron, copper, calcium, potassium and vitamins.
What Are The Benefits of Quinoa?
Not only is Quinoa a superfood that's a complete protein with all the amino acids the body needs, along with iron and fiber, but it's often touted as a popular superfood - and for good reason!
This seed is one of the few vegan sources of a complete protein with all 20 essential amino acids and is also filled with fiber, magnesium, iron, vitamin B6, and more. Add to the fact that it is high in antioxidants and promotes weight loss - quinoa has proven itself to be an amazing addition to any diet.
How Do You Cook Quinoa?
Cooking pseudocereal may seem difficult to deal with at first but there are a few tricks to make sure it turns out fluffy and delicate.
Always make sure to wash your quinoa before use. There is a natural coating on it that will result in a soapy, bitter taste if not removed.
Quinoa just requires boiling for about 12 minutes but ensure that it is uncovered to allow the water to evaporate and prevent it from getting mushy
Make sure to allow it to rest covered inside the pot for a few minutes after to dry out and prevent clumpy quinoa.
Fluff it out with a fork once complete! It should be soft and translucent with a ring visible along the edge.
Looking for more Simple Gluten-Free Vegan Breakfast Recipes? Check Out More Tasty Treats Below!
For more recipes that are gluten-free, or are safe for other lifestyles and dietary restrictions, feel free to contact with questions via our Contact Us Page or in the comments section.
SAVE on great vegan organic products, meal plans, and more delivered to your front door from Thrive! 🌱 Help support Assuaged and a family or veteran in need by joining today!
What is your favorite plant-based breakfast food? Let us know and comment what you thought of the recipe about your go-to superfood! If you have a plant-based recipe you would like to share with the Assuaged community, please visit our ➡️Share a Recipe⬅️ page!