This delicious Hawaiian Spirulina Superfood Smoothie Bowl is the perfect way to start your morning or revitalize your mind and body throughout the day. An amazing smoothie that is super easy to make, jam-packed with nutrients and extremely refreshing!
What is Spirulina?
Spirulina is a type of algae that's rich with nutrients such as protein, B vitamins antioxidants, calcium, and iron. For thousands of years, this nourishing resource has been used worldwide to benefit our bodies, and today is considered a superfood. It can be found in warm fresh-water where it grows naturally or cultivated in reservoirs.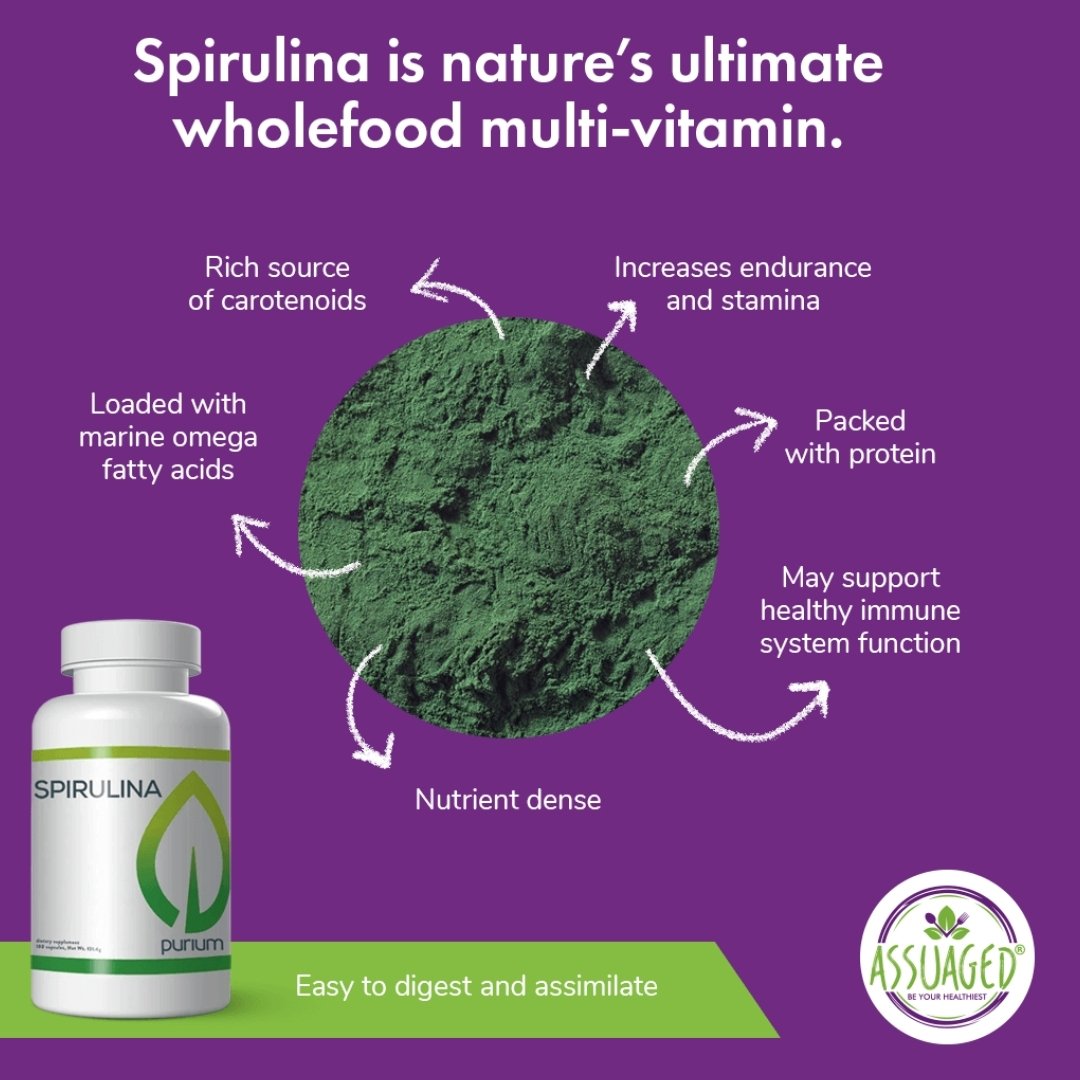 Can I Take Spirulina Everyday?
Yes! The typical recommended dose of Spirulina is between 1-3.5 grams per day. Spirulina is high in the antioxidant Chlorophyll which detoxifies the body, one of the many benefits of taking a daily dose of Spirulina. However, it is important to check with your doctor before taking Spirulina if you are on blood-thinners.
Spirulina typically comes in the form of tablets or powder. The powder easily blends into a smoothie, adding a rich green color and earthy taste. Taking both Spirulina & Chlorella together enhances their healing properties.

What Superfoods Are In This Smoothie Bowl?
Besides spirulina, which is a nutrient powerhouse in itself, this recipe includes:
Here is a quick reference guide on How to Eat Superfoods Every Day!
Looking for more superfood breakfast recipes to kick-start and energize you throughout the day?
SAVE on great vegan organic products, meal plans, and more delivered to your front door from Thrive! 🌱 Help support Assuaged and a family or veteran in need by joining today!
This wholesome smoothie was created and shared by Sophie and Addie Maccracken on EarthyEaters. Please comment below to share your experiences with this recipe or why you love the Spirulina! And remember you can share you personal plant-based recipes with the Assuaged Community on our ➡️Share Your Recipe⬅️ page!