Delicious and Easy Eight-Ingredient Organic Asian-Style Kale Salad Drizzled with Ginger Sesame Dressing. Happily unprocessed and made from scratch! Add a squeeze of fresh lemon for an instant alkaline boost, black sesame seed, fresh garlic, or ginger for more nutritional value.
Looking for other light and refreshing meals for summer? Check out these recipes: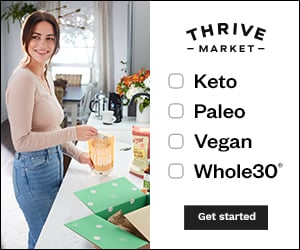 Help support Assuaged and SAVE on great vegan organic products and more with Thrive!
Let us know what your favorite salad dressings and toppings are in the links below! We would love to hear about your yummy creations as well! Please feel free to share any delicious recipes you have with the Assuaged community on our ➡️Share A Recipe⬅️ page!