This recipe for Panko-crusted Tofu nuggets is entirely plant-based, kid-friendly, and easy to make! The golden crispy crust added with the firm tofu combine to create a texture that will fool almost any little one (and even sneaks in some veggies)! This dish is a tasty remake of a classic go-to afternoon snack, just a more health-conscious version.
Chicken nuggets are a food reminiscent of childhood: They are crispy on the outside, tender on the inside, and very easy to eat. A favorite of mine as a child, we usually have a couple boxes in the freezer even now!
As plant-based foods have started to trend, vegan nuggets have appeared in stores across the globe and even in fast-food restaurants like KFC! Most of these products usually do not disappoint. Still, homemade vegan nuggets are not only simple to make but way more nutritious too!
How To Make Vegetable Puree
Each veggie is going to vary at least slightly in to puree process, but they are simple and quick ways to sneak in vegetables for picky eaters, or if your just trying to increase you daily intake of healthy foods!
Whether you choose to use broccoli or spinach, either will need to be steamed, and you will need a high speed food processor as well!
HOW TO MAKE BROCCOLI PUREE:
Cut into small florets
Steam for 6-7 minutes and a bright vibrant green
Remove from heat and let cool slightly before adding to food processor.
Blend for about 2 minutes, adding 1-2 tablespoons of water if needed to create a smooth and creamy texture.
HOW TO MAKE SPINACH PUREE:
NO PREP for baby spinach, if mature, remove the stems
Steam for 30-40 seconds, or heat in a skillet with 1 tablespoon of water, remove once spinach begins to wilt.
Remove from heat and let cool slightly before adding to food processor.
Blend for about 2 minutes, adding 1-2 tablespoons of water if needed to create a smooth and creamy texture.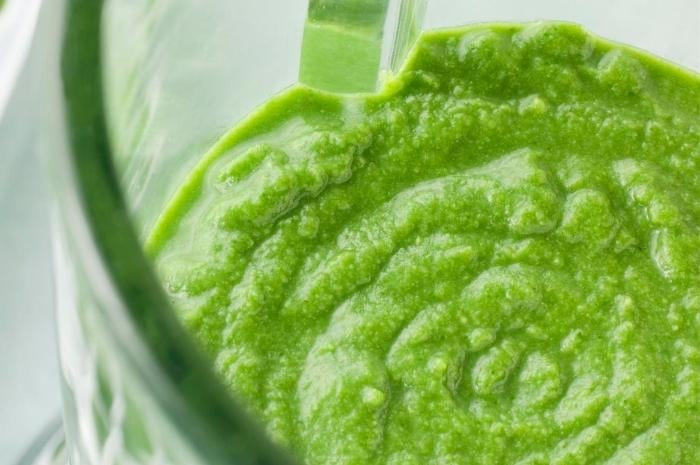 What is Panko Crumbs?
Panko is a Japanese variant of breadcrumbs that are made by cooking with electric currents and then crumbling the Shokupan, a Japanese style of White Bread. Panko's structure is more airy and flaky than typical breadcrumbs, resulting in a lighter, less greasy coating. Because of this, Panko is seen as a wholesomer version of breadcrumbs.
Panko can also be toasted before coating the tofu, which ensures that they will be golden-brown and crispy. Simply coat a pan with oil and toast on a medium-low flame. Just be sure to stir occasionally as the breadcrumbs can burn quickly.
How to Maintain Firm Tofu
For this recipe, extra-firm tofu is recommended as it can hold its structure throughout prep and cooking. This type of tofu has the densest texture and will produce the best results.
Minimizing the amount of moisture in the tofu is essential for this recipe. Releasing the excess water inside the tofu yields a meatier texture, helps the coating adhere and brown, and prevents splattering.
If not using pre-pressed tofu, this can be done by pressing tofu, which removes moisture by weighing down tofu slices or blocks. You can also heat it up to tense the protein structures by microwaving for a few seconds or brine the tofu by pouring hot, salted water over slices.
Cooking Tips and Suggestions
Try Nasoya® Organic Sprouted Tofu if you want to skip the pressing step. It is extra-firm, pre-pressed, and has a higher-quality flavor.

This recipe cooks the nuggets by pan-frying them, but they can undoubtedly be baked or even air-fried as well! Simply grease a sheet tray and preheat the oven to 400° F while pressing the tofu. After prepping nuggets, bake for 20 minutes or golden brown on both sides, flipping once halfway through cooking time.

These nuggets can be served with whatever dip you desire, though we recommend using this amazing Homemade Vegan Ranch Recipe!

Try making your own easy

5 minute Vegan Parmesan Cheese!
Looking for other healthy vegan meat alternatives and tofu recipes?

Let us know about your tofu nugget experience in the comments below! Did the greens get past your little ones? Feel free to share your own plant-based recipes with the Assuaged community on our ➡️Share A Recipe⬅️ page, we cannot wait to see what you've come up with!