Imagine a warm bowl of soup in the middle of cold weather... This tamarind vegetable soup gives an exciting flavor you haven't tasted before! It has the taste of sweetness, sourness, and a little bit of spicy in the light broth.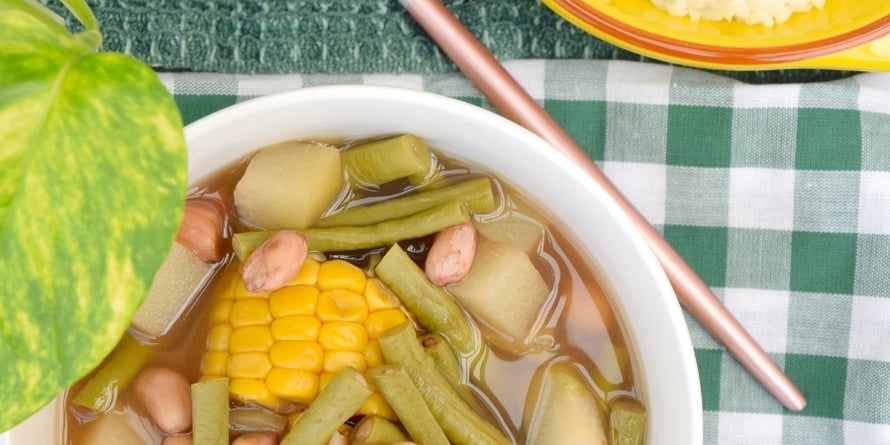 What Cuisine Is Tamarind Vegetable Soup From?
This dish came from Indonesia, a tropical country known for its richness of herbs and spices. Tamarind, the main ingredient in this soup is often used as traditional medicine for constipation, liver or gallbladder problems, and stomach disorders. On the other hand, tamarind vegetable soup help to reduce the risk of having several chronic diseases such as heart disease, diabetes, and cancer. Tamarind contains polyphenols that have antioxidant and anti-inflammatory properties.
What Nutrients Does Tamarind Vegetable Soup Offer?
The recipe also consists of a variety of vegetables that deliver wider nutrients to our body. The ingredients include Long Beans, Peanuts, Chayote Squash, Jackfruit, and Melinjo Seeds.
What Are The Ingredients Needed To Make This Delicious, Flavorful Warm Soup?
Choose the vegetables according to your taste.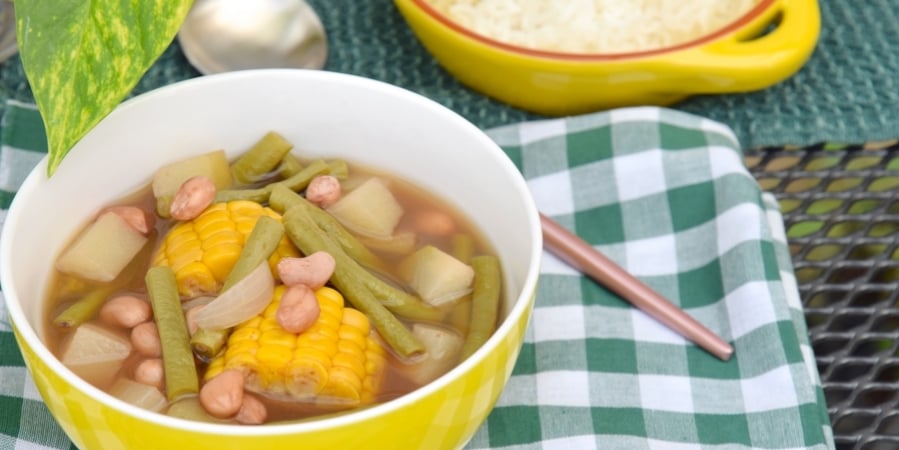 What Are The Benefits of Longbean?
Long bean is often considered as an energy vegetable with low calorie. It has high levels of fiber and protein that allow the digestive system to run smoothly. They are rich with Vitamin A and offer cardiovascular protection to lower blood pressure.
What Are The Benefits of Peanuts?
Peanut is actually one of the ingredients that make the soup itself special. Although putting peanuts in a soup sounds unusual, peanuts match perfectly with the taste of tamarind. Moreover, peanuts are suitable for people with diabetes due to being low in carbs but high in protein, fat, and fiber. Peanuts are the source of many vitamins and minerals:

Biotin
Copper
Niacin
Folate
Manganese
Vitamin E
Thiamine
Phosphorus
Magnesium
What Are The Benefits of Chayote Squash?
Chayote, a type of squash is composed of many nutrients:
Vitamin A
Vitamin B6
Vitamin C
Folate
Magnesium
Fiber
Phosphor
Potassium
What Are The Benefits of Jackfruit?
Young jackfruit is often used in substituting meat for vegan. It gives the texture of shredded meat into the soup, making it more delightful. Aside from its popularity, young Jackfruit helps stabilize blood sugar and reduce the risk of having hypertension. Vitamin C inside young jackfruit improves skin health. Moreover, it can minimize the formation of kidney stones.
What Are The Benefits of Melinjo Seeds?
Melinjo seeds, located inside the fruit is a good antioxidant helping to treat cancer, heart disease and aging. It contains manganese that is essential for brain functions and treating nervous disorders. It has copper, needed to assist health and growth. Phosphorus helps to maintain the kidney health. It allows the body to have a balance amount of water, uric acid, excess salts and fat. Phosphorus supports the body's fluid balance to improve health.
Looking for more delicious vegan soup and noodle recipes? Check out the recipes below!

SAVE on great vegan organic products, meal plans, and more delivered to your front door from Thrive! 🌱 Help support Assuaged and a family or veteran in need by joining today!
Let us know how you dress up your favorite burger, and please send us a pic on the links below, we love to see your creative ideas! Also feel free to share any of your favorite recipes to make and share it with the Assuaged community on our ➡️ Share A Recipe ⬅️ page!
Vegetable Ingredients:
1 chayote, peeled and diced
5 long beans, cut
2 tbsp peeled peanuts
15 sheets of Melinjo leaves
15 Melinjo fruits
1 sweet corn, cut into 3 pieces