Asian cuisine has become more popular these days. Korean food in particular is starting to take its well-deserved spot in the limelight. There's no better time than now to try out recipes using elements from Korean cuisine. To make it easier for you, we've decided to share a dish that's both new and familiar at the same time: kimchi rice and beans.
Kimchi is a fermented and pickled cabbage dish, incorporating different flavors such as garlic, ginger, and chili. It's a common comfort food and a staple that Korean people eat with a slew of different dishes. Due to its fermentation, kimchi contains probiotics that can help improve gastrointestinal health. And while undoubtedly good for you, some people may not be used to the distinct taste of fermented food. Enter our next key ingredient: beans.
Beans are a global staple used in a multitude of different cuisines. When combined with rice, they make for a warm, hearty bowl of comfort. This makes it a good way to introduce kimchi to a wider audience.
So how exactly can we make kimchi rice and beans? What are the tools and equipment you'll need? Read on for our quick guide on how to prepare this dish.
What You'll Need to Make Kimchi Rice and Beans
1. Bowl


Any bowl will do, as you'll only need to combine your ingredients before cooking them. Just make sure it's big enough so that you don't make too much of a mess in your kitchen.
2. Rice Cooker
The best part about this recipe is that it's easy to make—no ovens or stoves are required. You won't even need an expensive rice cooker, as any affordable but quality rice cooker will do the job for you. This appliance is a great investment, as it will allow you to prepare meals quickly and easily—from veggies and porridge to jambalayas and even cake.
3. Kimchi
While it's completely possible to make your own kimchi using stuff you already have in your kitchen, store-bought kimchi is always a great option. The popularity of Korean food means that you'll be able to find kimchi in just about any Asian grocery store in your area.
4. Beans
You can use any kind of beans that you like. We recommend using canned black beans, as they are both healthy and convenient. Black beans are packed with protein and fiber, helping make this dish more nutritious and filling.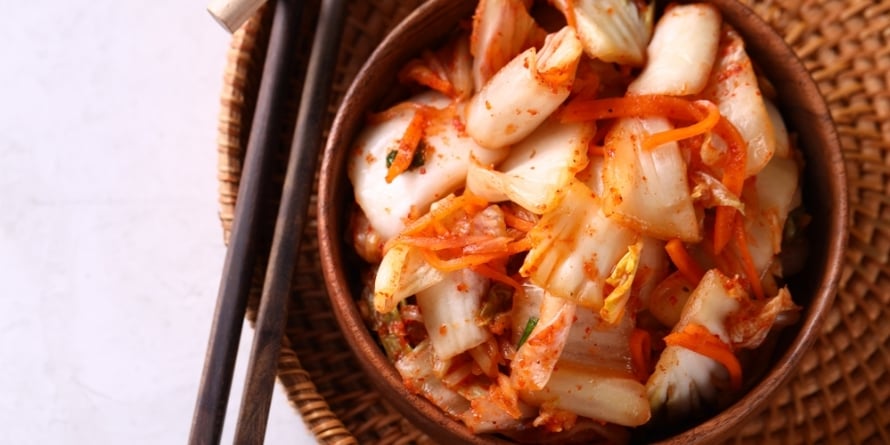 The Health Benefits of Kimchi, Rice, and Beans
Not all Kimchi flavors are the same, so it's essential to pick one that would best match this recipe. There about 200 types of kimchi, all with a unique tangy twist of flavor! Although your choice may depend on personal preference, here are the following more common groups of ingredients you can use.
Kimchi - This fermented food is good for the gut. Many make their own homemade kimchi using a variety of flavors! Our favorite three types are garlic kimchi, spicy kimchi, and pickle kimchi.
Black Beans - Any type of beans can be used in this recipe; however, black beans are the most common to cook with. They're perfect for aiding in healthy bones, cancer prevention, and lowered blood pressure.
Freekah or Brown Rice - You can use any type of rice for this recipe; however, we love Freekeh for the health benefits. It contains double the iron, less calories, three times the amount of fiber, and double the amount of protein. This type of rice is a nutrient-dense super-grain that's nutritionally superior and provides exceptional health benefits.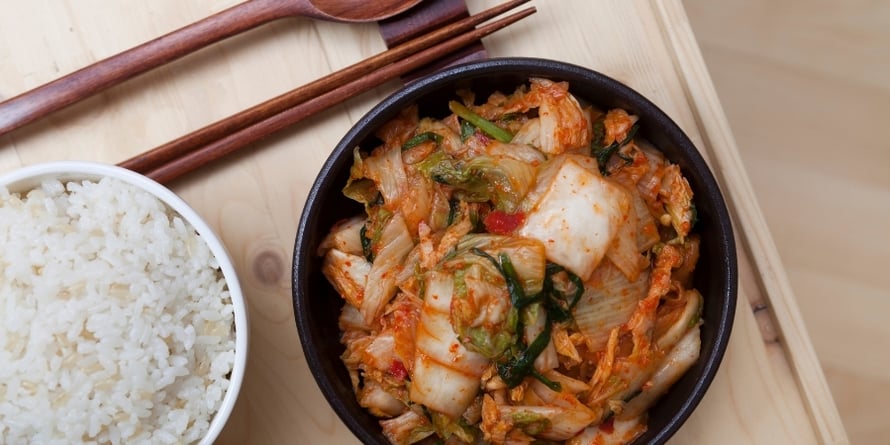 If you're looking for more recipes that incorporate similar elements, check out our gluten-free black bean bowl with citrus rice recipe!
Check Out These Other Vegan Healthy Recipes!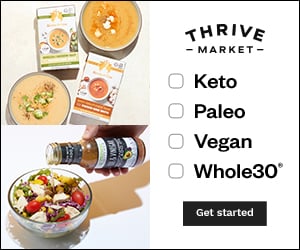 SAVE on great vegan organic products, meal plans, and more delivered to your front door from Thrive! 🌱 Help support Assuaged and a family or veteran in need by joining today!
Let us know how you dress up your favorite burger, and please send us a pic on the links below, we love to see your creative ideas! Also feel free to share any of your favorite recipes to make and share it with the Assuaged community on our ➡️Share A Recipe⬅️ page!