Indulge in these Loaded Vegan Nachos when you're craving that familiar crunch and creamy taste without the dairy. This recipe contains instructions to create a delicious "cheese" to drip over homemade tortilla chips and nutritious toppings. Enjoy this vegan twist on classic comfort food!
What is Vegan Cheese?
Vegan cheese can be made from various plant proteins such as nuts, seeds, nutritional yeast, and soybeans. Like cheeses that contain dairy products, vegan cheese comes in different textures, tastes, and densities. In addition, minimally processed vegan cheese often contains micronutrients, fiber, and healthy fats from wholesome plant-based ingredients.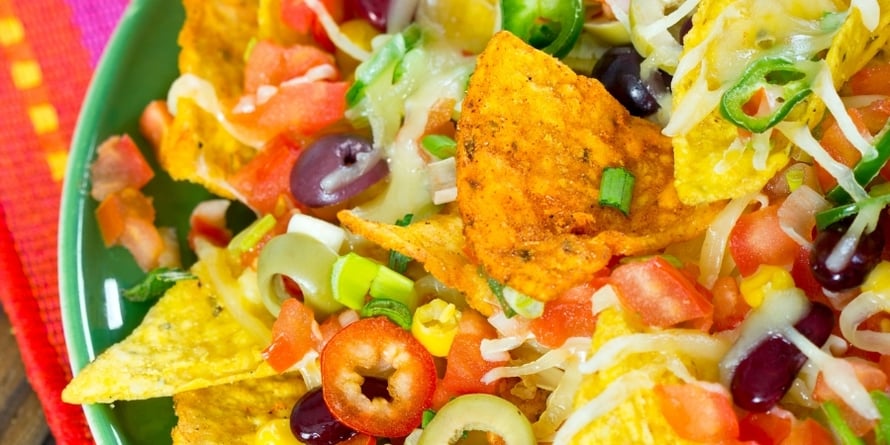 Are Nacho Chips Vegan?
Most tortilla chips, which are typically used as the base for nachos, are vegan and gluten-free. However, you can substitute tortilla chips with sliced bell peppers, flax crackers, zucchini chips, kale chips, and much more if you prefer.

Are Vegan Nachos Healthy?
This Loaded Vegan Nachos recipe contains ingredients such as pinto beans, hearty vegetables, and cashews that contain essential nutrients for a healthy vegan diet. In addition, homemade tortilla chips eliminate unhealthy calories, sodium, and fats. Like any of your favorite foods, these delicious nachos are healthiest when enjoyed in moderation.
Looking for more vegan cheese recipes? Check out the options below!


SAVE on great vegan organic products, meal plans, and more delivered to your front door from Thrive! 🌱 Help support Assuaged and a family or veteran in need by joining today!
Let us know how you dress up your favorite burger, and please send us a pic on the links below, we love to see your creative ideas! Also feel free to share any of your favorite recipes to make and share it with the Assuaged community on our ➡️ Share A Recipe ⬅️ page!


These delicious Loaded Vegan Nachos were created and shared by Sophie and Addie MacCracken. Please comment below to share your experiences with this recipe or other dairy-free alternatives.