Did you know that mushrooms have carried health benefits for thousands of years? They say mushrooms are going to change the world. In fact, Pennsylvania is the leading state in our country that solely grows mushrooms. In rare cases, you'll find people who dislike the taste and smell of mushrooms. We are not one of those people because Mushrooms are so yummy and healthy, they would be hard to live without.
What Are Mushrooms?
Mushrooms are a fungus that is low in fat, sodium, and calories. Mushrooms are rich in:
Antioxidants
Beta glucan a dietary fiber that can regulate sugar, improve cholesterol and enhance heart health
B vitamins that provide an abundance of riboflavin, pantothenic acid, and niacin
Copper aiding in healthy red blood cells
Potassium for your heart, muscle, and nerve health (Healthline, 2020)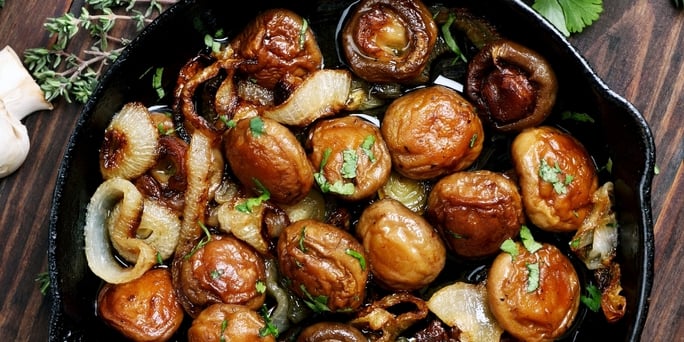 Sage, rosemary, thyme, oregano are amazing spices you should definitely add-in to your mushroom gravy.
What Can I Cook Using Mushrooms?
Mushrooms can be added to almost any dish including pastas, stir fry's, casseroles, and soups. Sautéed Mushrooms are one of our go-to staples around here. Cooking mushrooms in this manner provides an even richer and deeper flavor to vegan lunches and dinners. Sautéed mushrooms are especially delicious alongside roasted vegetable dishes
Do You Combine The Spices Before or After?
This delicious mushroom gravy recipe is aromatic and tasty. You want to combine fresh and dried spices to your mushroom gravy for extra oomph. Stir in the spices until your gravy becomes tender and thickened for 8-10 minutes. Remember, the more patience you have, the stronger your herbal spices will pan out in your culinary creations. Now smell those aromatic spices and keep stirring the pot. Lightly add a some arrowroot powder or organic corn starch for gravy thickness.
Alternate dish ideas:
Gravy Swedish Meatballs
Green Bean Casserole Stroganoff


Kitchen tools needed for making mushroom gravy:
A paring knife or chef knife
Food processor, or mortar and pestle


Glass or stainless steel containers for storing the mushroom gravy
Here Are Some Great Festive and Tasty Recipes From Assuaged for your Holiday Enjoyment!
SAVE on great vegan organic products, meal plans, and more delivered to your front door from Thrive! 🌱 Help support Assuaged and a family or veteran in need by joining today!
..... And remember you can share you personal plant-based recipes with the Assuaged Community on our ➡️Share Your Recipe⬅️ page!