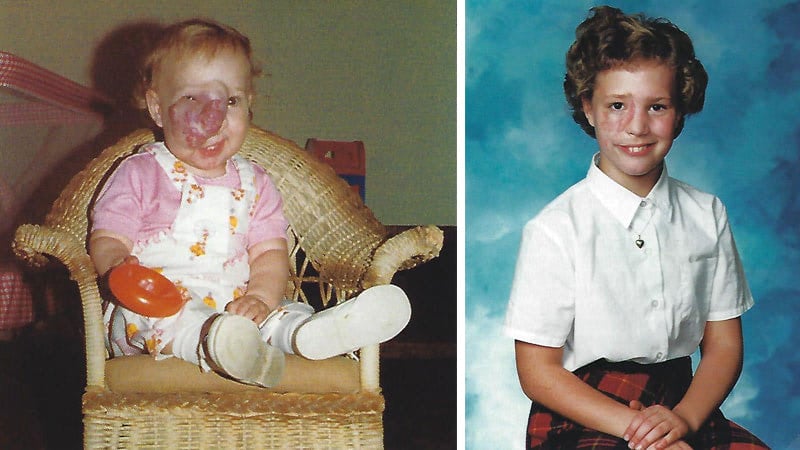 Wallace's film — a project she started in 2015 after a conversation with a client — chronicles her personal and medical journey that began with her first surgery at 22 months old and continued through more than 16 additional surgeries to correct facial damage caused by a hemangioma, a benign growth of blood vessels."Who Do We Have Here?" — which has an expected release date in 2019 — is named in honor of Dr. Milton Edgerton, a retired craniofacial surgery pioneer at the University of Virginia. Those five words were Edgerton's first to four-month-old Wallace when he walked into the examining room at his Charlottesville, Virginia, medical center and saw the grapefruit-sized growth covering her right cheek, eye, and nose.
Watch the video as Jennifer Wallace and her surgeon, Dr. Milton Edgerton, discuss her journey to find self-acceptance in this two-minute excerpt from the documentary, "Who Do We Have Here?"
Her mother, Linda Spangler, still remembers the moment like it was yesterday.
"We had seen so many doctors before … and this gentle, caring man comes in and considers my daughter a person first and, after personally addressing her, tells us what no one else did — what this was. 'I see you have a hemangioma, young lady.'"
Affecting about 12 percent of children born each year, hemangiomas typically disappear over time. Their origin remains a medical mystery, and there is no clear reason why some, like Wallace's, keep growing and require surgery.
"I cried," Spangler said. "Dr. Edgerton then asked, 'What do you want to know?' and I said, 'Everything you can tell me,' and he talked to us for hours. You could tell he wanted to help my little girl."
A 'welcoming and inclusive' work environment