As the holiday season is ramping up and winter is approaching, there's no better way to warm your stomach and heart than with a bowl of pumpkin lentil maca soup! This healthy, affordable recipe is full of fresh flavors and would make a fantastic meal or addition to a holiday dinner!
Can Pumpkin Soup Make a Great Holiday Dish?
This vegan pumpkin soup is indeed the perfect dish for your table spread. Not only is it easy to make, but it is packed full of nutrients from all the raw and superfood ingredients. Holidays dinners can be harsh on the stomach, but having this vibrant soup will help start these meals off on a delicious and robust note. Another benefit of this recipe is how cost affordable this recipe is!


Lentils - $0.98 a pound / $0.06 per oz
Coconut Milk - $1.98 a can / $`0.45 per fl oz
Pumpkin - $0.89 a pound / $0.05 per oz
Kale - $0.98 a bunch
After considering the bulk of the ingredients, this recipe can be easily less than ten dollars and can make up to four to six servings!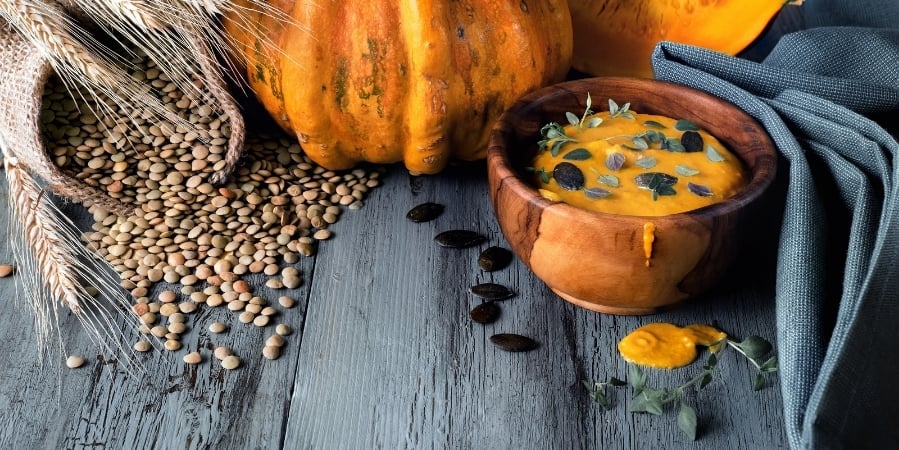 What Kind of Lentil is Best For Soup?
Not all lentils are the same, so it's essential to pick one that would best match this recipe! Although this may depend on personal preference, here are the following more common groups
Brown Lentils - These are the most common and are perfect for soups as they keep their shape during cooking.
Green Lentils - These are similar to brown lentils in keeping their shape but would be great for sides or salads
Red and Yellow Lentils- These are great for sauces or dishes that need thickening. They tend to break down and turn mushy quickly
As this recipe requires some simmering, brown lentils would be best to prevent the soup from being overly mushy! Besides adding texture to the soup, lentils are great as they are low in calories and full of fiber, iron, potassium, calcium, and the list goes on. It's a tremendous high-protein source packed with nutrients!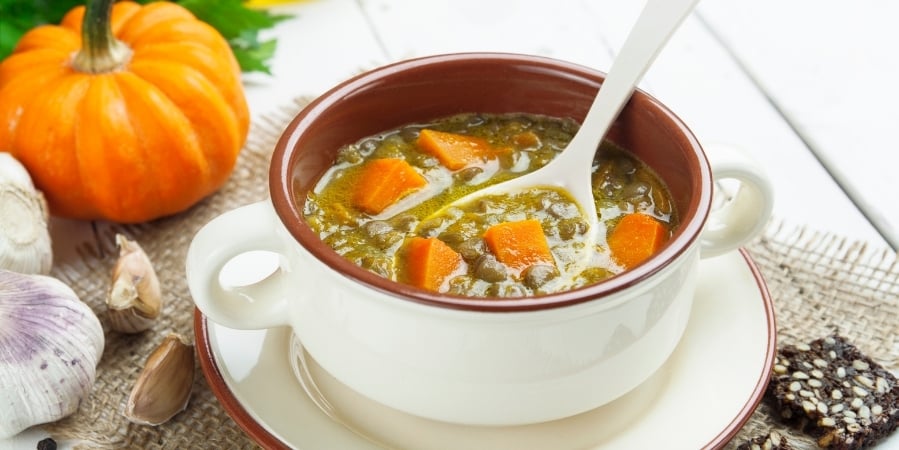 What Are The Health Benefits of Maca Powder?
Maca root powder comes from cruciferous vegetables. This root has a history that ties it back to the Incas using it medicinally. However, its popularity has blown up in recent years - and for a good reason! Here are some benefits of maca root powder!


Excellent source of essential vitamins and minerals;
Increases libido in both women and men;
Can increases fertility in men;
May improves mood and energy; and
Can improve learning and memory.
Those are just a few reasons to add Maca Root Powder into your diet.
Check Out These Other Vegan Yummy Recipes!


SAVE on great vegan organic products, meal plans, and more delivered to your front door from Thrive! 🌱 Help support Assuaged and a family or veteran in need by joining today!
Let us know how you dress up your favorite burger, and please send us a pic on the links below, we love to see your creative ideas! Also feel free to share any of your favorite recipes to make and share it with the Assuaged community on our ➡️Share A Recipe⬅️ page!