"The best way to find yourself is to lose yourself in the service of others."– Mahatma Gandhi
When finding ourselves lost in worry or doubt about our personal lives and wellbeing, most often, the result is falling deeper into a depressed or anxious state. The more we dwell among the resentments and doubts, the easier it becomes to get stuck on that track of internal dialogue without even noticing.
This present pandemic has brought on a need for a wave of volunteers to give the opportunities to find and give assistance to ease the pressures brought on by covid-19.
How can you relieve Stress, Anxiety, and Depression?
The best way to get out of this rut is to look up, and see everything around without labeling good or bad, just as open possibilities. Not only are there infinite things to be grateful for, but there are so many of us that get stuck in negative perspectives, caught in unproductive patterns of the mind.
As a species, it is in our human character to be helpful, but in western society, this quality has become stifled. It is not openly encouraged in such a competitive environment to show that assistance is wanted, let alone needed. This technological age also has many of us losing sight of this compassionate nature instilled within each of us.
Accepting a helping hand is not a sign of weakness, and the strength it portrays to ask or receive is rooted in the loving nature of humanity. We are here for each other as a support system, and each individual has a gift that can assist in easing tensions and providing positivity.
People are participating from all corners of the earth, alleviating however they possibly can. There are so many avenues for providing assistance, it can be medically, psychologically, financially, providing supplies, or virtual assistance with various channels from emotional support to exercise.
How can you help and volunteer?
Here are a few ways to contribute if you are able, as every aiding hand is needed, and we are all here for a reason. Whether it is to learn or provide or accept support, we are all essential contributors to this global healing process! Kindness, understanding, and respect are key!
For those with professional medical background and others who are pre-credentialed and organized, there are programs seeking matches of medical and non-medical volunteers to help stop the spread of COVID-19.
Medically qualified individuals are essential for answering medical questions on the COVID-19 hotline or assist at test specimen collection sites. Non-medical volunteers are useful in administrative roles at either the call-center or test collection sites and can provide interpretation or other skills as needed.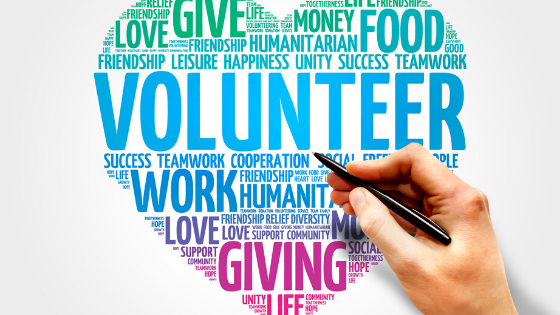 One site with multiple opportunities across the county and virtually from home is Points of Light, the world's largest organization dedicated to volunteer service. These include the text-based counseling "Crisis Text Line" to help with coronavirus-related stress.
There's even a mobile app that connects blind and low-vision individuals with sighted participants through a live video call, Be My Eyes. If there's a computer at home, there are numerous ways to provide valuable assistance to those in need.
Would you be willing to take the trial vaccine?
Another form of volunteering is out there, but it is a call for only the brave and eager. This option is to receive the Coronavirus on purpose voluntarily. Yes, to take the vaccine and be an experiment in the hope of expedited results.
This noble volunteer act can help accelerate the process of finding a solution by giving evidence of the effects in a much more timely process. Given the near standstill of human activity, this may sound like a great idea, but testing something so unknown isn't exactly ethical, to say the least.
The drawbacks to voluntarily being inoculated by a live virus are quite obvious, but this may be the most efficient way to get a solution or know there's more work ahead for the vaccination.
Only young adults would qualify, as they seem to be the most resistant overall. First, the youthful partakers would go through a two-week quarantine to make sure they were virus-free. They would then be given the virus and observed.
They would have to remain isolated in a controlled setting, and doctors could then measure if they had any infection in their throats, and how long any symptoms take to develop. Vaccines usually take a process of about 18 months to get right, and most of all, the trial period, to prove its effectiveness.
It's likely that if a challenge trial occurs, plenty of volunteers would likely sign up. After all, first responders, EMTs, health-care workers, and even grocery store clerks are already putting themselves at risk of Covid-19 by staying on the job.
People take such risks for others' direct gain every time we ask volunteer firefighters to rush into burning buildings or situations of the like. Still, whether we take drastic steps or help a neighbor with only comforting words, we are all part of the solution. What can each of us do to make the planet a little better off at the end of today?
If you have any interest in becoming part of Team Assuaged please contact us as we do have volunteer opportunities available to explore as well!
Photo by Markus Spiske on Unsplash and Photo by CDC on Unsplash