The world has been dealing with poor air quality for a long time. Death from chronic disease linked to smoke inhalation has been identified as far back as the Viking era, including things like asthma and heart disease.1,2 In 2023, wide areas of the United States saw and are projected to see again Canadian wildfire smoke blanketing its cities, with some cities like New York achieving the worst air quality in the world.
So, what can we do besides directly fighting the climate crisis? There are more options than you may expect to counter poor air quality in your home and body.
Effects on the body
Pollution produces two main effects in the body: inflammation and oxidation. When particles enter the body through the nose and mouth, or irritate delicate surfaces like the eyes, the body produces a response as if wounded or invaded by germs.3
Smaller pollutants like PM2.5, the main particle size in smoke, can get even further into the body. They bypass sensitive tissue in the respiratory system, entering the bloodstream and causing significant stress on the body. They even eventually get into the brain, causing inflammation in some regions, such as the hypothalamus.3,4
The inflammation and oxidative stress caused by this particle invasion can contribute to the onset, worsening, and attacks of chronic disease.3,5,6 While any disease can be affected by increased inflammation, the most studied and recognizable diseases affected are:
Heart disease and other cardiovascular disorders
Asthma, COPD, and other respiratory disorders
Stroke
Vascular disorders
Headache and migraine
Dementia
Cancer
Immune disorders
The inflammatory effects of smoke, in addition to its effects on things like socializing, participating in outdoor events, and worries for the environment and loved ones, can also contribute to productivity and mental health effects.6 These effects may include:
Brain-fog-like decreased cognitive functioning, affecting:

Attention
Memory
Reading, math, and intelligence skills, even lowering test scores
Usage of spatial information
Decision-making quality
Work productivity
Self-control and prosocial behavior

Increased mental health struggles, of every type. Neurodivergent individuals may also experience more difficulties. This includes increased symptoms of:

Anxiety, often triggered by inflammation, in addition to possible health anxiety
Depression
Autism
Substance abuse
Self-harm and suicide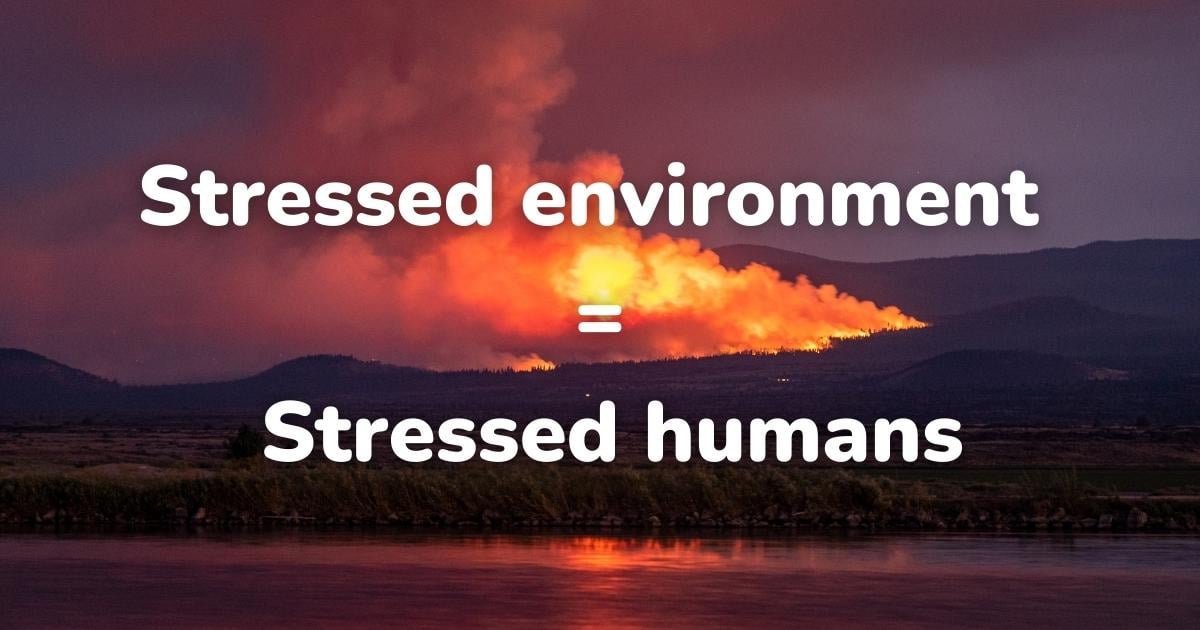 Self-care
During poor air quality days, it is more important than ever to engage in self-care, take a moment for mindfulness, and listen to our needs. While we can't clean wildfire smoke out of the air, we can try to avoid it and neutralize its effects.
Pollution-Countering Diet
Foods containing anti-inflammatory and antioxidant benefits are an excellent counter for the inflammation and oxidation caused by wildfire smoke and other air pollution.7 It is common to crave and choose unhealthy, low-nutrient foods during air pollution.6 Adding more healthy foods to your diet instead can help alleviate symptoms and reduce chronic illness associated with air pollution. For example, you might add: (HYPERLINK ALL APLLICABLE BLOGS)
Herbal, green, black, or oolong tea
Kombucha
Turmeric (link)
Garlic
Vegetables and fruits
Leafy greens or green juice
Berries
Beans
Whole grains
It is also important to avoid food you have sensitivities or allergies to. While sesame may be a great anti-inflammatory, used by ancient Persians for migraines, it will have the opposite effect if you have a sensitivity.
Exercise indoors
Exercising moderately for even 20 minutes can reduce inflammation and increase healthy blood flow.8 Forming a habit before pollution strikes will intensify these effects, as your immune system will greet adversity with greater energy. During bad air quality days, if you feel well enough, you might try:
Running in place
Jumping rope
Yoga
Treadmilling
Stationary biking
Night showers
Taking showers at night is recommended for those with allergies, as it cleans the body of particles before sleeping and can help clear the sinuses. Pollution particles land on and affect the body in a similar way. Changing clothes after being outdoors may also help.
Mindfulness and self-kindness
Pollution can have a lot of effects on the function of the brain, body, and mental health. Staying aware of these possible effects, at what AQI level we start feeling symptoms, and paying attention to our needs is important. More time might be needed for tasks, thinking might take longer, or more sources of comfort like enjoyable music or a weighted blanket might be needed.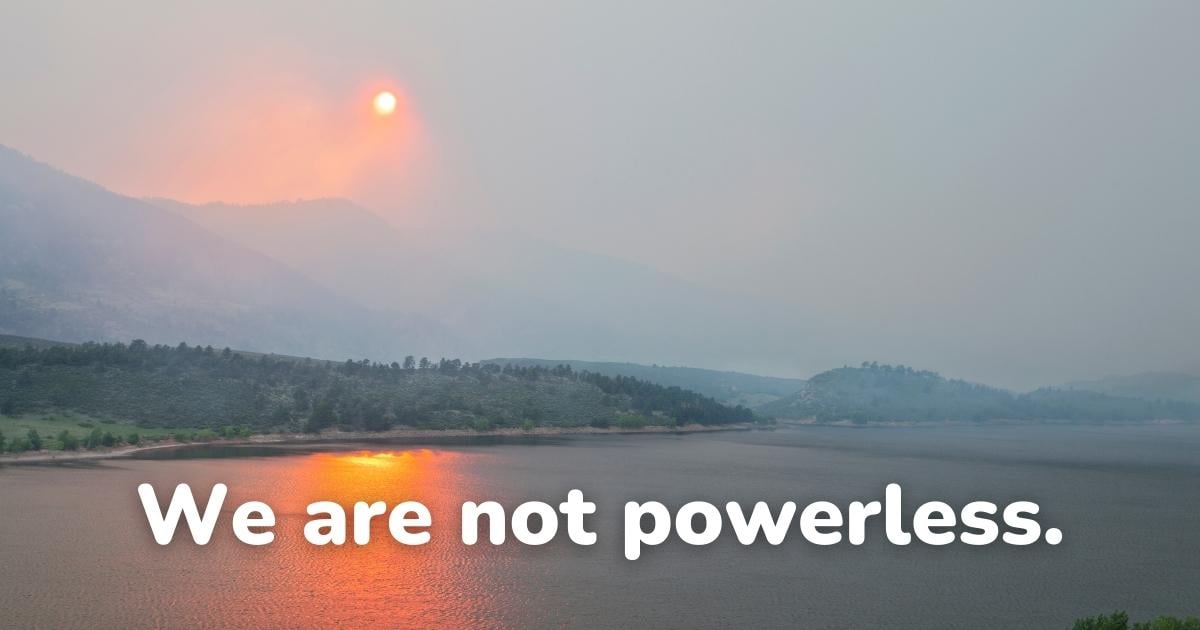 Home care
Pollution is almost never completely blocked from getting inside a building. It may enter when doors and windows are opened, through poorly filtered fans, or through holes or cracks like those commonly around windows.9 However, there are ways to reduce indoor pollution.
Clean floors and surfaces
Around 60% of pollution falls on floors and surfaces. Gravity drags it down, putting it in a good place to be cleaned by a wet cloth or HEPA vacuum. Some also gets on walls and ceilings, so occasionally cleaning those is also helpful.9,10
Wash bedding
Bedding is also a surface that pollution falls on. Adjust washing schedules during air pollution. Scientific research reports that when bedding is cleaned more frequently, indoor air quality improves.11
Building upkeep
Making sure a building is as airtight as possible can seriously improve indoor air quality. Checking for cracks, holes, and worn seals around windows and doors, and fixing them or requesting repair is recommended by engineers to improve air quality.9
Old buildings are especially susceptible to pollution getting in. Building materials often settle, forming cracks and holes.9,11 Upkeep is particularly important in this situation.
Air filtration
Using HEPA or cloth air filters in your furnace or air conditioning unit can help filter pollution out of the air. These filters are around 99% effective at catching PM2.5, the most prevalent pollutant in wildfire smoke. Using a wall or floor air purifier is also an option, although the filters are only effective for around 5 months.2
Don't add PM2.5 to air
Candles, incense, printers, hairspray, and cooking with low-heat oil like olive oil can all add PM2.5 to the air.5 Avoiding using these during a wildfire haze event will help keep indoor PM2.5 levels down.
If you have to go outside…
Mask
Cotton or N95 masks seriously reduce wildfire pollution getting into the body through the main route it gets in: the respiratory system, including the lungs and nasal mucus membranes.5
Avoid high-traffic areas
Fuel-burning vehicles emit PM2.5 into the air, in addition to other pollutants.1,3 Avoid these additional sources of pollution, if possible, by taking less traffic-intense routes if possible, especially if walking.
Recirculate car air
Car air filters are often not sufficient to reduce pollution intake. Setting the air to recirculate can help reduce the pollution level within the vehicle.
Incorporate self-care
Self-care isn't just an at-home practice. If you need to travel, bring healthy snacks, tea or juice, and any other sources of anti-inflammatory and antioxidant nutrition you can or find out where they're available. Also, continue practicing patience and self-kindness whenever possible.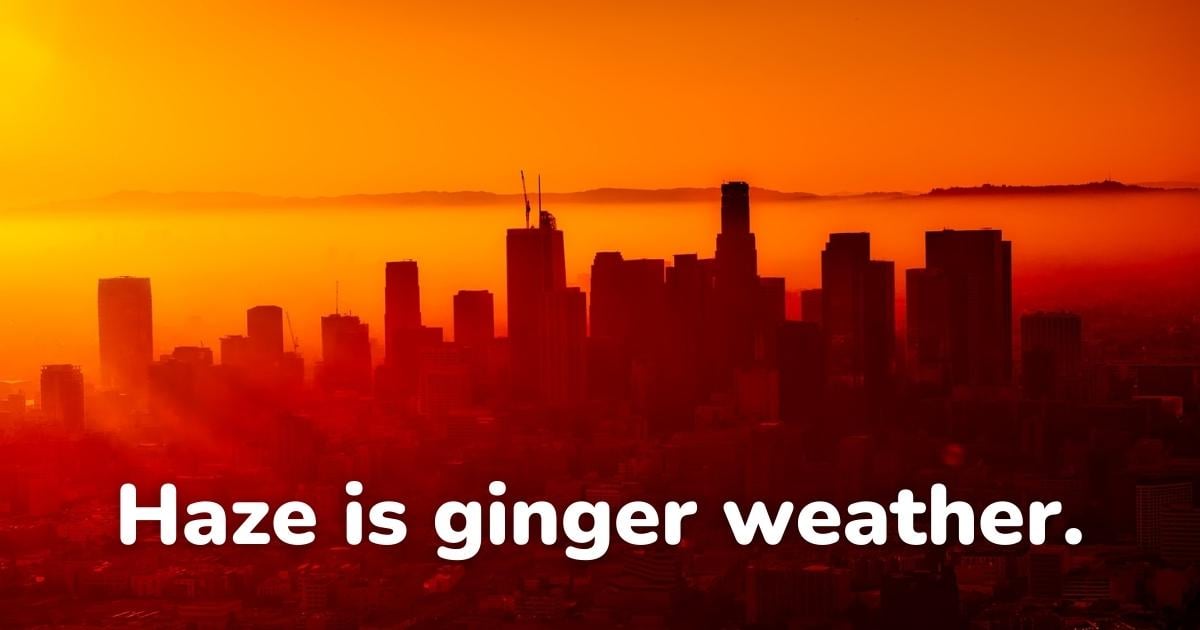 Looking Ahead
Wildfires aren't going anywhere. Due to climate change, including its effects on beetle populations that weaken and kill trees, reduced water density in plants, higher temperatures, and longer warm seasons, haze events are to be expected.12,13 It is important to prepare for them by taking care of our bodies and minds and staying educated. This information can also be used in more average circumstances, like encountering pollution from traffic, bonfires, or factories. Plants for the win again!
Citations:
1. Bandyopadhyay, A. Neurological Disorders from Ambient (Urban) Air Pollution Emphasizing UFPM and PM2.5 . Curr Pollution Rep 2, 203–211 (2016). https://doi.org/10.1007/s40726-016-0039-z
2. Li, Z., Wen, Q. & Zhang, R. (2017). Sources, health effects and control strategies of indoor fine particulate matter (PM 2.5 ): A review. Science of The Total Environment, 586, 610-622. https://doi.org/10.1016/j.scitotenv.2017.02.029
3. Jiang, X., Wang, R., Chang, T., Zhang, Y., Zheng, K., Wan, R., & Wang, X. (2023). Effect of short-term air pollution exposure on Migraine: A protocol for systematic review and meta-analysis on human observational studies. Environment International, 174, 107892. https://doi.org/10.1016/j.envint.2023.107892
4. Lee, H., Myung, W., Cheong, H.-K., Yi, S.-M., Hong, Y.-C., Cho, S.-I., & Kim, H. (2018). Ambient air pollution exposure and risk of migraine: Synergistic effect with high temperature. Environment International, 121, 383–391. https://doi.org/10.1016/j.envint.2018.09.022
5. Martins, Nuno R.. & Graça, G. (2018). Impact of PM2.5 in indoor urban environments: A review. Sustainable Cities and Society, 42, 259-275. https://doi.org/10.1016/j.scs.2018.07.011
6. Lu, J. (2020). Air pollution: A systematic review of its psychological, economic, and social effects. Opinion in Psychology, 32, 52-65. https://doi.org/10.1016/j.copsyc.2019.06.024
7. Wang, M., Zhou, T., Song, Q., Ma, H., Hu, Y., Heianza, Y., & Qi, L. (2022). Ambient air pollution, healthy diet and vegetable intakes, and mortality: a prospective UK Biobank study. International journal of epidemiology, 51(4), 1243–1253. https://doi.org/10.1093/ije/dyac022
8. Sandoiu, A. (n.d.). Just 20 minutes of exercise enough to reduce inflammation, study finds. Medical News Today. https://www.medicalnewstoday.com/articles/315255
9. Chen, Z., Chen, C., Wei, S., Wu, Y., Wang, Y. & Wan, Y. (2016). Impact of the external window crack structure on indoor PM 2.5 mass concentration. Building and Environment, 108, 240-251. https://doi.org/10.1016/j.buildenv.2016.08.031
10. Barn, P., Gombojav, E., Ochir, C., Laagan, B., Beejin, B., Naidan, G., Boldbaatar, B., Galsuren, J., Byambaa, T., Janes, C., Janssen, Patricia A.., Lanphear a, Bruce P.., Takaro a, Tim K.., Venners a, Scott A.., Webster, Glenys M.., Yuchi a, W., Palmer, Christopher D.., Parsons, Patrick J.., Roh, Y. & Allen, Ryan W.. (2018). The effect of portable HEPA filter air cleaners on indoor PM 2.5 concentrations and second hand tobacco smoke exposure among pregnant women in Ulaanbaatar, Mongolia: The UGAAR randomized controlled trial. Science of The Total Environment, 615, 1379-1389. https://doi.org/10.1016/j.scitotenv.2017.09.291
11. Jung, C., Lin, W., Hsu, N., Wu, C., Chang, H. & Su, H.Development of Hourly Indoor PM 2.5 Concentration Prediction Model: The Role of Outdoor Air, Ventilation, Building Characteristic, and Human Activity. IJERPH, 17(16). 10.3390/ijerph17165906
12. Lieberman, B. (2023, June 6). Wildfires and climate change: What's the connection? " Yale climate connections. Yale Climate Connections. https://yaleclimateconnections.org/2019/07/wildfires-and-climate-change-whats-the-connection/
13. Wildfire climate connection. National Oceanic and Atmospheric Administration. (n.d.). https://www.noaa.gov/noaa-wildfire/wildfire-climate-connection
Choosing a healthy plant-based and vegan diet is most beneficial when it comes to:



Higher levels of energy;

Improved sleep;

Aids in energy and overall happiness;

Provides a sense of comfort and relief;

Could prevent major diseases such as obesity and diabetes;

Accomplish weight-loss and management; and

Improves mental and cognitive functioning.
There are really no excuses not to try healthier habits in your everyday life. If you are a man or woman looking for specific benefits of adopting healthier habits or just want to know about the general healing properties of herbs. Please remember to comment or post any health questions, or contact us directly!


Also feel free to share any of your favorite recipes to make and share it with the Assuaged community on our ➡️ Share A Recipe ⬅️ page!