Former President Clinton credits a vegan diet with preserving his health after leaving the Oval Office. "[It] changed my life," he said in Las Vegas, according to Politico. "I might not be around if I hadn't become a vegan. It's great."
Clinton, 71, then touted the lifestyle improvements he has experienced by practicing a vegan diet and avoiding most animal food products.
"The vegan diet is what I like the best," he said. "I have more energy. I never clog. For me, the no dairy thing, because I had an allergy, has really helped a lot. And I feel good."
The nation's 42nd chief executive admitted he's not always strictly vegan and added that he has also not always enjoyed the food.
"[My doctor] asked me to eat organic salmon once a week," Clinton said. "I do, but I'd just as soon be without it.
"I like all the Italian stuff," he added of his preferred vegan fare. "Lasagna, I like the chili enchiladas, they nailed the meat substitute stuff. It used to be when I started this, it was inedible. It's so much better now."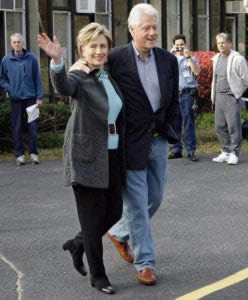 The Daily Meal reported Clinton's remarks Thursday as he campaigned for his wife, Democratic presidential front-runner Hillary Clinton, in Sin City. Bill Clinton visited Simply Pure, a vegan café, during his stop in the Nevada metropolis.
The former president went vegan in 2010 after undergoing emergency surgery after waking up with chest pains, it added. He previously underwent a quadruple coronary bypass surgery in 2004.
"This is unbelievable," Bill Clinton said while eating nachos made with cashew cheese sauce and textured vegetable protein. "I'd weigh 50 pounds more if I lived here because this looks so good. This is great. A lot better than what I eat.