Did you know ginger root has been used for thousands of years for culinary and medicinal purposes? You may have heard your grandma say ginger will help with digestion, but this rhizome has many more powerful healing properties than that!
If you haven't started using ginger yet, it's bound to become a staple in your pantry after hearing about the health benefits of ginger root. You could almost consider ginger your one-stop shop for symptom relief. Let's look at what this means for your health and dive into ginger's ten surprising health benefits.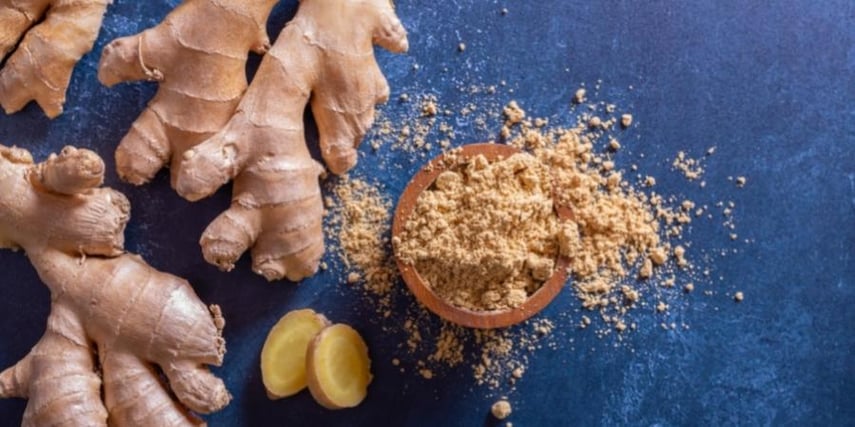 1) REDUCED RISK OF CANCER DEVELOPMENT
Nitrous oxide is a compound commonly formed in the body. It is known to cause DNA damage, increasing the risk of cancer development. However, ginger prevents the formation of the compound, thus reducing the risk of genetic material interruption.
2) IMPROVED KIDNEY HEALTH
Your kidneys stand to benefit from the antioxidant capability of ginger as well! Did you know your kidneys filter about 150 quarts of blood a day? That's a lot of blood! Now, imagine if that blood was carrying toxins. That's also a lot of toxins your kidneys would come in contact with daily. Ginger decreases the number of particles in your blood that may be harmful to your health, thus preventing your kidneys from coming into contact with them.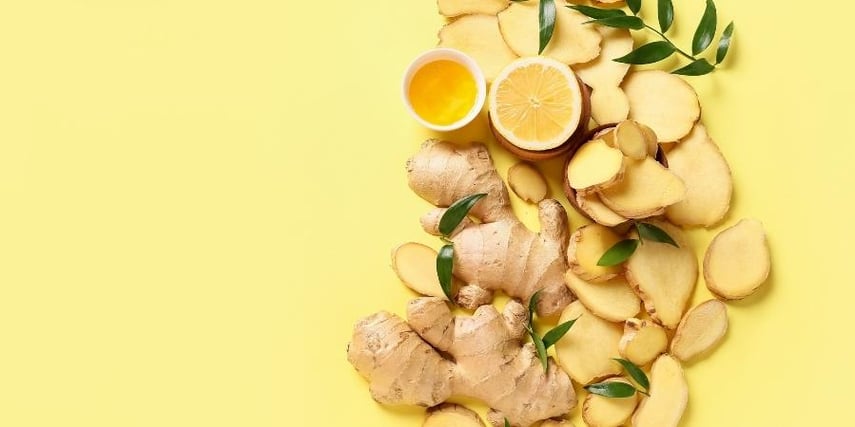 3) INHIBITS RHINOVIRUS (COMMON COLD)
Frequently referred to as the common cold, rhinoviruses can cause various unpleasant symptoms, including congestion, headaches, coughing, and runny eyes, among several others. The anti-inflammatory effects of ginger help reduce inflamed areas of the body so your immune system can focus on fighting off this foreign invader.
4) REDUCING GAS AND GI DISTRESS
Ginger activates digestive enzymes that help alleviate bloating and gas production.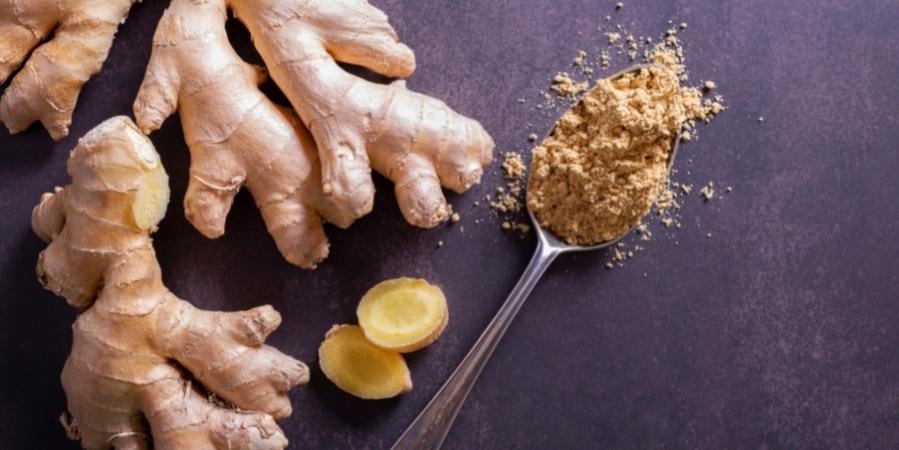 5) TREATING MIGRAINES OR HEADACHES
Ginger is suggested to increase levels of serotonin. Serotonin is a chemical messenger that is essential for nerve cell communication. When levels of serotonin are depreciated, a migraine may occur. Thus ginger's role in increasing serotonin helps to bring levels back up to normal alleviating the symptoms of the migraine.
6) DECREASING JOINT PAIN
Pain associated with osteoarthritis has been shown to significantly decrease when taking a ginger supplement. This may result from reduced inflammation in the joint areas allowing for ease of movement and necessary lubrication for proper joint motion.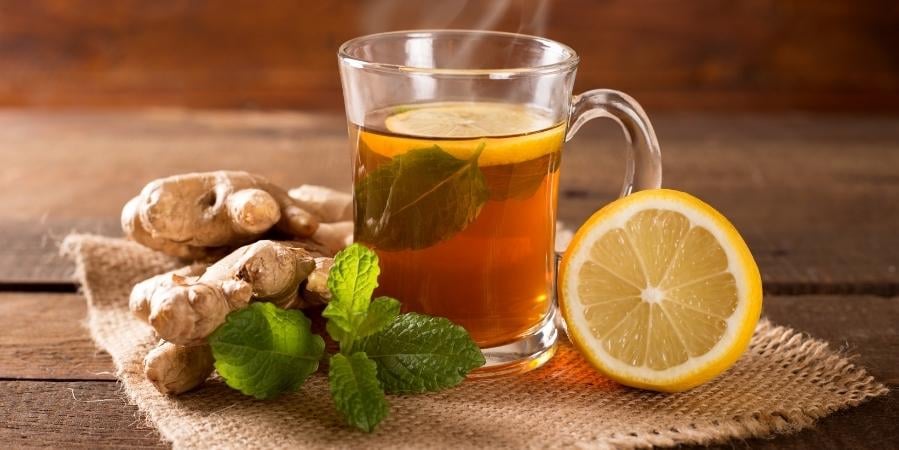 7) ALLEVIATING NAUSEA
Oh yes, ladies! This means you can help curb morning sickness with a natural remedy that won't cause harm to your little one. Ginger is safe to use and has no adverse side effects associated with taking antacids or other anti-nausea medications. If there is a chance you may be pregnant, please consult with a health professional before incorporating ginger as an alternative to any medicines.
8) REDUCED SYSTEMIC INFLAMMATION
Chronic inflammation has been associated with heart disease, diabetes, GI distress, and cancer. Inflammation is a response from your immune system to defend against foreign invaders. Chronic inflammation means the healing is not taking place, or the root cause is not being resolved.
Ginger root has proven to decrease systemic inflammation and reduce pain associated with arthritis, bacterial infections, and common illnesses such as the rhinovirus known as the common cold. The anti-inflammatory properties of ginger provide various health benefits. Reducing inflammation may result in a decreased risk of disease development.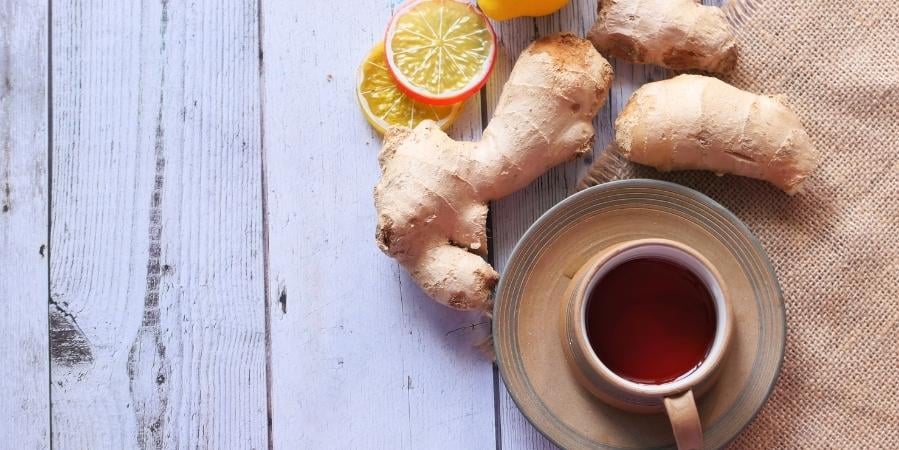 9) WARMING EFFECT THAT STIMULATES INCREASED CIRCULATION
Increased circulation allows quicker oxygen delivery to muscles, tissues, and organs, ensuring proper functioning. Increased circulation has also been associated with improved immune system functioning.
10) LOWER BLOOD SUGAR AND CHOLESTEROL LEVELS
The warming effect of ginger is also suggested to help improve blood sugar and cholesterol levels preventing the build-up of plaques in the arteries.
Whether you are looking for alternatives to medicine or a natural way to improve your well-being, ginger can benefit your health when incorporated into an appropriate diet.
Choosing a healthy plant-based and vegan diet is most beneficial when it comes to: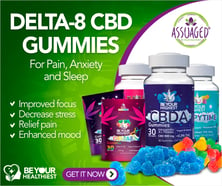 Higher levels of energy;

Improved sleep;

Aids in energy and overall happiness;

Provides a sense of comfort and relief;

Could prevent major diseases such as obesity and diabetes;

Accomplish weight-loss and management; and

Improves mental and cognitive functioning.
There are really no excuses not to try healthier habits in your everyday life. If you are a man or woman looking for specific benefits of adopting healthier habits or just want to know about the general healing properties of herbs. Please remember to comment or post any health questions, or contact us directly!


Also feel free to share any of your favorite recipes to make and share it with the Assuaged community on our ➡️ Share A Recipe ⬅️ page!