Hoohah oral sprays are immensely popular nowadays. The amazing health benefits that come along with these oral sprays have made them high in demand than other similar supplements available for purchase on the market.
If you are impressed, it is worth looking at the ingredients of the Hoohah Sprays and seeing what benefits are associated with them. So, let's deep dive and explore Hoohah oral sprays and their ingredients in detail.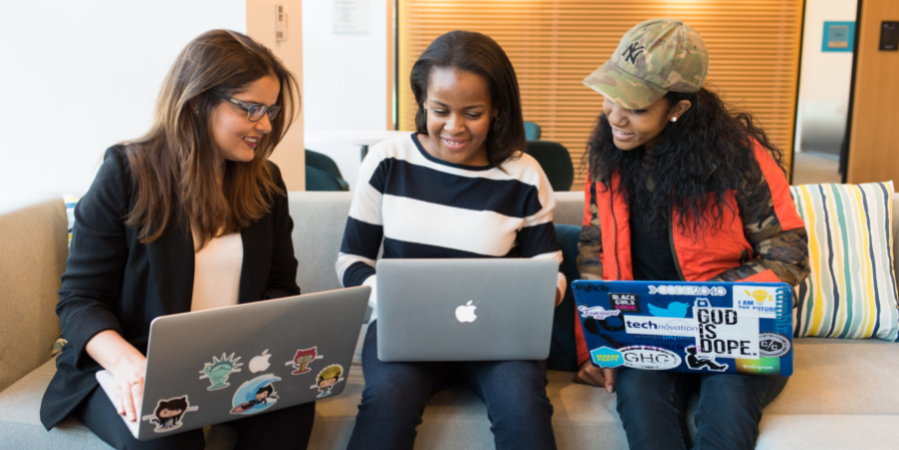 The Maca Butterscotch Hoohah Oral Spray can provide you the opportunity to improve your energy levels naturally. On top of that, it can improve mood and memory as well. This sugar-free vitamin can also benefit people as an excellent hangover aid.
The ingredients of Maca Butterscotch Hoohah Oral Spray
Pure hemp-derived oil obtained from hemp plants is available in Maca Butterscotch Hoohah Oral Spray. The C-B-C acts as a stimulant and will never make you feel high! It provides people the opportunity to experience numerous health benefits. For example, hemp-derived oil can offer relief against anxiety and depression. On top of that, it can also contribute towards overall health by boosting emotional health, physical well-being, and mental wellness.
MCT oil can help your body absorb all the ingredients with this supplement effectively. This is one of the main reasons why you can experience quicker results. On the other hand, MCT can assist the body in making ketones, which can provide energy for your brain.
Butterscotch oil is one of the best sources of protein. Moreover, it can improve your body's metabolism while offering a low-calorie intake to the body. You can also strengthen your muscles while maintaining healthy skin with the assistance of butterscotch oil.
Monk fruit is one of the best sources of antioxidants available. In addition, once consuming monk fruit, you will overcome the damage caused by free radicals in the body. Therefore, you can receive protection against numerous health problems such as heart disease and cancer. Therefore, it is worthwhile to consume monk fruit regularly to enhance overall health.
This is one of the main ingredients used in your favorite energy drinks that comes with a pair of wings. In addition, guarana can receive multiple mental health benefits with guarana. For example, it can boost energy, reduce fatigue, and improve your memory. Likewise, you can also enhance your heart health with the assistance offered by guarana.
Ginkgo Biloba is another powerful source of antioxidants. Hence, it can also help overcome free radical damage. Moreover, this supplement can assist you in fighting inflammation. In addition, you will also improve your heart health as it can improve blood circulation within the body. Furthermore, this supplement can enhance your vision.
Red ginseng offers excellent anti-inflammatory and antioxidant benefits. In addition, you can use this to improve your blood sugar levels. Furthermore, it is a well-known fact that red ginseng can benefit individuals to overcome the possibility of encountering cancers. Moreover, it will strengthen your immune system and brain health.
Ashwagandha can assist you in calming your brain. The ingredient can alter the immune system, lower blood pressure, and reduce swelling. Another great benefit of Ashwagandha is providing adaptogens to your body. Therefore, you can use it to resist both mental and physical stress.
You can consume Maca Root to increase libido. Moreover, it is known as a great ingredient that benefits the sexual health of individuals. The maca root can improve fertility, boost energy, and reduce blood pressure.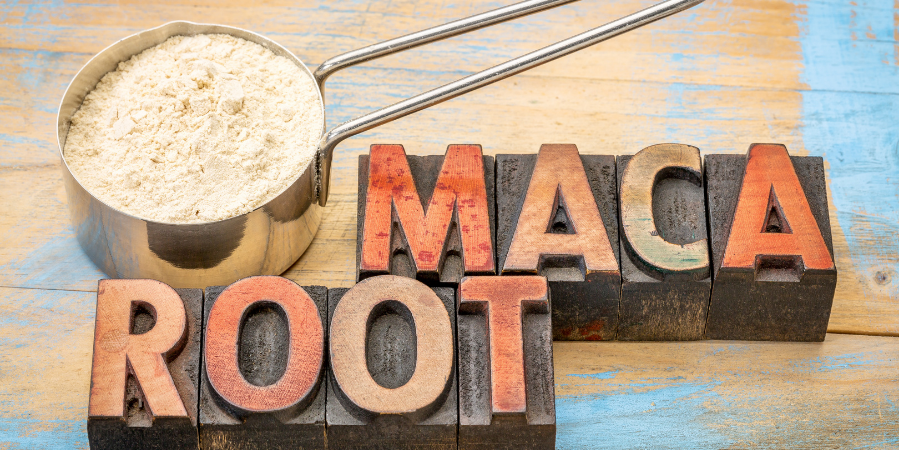 The D8 Hoohah Oral Spray is known to provide a restful sleep to you with excellent psychoactive properties. Moreover, it can deliver stress and pain relief. You won't find a more potent and cheaper spray at a powerful 3000mg on the market.
D8 is an Isolate is capable of offering feelings of relaxation as well as pain relief. However, you will never feel high due to the presence of low T.H.C. content. You will also be able to experience feelings of euphoria with the help of this ingredient.
MCT oil can assist your body in successfully absorbing the ingredients in this product. This is one of the primary reasons why you will get faster results. On the other hand, MCT can help your body produce ketones, providing energy to your brain.
Flavored by Natural Organic Fruit Punch, Lime, and Lemon Oils
All these ingredients can function as excellent antimicrobial and anti-inflammatory ingredients. Hence, the consumption of this ingredient can assist you in boosting your mood. You will also reduce your stress levels while achieving mental clarity. These are great ingredients available for anyone who wishes to improve mental health.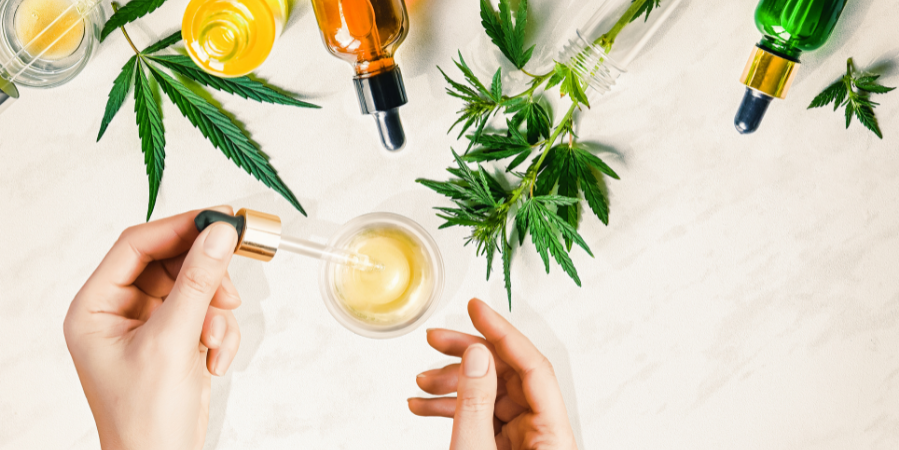 The Elderberry Hoohah Oral Spray can strengthen your immunity. In addition, it can deliver excellent results to you with antiviral ingredients and antioxidant ingredients. You can also balance your blood sugar levels with the help of this supplement.
MCT acts as the carrier oil in this supplement. The oil can help your body absorb all of the ingredients in this product more effectively. One of the main reasons you will get faster outcomes. On the other hand, MCT can aid in the production of ketones, which can supply energy to your brain.
Camu Camu can offer much-needed assistance by boosting your energy levels. If you need a quick boost of energy, this is one of the most appropriate ingredients available to consider. It can also enhance the good health of your skin, immune system, eyes, and gums. People usually prefer to consume Camu Camu as food to experience its health benefits.
Elderberry is a rich source of antioxidants. As a result, you can receive the assistance needed to protect against free radical damage by this ingredient. Moreover, it can function as a vitamin and improve your overall immune system. Other well-known benefits of elderberry include decreasing stress, taming inflammation, and protecting heart health.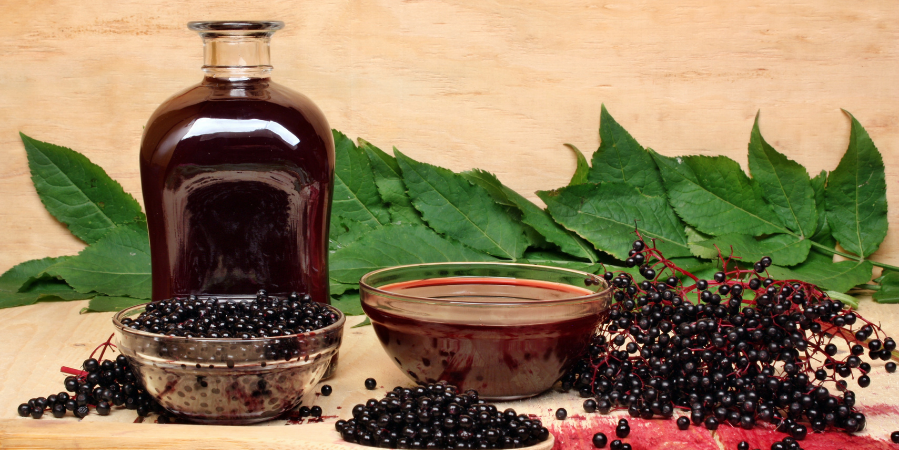 Cordyceps is known for its ability to help people in overcoming respiratory disorders. This is the main reason why Pure Cordyceps is quite popular as a treatment for chronic bronchitis and coughs. In addition, the ingredient can also be used to overcome male sexual issues, nighttime urination, kidney disorders, irregular heartbeat, anemia, liver disorders, and cholesterol.
Pure Lion's Mane can protect people against dementia. Moreover, it can also offer multiple health benefits to protect brain health. For example, people who struggle with symptoms of depression and anxiety can also receive relief from this ingredient. In addition, anyone who needs assistance to overcome nervous plan injuries should consider this supplement.
Pure Red Reishi can provide support to your immune system. Therefore, you can reduce the likelihood of encountering illnesses. Moreover, it can deliver anti-aging properties. Overall, by consuming this ingredient, there is a possibility to slow down the effects of aging. It also offers excellent cardiovascular health support.
Turkey tail is a well-known medicinal mushroom available. It comes with powerful antioxidants which can overcome free radical damage and assist in experiencing multiple health benefits. Moreover, it can power up the immune system as well. The ability of this ingredient to fight against cancers is impressive. On top of all these benefits, the ingredient can improve bacteria balance within the gut. This would also indirectly impact immunity.
Agaricus Blazei is another mushroom that offers health benefits to individuals. The Agaricus Blazei mushrooms can fight against emotional stress and physical stress. Along with that, this ingredient can also stimulate the immune system to offer multiple health benefits. People looking for ways to prevent osteoporosis, reduce cholesterol, and overcome diabetes can use this mushroom.
Pure Chaga is a nutrient-dense superfood available for you to consider. It comes as an active ingredient of this Hoohah supplement. The ingredient can slow down the aging process, lower cholesterol, and reduce blood pressure. Moreover, it can also prevent you from cancers. If you are already fighting against cancer, it can provide much-needed assistance. The ability of pure Chaga to lower blood sugar levels is impressive as well.
Shiitake mushrooms are known for bringing down cholesterol levels found within the blood. Moreover, they can also provide beta-glucans to the human body, which will reduce inflammation. This will keep the intestines away from absorbing cholesterol as well. On top of all these benefits, pure shiitake can support immune health. This is also one of the richest sources of beta-glucans and lentinans available.
Pure Maitake can offer assistance in reducing cholesterol levels. It will also improve artery function. By consuming this ingredient, it is possible to improve overall cardiovascular health. Thus, people who consume Maitake can reduce the risk of harmful heart health issues. It can also reduce bad cholesterol levels without impacting the good cholesterol levels.


Anyone who wishes to secure a natural deep sleep can go for a Cherry Mint Hoohah Oral Spray. It also reduces joint pain and offers relief to anyone who struggles with arthritis.
Passionflower is the most prominent ingredient with which you can have a beneficial relationship from the Cherry Mint Hoohah Oral Spray. It is known for its ability to deliver a deep and restful sleep. If you are a person who struggles with sleep, Passionflower is something that you need to be consuming. You can possibly enhance the REM sleep results you get out of Passionflower by combining it with another sleep aid or prescription medicine available. Before taking this supplement with any other OTC medications or prescriptions, please consult your medical physician.
Along with a good night's sleep, Passionflower will also provide anti-aging properties. You can improve the good looks of your skin by consuming this ingredient.
Tart Cherry is rich in healthy nutrients. Therefore, you will positively impact your overall health with it. Moreover, it is known to enhance muscle strength while reducing muscle soreness. In addition, tart Cherry is an excellent ingredient, which offers a good sleep at night.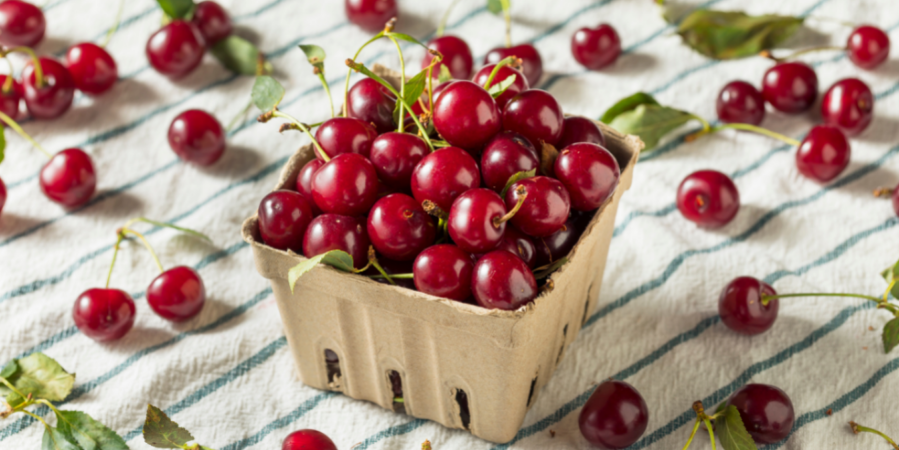 MCT oil can aid in the proper absorption of all of the components in this product. This is one of the primary reasons you will see faster results. On the other hand, MCT can help you produce ketones, providing your brain energy.
In most instances, people use peppermint oil for topical purposes. For example, it is possible to apply peppermint oil on the skin and overcome joint pain, muscle aches, headaches, and itching. However, when it comes to aromatherapy, peppermint oil can offer relief against pain and colds. Moreover, it can improve overall mental function while bringing down stress levels. Hence, it can benefit people struggling to get a night of quality sleep.
L-Theanine is an ingredient that can assist you in reducing your stress levels. Moreover, it can also increase relaxation while bringing down your heart rate. This will help you in lowering your overall blood pressure effectively as well. So, if you want to infuse yourself with a cheerful mood, you should be taking in L-Theanine.
Mg-Theronate is capable of enhancing magnesium concentration within your brain cells. Therefore, it can positively impact the good health of the brain. For example, it can help people overcome age-related memory loss and depression.
Apigenin can promote muscle sedation and muscle relaxation. However, the positive results would vary depending on the dose. Moreover, it is capable of acting as an excellent antioxidant as well. Therefore, this ingredient's anti-inflammatory, neuroprotective, and anti-amyloidogenic properties are quite beneficial for people who consume it regularly.
You can create a positive impact on your overall well-being with the help of Mint Rose Full Spectrum Hoohah Oral Spray. It can also provide calmness to you while helping you overcome the adverse effects that stress and anxiety can create on the body.
MCT oil can positively impact your brain and offer better brain and memory function. Moreover, it can deliver an energy boost to you as well. People looking for ways to lose weight and maintain overall body weight at a healthy range may consider experiencing MCT oil benefits. On top of all these benefits, it can reduce cholesterol and blood sugar levels. MCT oil is one of the most outstanding ingredients that can positively impact your health.
Rose Hips are a significant source of Vitamin C available as of now. Therefore, it can benefit people looking forward to boosting their immunity. In addition, it is an excellent remedy available for individuals who are looking for a way to overcome rheumatoid arthritis. Rose Hip can also reduce symptoms of hip osteoarthritis and knee osteoarthritis. Apart from these health benefits, it can boost metabolism as well.
Peppermint oil is a popular, topical treatment. Peppermint oil, for example, can be applied to the skin to relieve joint pain, muscular pains, headaches, and itching. When used as an aromatherapy treatment, Peppermint oil can help with pain alleviation and colds. It can also boost general brain performance while lowering stress levels. As a result, it may benefit those who struggle to obtain a good night's sleep. In addition, you will be able to enhance your overall mental well-being with the support of peppermint oil.
Hemp-Derived Full Spectrum Mint Rose Oil
This product comes along with all the benefits of hemp-derived oil. That's because it has all-natural compounds present within the MJ plant. Therefore, you could experience physical health benefits and mental health benefits with it. For example, you may overcome aches and pains with Hemp-Derived Full Spectrum Mint Rose Oil. On the other hand, it can help you to take a break from stress and promote feelings of tranquility within the body. It will also relax your mind effectively. Apart from these, you can experience multiple other benefits without any side effects.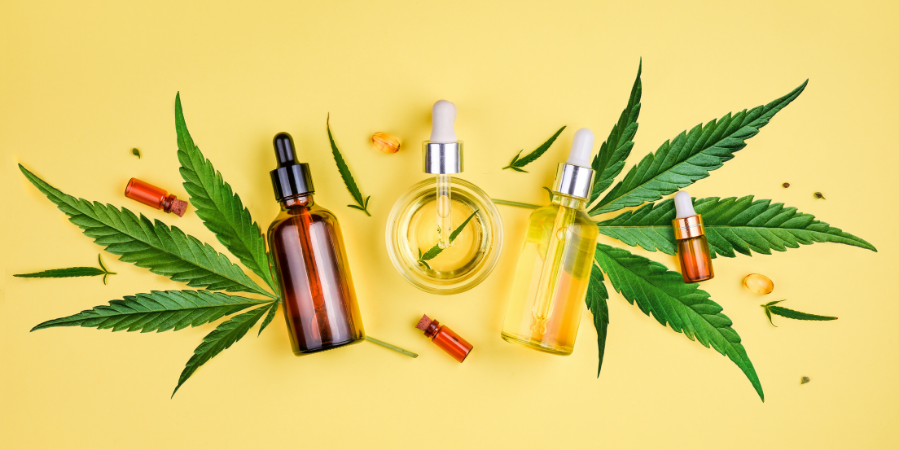 Final Words

Now, you are aware of the benefits that come along with the ingredients of Hoohah Oral Sprays. However, while keeping these benefits in mind, you may go ahead and purchase the best nutritional supplement available for purchase out there.
NOTICE & DISCLAIMER:
Before proceeding to read the rest of the information please note that all products are Federal Farm Bill Compliant and contain less than 0.3% T.H.C.*

FDA DISCLOSURE: The statements regarding these products have not been evaluated by the FDA. These products are not intended to diagnose, treat, cure or prevent any disease, consult your health physician before use. The Federal Food, Drug, and Cosmetic Act require the placement of this notice.
Please read our warnings and disclaimers section about all of our products and the transparency we offer.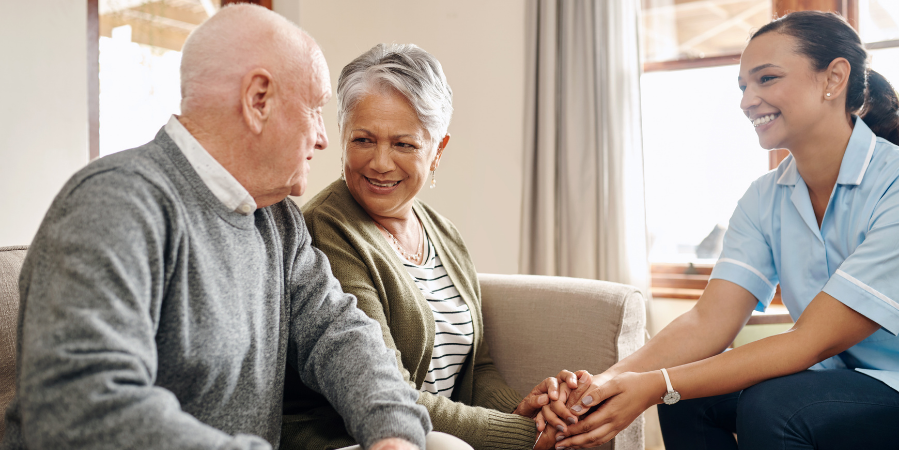 Still Not Sure Which Oral Sprays is Best For You?
If you want to reap the benefits of all 5 of our Hoohah sprays there is no better way than purchasing all of them, however, we recommend examining the benefits of each spray listed above and choose the ones most relevant to your needs!
If you can't make up your mind on which one to try first, please contact us! And if the flavors just doesn't sound like your cup of tea, gummies and caramels are also available options to still gain some of the notable health benefits.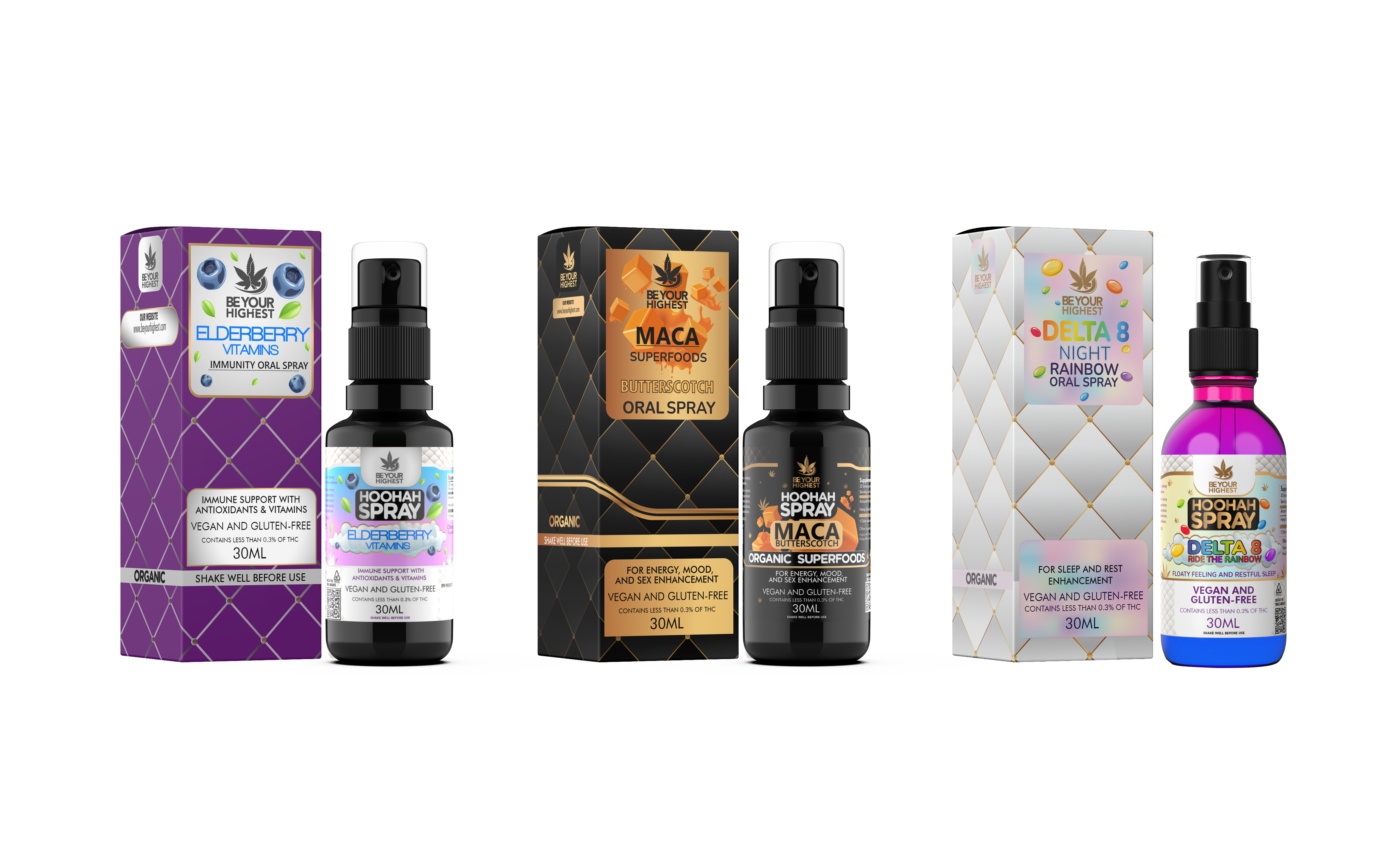 We all want to know that when we put food into our bodies, it's been made by someone who cares with quality products. Supplements and vitamins should be no different! For Premium Organic - Fair Trade - GMO Free - Oral Sprays at Great Prices we recommend Be Your Highest!
ALL of their products are manufactured in a remote, pristine part of Connecticut and are cultivated with respect. They have real experts who care in a small enough business to keep their products up to family standards.
All oral sprays are stored in ultraviolet high-quality euripean glass to ensure safety, quality, and that the nutrients are kept in tact!
There's really no excuses not to try our Hoohah Oral Sprays, if you are a man or woman looking for specific benefits, or just want to know about the healing properties in general. Please remember to comment or post any health questions, or contact us directly!