It's a reasonably well-known and scientifically proven fact that plant-based diets are good for you. They help reduce weight, LDL cholesterol and can help prevent diabetes. They are also a more sustainable and environmentally conscious meal option since plant-based farming uses less water and has a smaller carbon footprint than animal-based.
Healthy Plant-Based Meals Can Be Easy

Meal kit subscription services have changed the way many people choose to feed their families, offering convenience, balanced nutrition, pre-portioned meal sizes, and eliminating or reducing the need to go grocery shopping.
Plenty of companies provides these services, with varied menus and dishes from which to choose. However, finding meal delivery services that meet their needs may be challenging for people with dietary restrictions like veganism, vegetarianism, or gluten-free diets.

Ready-to-Eat Vegan Meal Solutions

Enter Purple Carrot, a plant-based meal delivery service subscription that uses 100% vegan ingredients. The company offers traditional meal kits that you can cook at home but has also introduced a Prepared Meals plan option with fast, ready-to-eat, single-serving meals that are healthy, low calorie, and packed with flavor!
These quick and easy meals contain clean ingredients free from artificial flavors, colors, or preservatives. Individual preferences are customizable for gluten-free meals or meals without specific allergens. The meal description details any potential allergens for full transparency.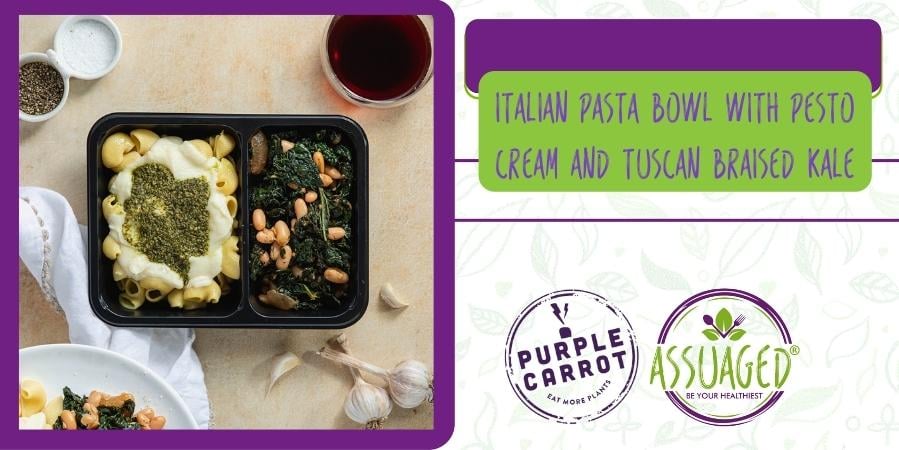 What's on the Menu?
Looking at a Week of Fast and Healthy Meals

The variety of vegan foods served varies from week to week across a range of international cuisines and flavor profiles, so you'll never be bored.

Some of the zesty dishes on the menu for the week of April 10th included:
What Makes it Healthy?
Calorie Content, Clean Ingredients, and Eco-friendly Sustainability
All the meals average around 570 calories, some as low as 480 calories per meal, like the Elote-Style Corn, which is ideal for people trying to lose weight healthily.

The Prepared Meals option says that the meals are ready in 5 minutes or less, all the meals from the week of April 10th are ready in 2 minutes or less, a couple being chilled meals that are ready to eat straight from the fridge, like the Chilled Three Bean Salad. These would make great packed lunches, work lunches, or even picnic lunches since they don't need a microwave.

Purple Carrot meals are also eco-friendly, each meal using 51% less water to produce and releasing 72% less carbon into the atmosphere than a standard American meal. So, if you're looking a plant-based meal service to lighten your workload without compromising on your nutrition, Purple Carrot Prepared Meals might be worth giving a try.