What is Sustainable Nutrition?
Sustainable nutrition is the capacity of a food system to supply the necessary nutrients and energy to maintain people's health without compromising future generations' nutritional requirements. Every living being on Earth has a basic need for food, so the necessity to save food is undoubtedly a growing concern everywhere in the world.[1]
How frequently do you ask yourself if you eat a balanced meal, why food is becoming more expensive, and what can I do to make things better?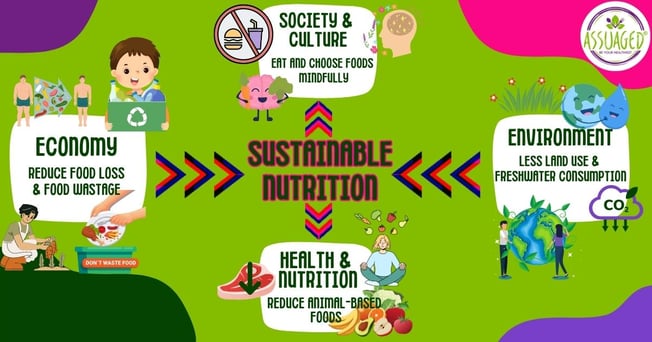 In today's world, diseases like obesity, hypertension, and diabetes coexist with undernutrition. Focusing on sustainable nutrition, which is also a threat to public health, is critical in addition to the increase in non-communicable diseases. The primary factor contributing to the rise in diseases is unsustainable nutrition.
Food is increasingly in demand due to overpopulation and obesity, which makes it difficult for people to get in an emergency and expensive for underprivileged communities. These have, in turn, placed tremendous pressure on the food system and production to keep up with consumer demand, driving up the cost of food and the use of artificial fertilizers to boost the cultivation process.[2]
Some of the fields are no longer productive due to the constant use of strong fertilizers that have destroyed soil health.[2][3]
In addition, our food systems produce 30% of the world's greenhouse gas emissions, 33% of food waste, and 70% of freshwater waste. The ongoing process has impacted the ecosystem and made it more challenging to produce food sustainably due to problems including climate change, water scarcity, and land shortage.[4]
In the last three decades, the number of malnourished individuals has grown exponentially, making it the single biggest food problem in high-end cities and rural populations. Malnutrition affects one in three individuals, a statistic that will probably change as the population grows.
People who go hungry or lack access to the essential nutrients to live a healthy life for growth and development have been impacted by the consequences of population expansion. It contradicts the presence of obesity, a public health issue where individuals overeat and become obese. Nonetheless, this does not mean they consume too much nutrient-rich food.
As a result, this issue has resulted in alarmingly high rates of type-2 diabetes caused by obesity in practically all age groups. Due to poor dietary practices, motivation, and dependence on essential foods high in carbohydrates, sugar, and fat, many people need help to change their eating habits. The increasing reliance on these food types has resulted in lifestyle diseases that cost more to manage financially.

Food has become more expensive and challenging due to the growing population and increased demand. Less diverse food is available to more than 75% of the people, and the less diverse food is, the less likely it is to offer complete nutrition.[4]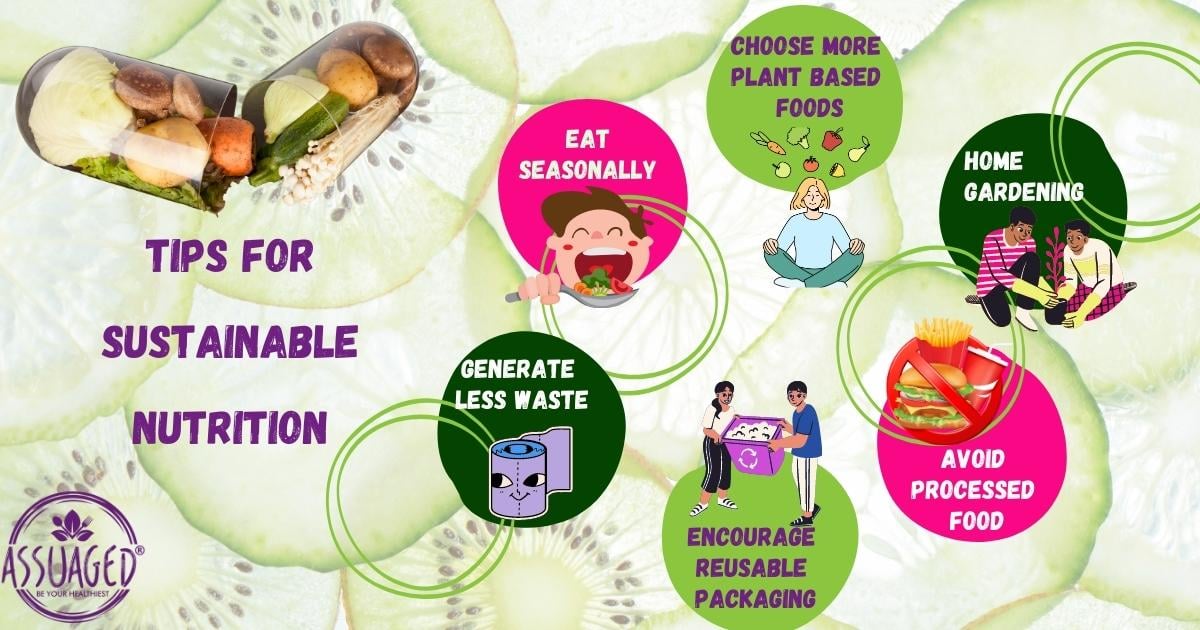 Nutraceuticals are already popular today, with practically everyone living in a big metropolis popping nutrient-dense pills. Additionally, excessive chemical fertilizer use to increase crop output and fulfill the increasing demand for food due to overfarming has, over time, resulted in the decline of soil health.
Numerous fields have experienced problems with infertility and low output, raising concerns about the sustainability of the field for future cultivation. The transformation of the food system is equally tricky. Thus a backup system must exist while the whole process is fixed. The food system has reached its highest level of performance disruption at every stage. The only practical way to improve the strategies is to invest more money, which is expensive.
Food prices rise directly to how much money the government spends on procedures like these. For essential nourishment, the rural population primarily relies on food stamps. According to numerous surveys, Americans most frequently use food stamps to buy soft drinks. Maintaining healthy eating habits is another obstacle in the fight against lifestyle diseases.[5]

To maintain the food system, it is crucial to identify the critical stakeholders who can make changes. Producing and eating differently can be challenging since it requires the appropriate amount of time, money, and effort on different levels.
To adopt a sustainable diet, you must produce and consume more sustainable foods that increase nutrition security and overall health while making less of an impact on the environment. A sustainable diet involves more than just being mindful of your food choices. It involves safeguarding, respecting, and effectively using natural resources.[5][6]

Home gardening is a fantastic example of sustainability while enjoying wholesome foods. Although it wouldn't be possible in some states due to the weather, some foods could be primarily grown at home. Many people who garden at home find it relaxing, rejuvenating, and immensely fulfilling.
It is also one of the healthy eating practices to impart to the younger generation. It is safer to begin eating diets high in vegetables, fruits, and whole grains that satisfy the recommended fiber requirements to lessen the burden of diseases. It is crucial to shift our focus to health and well-being by taking a more holistic approach.
To make these necessary adjustments so that access to sustainable nourishment is not restricted, each individual must be knowledgeable and take responsibility.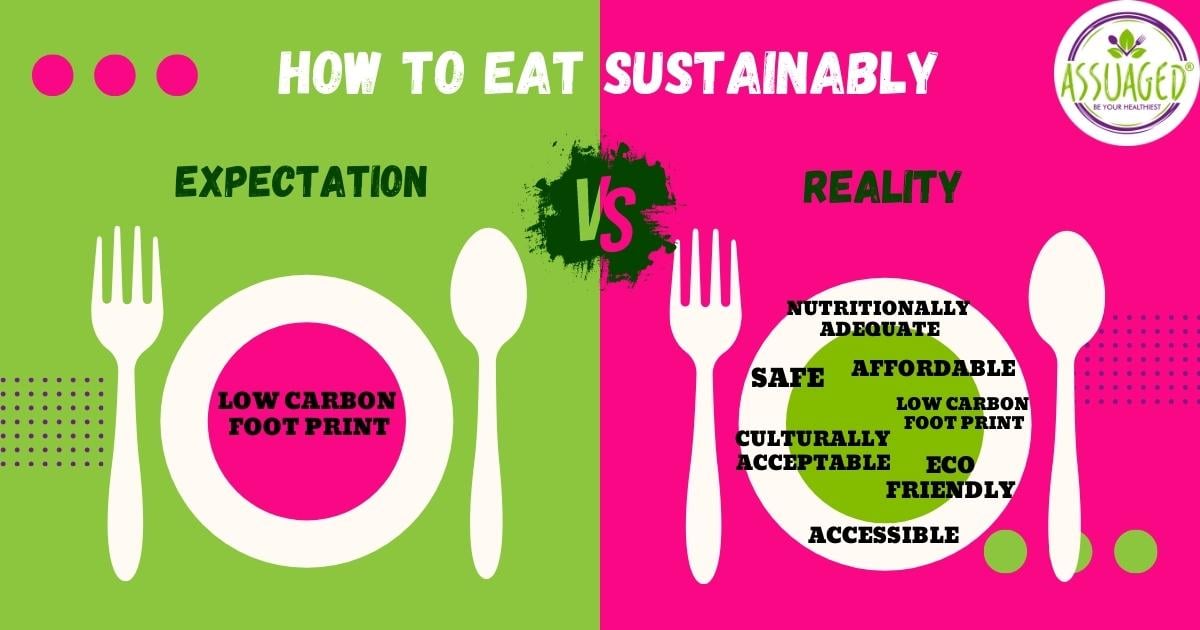 Here are a few tips for Sustainable Nutrition,
Reduce food wastage
Eat unprocessed food
Try to home gardening
Reduce intake of meat
Include a variety of colorful foods in your meals
Eat mindfully
Use eco-friendly packaging[1][3][5][7]
Choosing a healthy plant-based and vegan diet is most beneficial when it comes to:



Higher levels of energy;

Improved sleep;

Aids in energy and overall happiness;

Provides a sense of comfort and relief;

Could prevent major diseases such as obesity and diabetes;

Accomplish weight loss and management; and

Improves mental and cognitive functioning.
There are really no excuses not to try healthier habits in your everyday life. If you are a man or woman looking for specific benefits of adopting healthier habits or want to know about the general healing properties of herbs. Please remember to comment or post any health questions or contact us directly!


Also, feel free to share any of your favorite recipes to make and share it with the Assuaged community on our ➡️ Share A Recipe ⬅️ page!