What Are Food Additives?

Food additives are ingredients added to food to maintain the appearance, color, taste, or texture. Food additives are also commonly used as preservatives to lengthen the food's shelf life or make it last longer.
Food additives are found in every type of American food. For example, additives are found in American fruits and vegetables, soda, cereal, cooking oils, meat, bread, candy, etc.
Food additives aren't particularly bad for you; they are needed to ensure the quality and safety of processed foods but many of the ones used in the United States are banned in a variety of countries due to their adverse health effects. [1]
Red 40
Red 40, also known as Allura Red, is one of the most commonly used flavoring agents in the United States. However, red 40 is banned in the United Kingdom and Switzerland due to health concerns.

Research reveals that Red 40 is associated with decreased concentration and attention in children. It also is liked to increased hyperactivity in children [2]

. In the U.S., Red 40 is found in countless food and drink products. Here's a graphic showing just a few products that contain Red 40.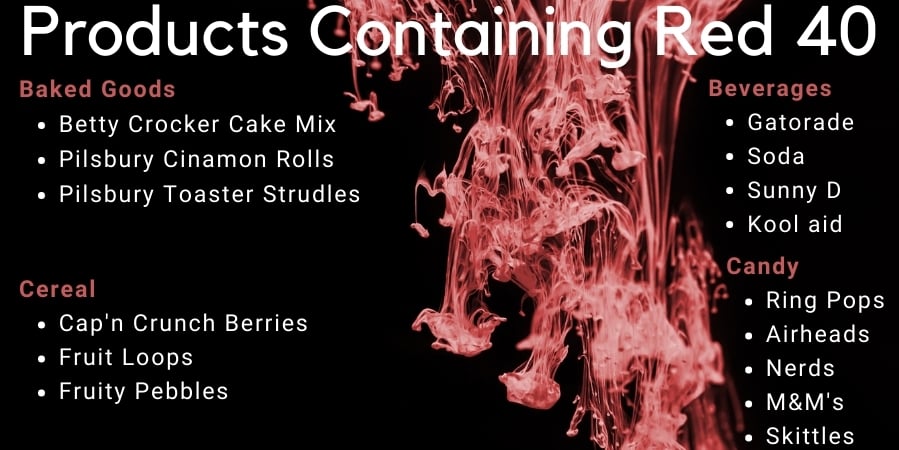 Red 40 is also found in other food products such as flavored cream cheese, Jell-o, ice cream, gushers, fruit snacks, chewing gum, chips, etc.!

On top of food products, Red 40 is even used in medication and cosmetic products. Red 40 can be found in Flintstone Vitamin Gummies, Children's Benadryl Allergy Liquid, Nyquil Cold and Flu, Children's Motrin, etc. Some cosmetic products that contain Red 40 include sunscreen, tanning lotion, mouthwash, facial cleansers, and makeup.
Yellow 5 & 6
Yellow 5 and Yellow 6 are widely used flavoring agents in the United States. However, yellow 5 has been banned in Finland and Norway due to adverse side effects; Yellow 6 is also banned in Finland.
The European Union has not banned these substances; however, all food products containing these additives must come with a warning label due to health concerns.
Research studies found that Yellow 5 induces genetic damage. Yellow 6 is linked to allergies, runny nose, hyperactivity in children, and even tumors in animals [3].
Yellow 5 & 6 can be found in..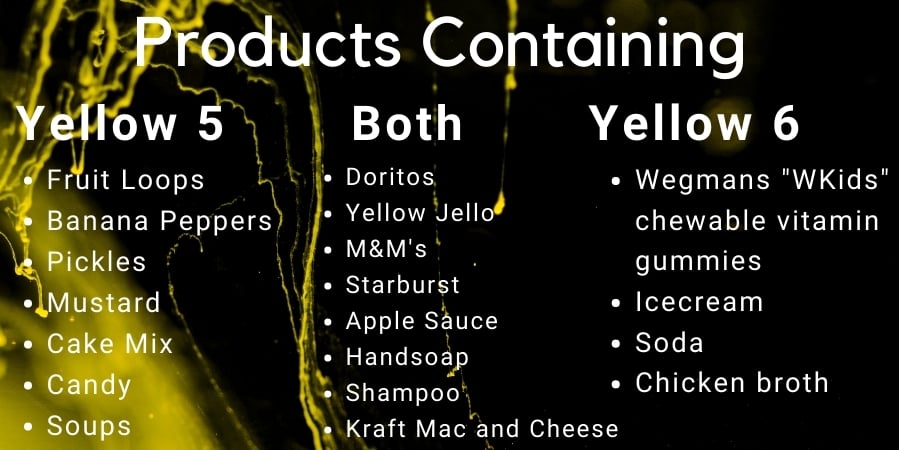 Potassium Bromate

Potassium Bromate is used in the United States to make bread. This substance strengthens baking dough and allows for higher rising. Potassium Bromate is banned in China, Canada, and within the European Union for its potential damaging health effects.
Potassium bromate is a category 2B carcinogen that is classified by the International Agency for Research on Cancer (IARC). This ingredient has been linked to cancer, gastrointestinal illness, thyroid complications, and kidney disease [2].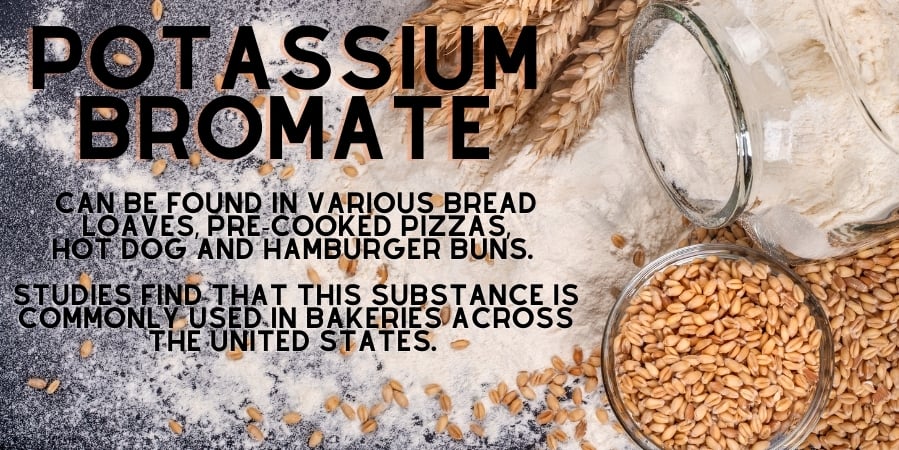 Olestra
Olestra is used in the United States as a fat substitute. The substance adds no calories, fat, or cholesterol to food products. Olestra is commonly found in savory foods such as potato chips and other high-fat foods to reduce the amount of fat content.
Olestra has been banned in the U.K and Canada due to the fact it was found to decrease the body's ability to absorb essential vitamins. Fat-soluble vitamins A, D, E, and K typically attaches to the fats inside of the intestines.
When the human body absorbs the fats, vitamins are absorbed as well. However, when one consumes Olestra, these essential vitamins stick to Olestra and are excreted rather than absorbed. Studies find that Olestra can cause digestive problems and is also not healthy for the heart. Olestra is known to cause gastrointestinal disease in children, diarrhea in adults, and increases appetite [2].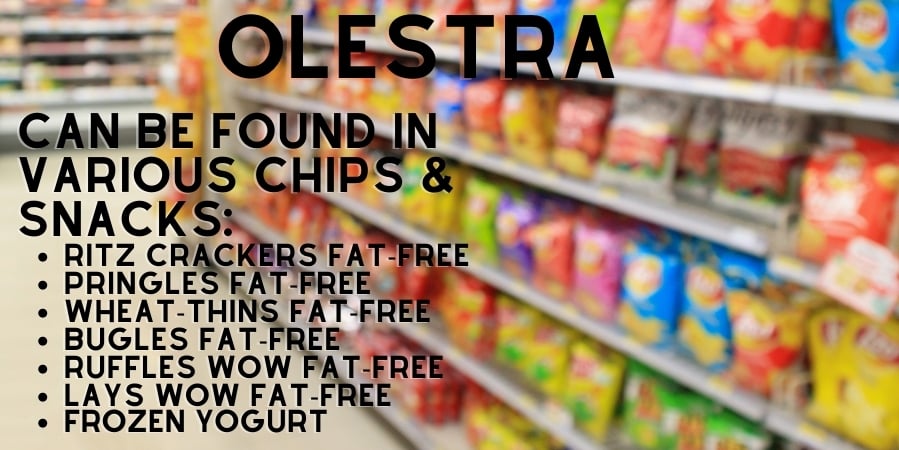 BPA
BPA is a chemical commonly used in polycarbonate plastics to store food and beverages. Research exposes that this chemical seeps into the foods and drinks they contain, causing negative health issues.
Health issues caused by exposure to BPA include possible effects on the brain and prostate gland of fetuses, infants, and children. BPA may impact a children's behavior, and there is a possible link between BPA and increased blood pressure.
The FDA states that BPA can be safe when consuming very low levels. However, in France, BPA is one-hundred banned all foods, beverages, packaging, and utensils is one-hundred percent banned [3].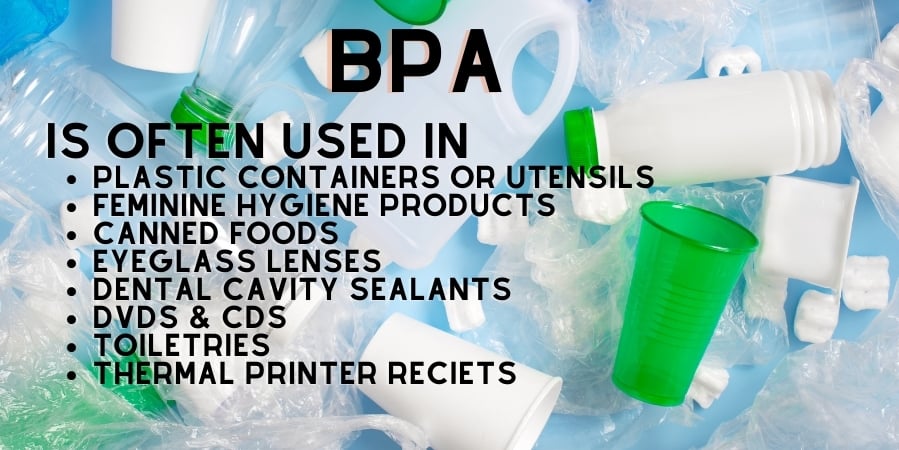 Propylparaben
Propylparaben in the U.S is known for being used in beauty products. Many beauty companies are going paraben-free, yet many don't know we are exposed to parabens in our food.
Propylparaben is typically used in popularly marketed trail mixes, tortillas, dessert cookies, muffins, and other pastries. However, research studies show that propylparaben may have potentially harmful effects on the endocrine systems and fertility. As a result, since 2006, propylparaben has been banned in the European Union [3].

Did You Know Major Food Brands Have Different Ingredients In Other Countries?
As you can see below, food products in the United States have way more ingredients and food additives than the SAME food product in the United Kingdom. This is due to the various bans on harmful food additives thanks to the European Union [4].
| | | |
| --- | --- | --- |
| Food Product | Ingredients in the United States | Ingredients in the United Kingdom |
| McDonald's French Fries | Potatoes, Vegetable Oil, Canola Oil, Corn Oil, Soy Bean Oil, Hydrogenated Soy Bean Oil, Natural Beef Flavor, Sodium Acid Pyrophosphate, Dextros, and Salt. McDonald's fries are cooked and fried in a Vegetable Oil blend with Citric Acid and Dimethylpolysiloxane. | Potatoes, Vegetable Oil Sunflower, Rapeseed, Dextrose. Fried in Non-Hydrogenated Vegetable Oil. Salt is added after cooking |
| Quaker Instant Oatmeal Packets | Whole Grain Rolled Oats, Sugar, Creaming Agent, Maltodextrin, Sunflower, and Palm Oils, Whey, Sodium Caseinate, Flavored And Colored Fruit Pieces (Dehydrated Apples, treated with Sodium Sulfite), Artificial Strawberry Flavor, Citric Acid, Red 40, Salt, Guar Gum, Artificial Flavor, Citric Acid, Niacinamide, Vitamin A Palmitate, Reduced Iron, Pyridoxine. Hydrochloride, Riboflavin, Thiamin Mononitrate, Folic Acid. | Quaker Whole Grain Rolls Oats, Sugar, Freeze Dried Raspberry Pieces, Freeze Dried Strawberry Pieces, Natural Flavoring |
| Mountain Dew | Carbonated Water, High Fructose Corn Syrup, Concentrated Orange Juice, Citric Acid, Natural Flavor, Sodium Benzoate, Caffeine, Sodium Citrate, Erythorbic Acid, Gum Arabic, Calcium Disodium, EDTA, Brominated Vegetable Oil, Yellow 5 | Carbonated Water, Sugar, Citric Acid, Ascorbic Acid, Caffeine. Flavourings, Potassium Sorbate, Gum Arabic, Colour (Beta Carotene) |
| Heniz Ketchup | Tomato Concentrate, Distilled Vinegar, High Fructose Corn Syrup, Corn Syrup, Salt, Spice, Onion Powder, Natural Flavoring | Tomatoes, Spirit Vinegar, Salt, Sugar, Spice and Herb, Extracts, Spice |
| Doritos Cool Ranch | Corn, Vegetable Oil, Corn Canola, Sunflower Oil, Maltodextrin, Salt, Tomato Powder, Corn Starch, Lactose, Whey, Skim Milk, Corn Syrup Solids, Onion Powder, Sugar, Garlic Powder, Monosodium Glutamate, Cheddar Cheese, Milk Cheese Cultures, Salt, Enzymes, Dextrose, Malic Acid, Buttermilk, Natural & Articial Flavors, Sodium Acetate, Artificial Color (Red 40, Blue 1, Yellow 5), Sodium Caseinate, Spice, Citric Acid, Disodium Inosinate, & Disodium Guanylate. | Corn, Vegetable Oil, Sunflower, Rapeseed,Cool Orginal Flavour, Salt, Glucose Syrup, Sugar, Potassium Chloride, Cheese Powder, Flavour Enhancers (Monosodium Glutamate, Disodium 5'- Ribonucleotide), Acidity Regulators, (Malic Acid, Sodium Acetate, Citric Acid), Colour (Annatto), Milk Proteins, Spice, |
| Kellogg's Frosted Flake Cereal | Milled Corn, Sugar, Malt Flavor, Salt, BHT for Freshness. Vitamins and Minerals: Iron, Vitamin C (Ascorbic Acid & Sodium Ascorbate), Niacinamide, Vitamin B6 (Pyridoxine Hydrochloride), Vitamin B2 (Riboflavin), Vitamin B1 (Thiamin Hydrochloride), Folic Acid, Vitamin D, Vitamin B12 | Maize, Sugar, Barley Malt Flavoring, Salt, Vitamins & Minerals: Calcium Carbonate, Niacin, Iron, Vitamin B6, Vitamin B2 (Riboflavin), Vitamin B1 (Thiamin), Folic Acid, Vitamin D, Vitamin B12 |
| Macaroni & Cheese | Enriched Macaroni (Wheat Flour, Durum Flour, Niacin, Ferrous Sulfate (Iron), Thiamin Mononitrate (Vitamin B1), Riboflavin (Vitamin B2), Folic Acid); Cheese Sauce Mix (Whey, Milk-fat, Milk Protein Concentrate, Salt, Sodium Triphosphate, Contains less than 2% of Citric Acid, Lactic Acid, Sodium Phosphate, Dried Buttermilk, Calcium Phosphate, Calcium Carbonate, Modified Food Starch, Paprika, Turmeric, Yellow 5, Yellow 6. | Macaroni (Durum Wheat Semonlina), Cheese (10%), Whey Powder (from milk), Lactose, Salt, Emulsifying Salts (E339, E341), Colors (Paprika Extract, Beta-Carotene). |
Why Does The European Union Have More Food Additives Banned than the United States?
In the United Kingdom, citizens have the right to free, universal healthcare; In the United States, citizens have to pay for their healthcare. Since the U.K government pays for its citizen's healthcare, the EU outlaws any substance that may increase one's risk of developing an illness.
However, in the United States, healthcare is viewed as a business; if you have the money, you receive the treatment; if not, well, you're out of luck. So for some reason, the FDA doesn't have the same urgency to ban these toxins that have been outlawed for human consumption in various countries.
The health statistics reinforce that there is a problem with our food industry and our healthcare system. The Institute of Medicine and the National Research Council found that over 60% of Americans are overweight, and about 33% are obese. In addition, compared to 16 other developed countries, America ranks last in life expectancy. On top of this, 41% of Americans are projected to develop cancer [5].
Food additives may be the culprit for these significant health problems Americans face in the United States. Americans deserve to consume food free of toxins like Europeans. If food companies can alter their ingredients for the U.K because of potential health effects, why shouldn't they do the same for Americans?
Choosing a healthy plant-based and vegan diet is most beneficial when it comes to:


Higher levels of energy;

Improved sleep;

Aids in energy and overall happiness;

Provides a sense of comfort and relief;

Could prevent major diseases such as obesity and diabetes;

Accomplish weight-loss and management; and

Improves mental and cognitive functioning.
There are really no excuses not to try healthier habits in your everyday life. If you are a man or woman looking for specific benefits of adopting healthier habits or just want to know about the general healing properties of herbs. Please remember to comment or post any health questions, or contact us directly!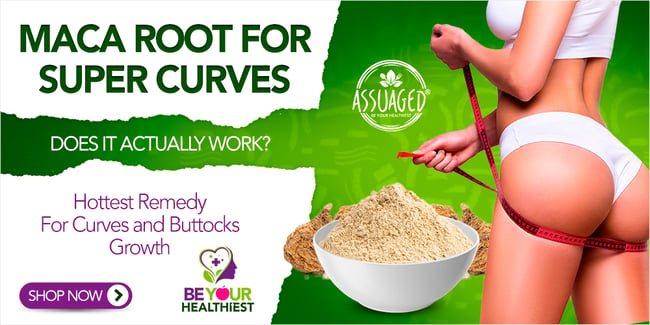 References
Hari, V. (2020, April 16). How Food Companies Exploit Americans. 100 Days of Real Food.
Sanchez, B. (2020, July 1). Food Additives and Other US Ingredients Banned in Other Countries. The Daily Meal
WHO. (2018, January 31). Food additives. World Health Organization.
Uptas, A. (2019, September 27). Turns Out Similar Products In The UK And The US Have Very Different Ingredients And It's Pretty Disturbing. Demilked.
Anjan Dutta May 8th, Dorothy Duda June 20th, Missy Grotz April 2nd, Shelley Tzorfas July 7th, Cynthia March 3rd, Bill Oechsner April 23rd, Pastor William Raymond October 9th, & *, N. (2020, December 10). Chemical Cuisine: 7 Food additives that are legal in the US but banned in other countries. Focus for Health.