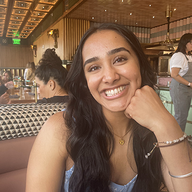 Pardeep Kaur
Assuaged Foundation
Public Health Intern
Hello everyone! My name is Pardeep Kaur, and I am an undergraduate student at Willamette University majoring in Public Health and minoring in biology and business. In the future, I want to go into health administration to work in an organization that promotes equity in striving for and maintaining a healthy lifestyle.

Outside academics, I've developed a love for cooking and learning to use different spices and seasonings to elevate flavors. I have been a vegetarian for 12 years now, and I believe it has helped me achieve a more balanced and healthy lifestyle, especially when combined with my love of fitness.

I look forward to participating in the incredible and supportive community Assuaged has cultivated!