Almonds are one of the most underrated foods on the planet! They're tasty by themselves as well as mixed into dishes. Almonds are an excellent alternative, also. They can be made into butter, milk, and flour. Not only are they super delicious and versatile, but they're also incredibly healthy for you! Here are the top six benefits of almonds.
#1 Almonds are packed with nutrients.
Almonds are filled with vital nutrients that we need in our everyday lives. They're a good source of protein, fiber, vitamins B and E, calcium, iron, potassium, and healthy fats! All of these in just one small tree nut. All of these nutrients help provide a healthy body and mind.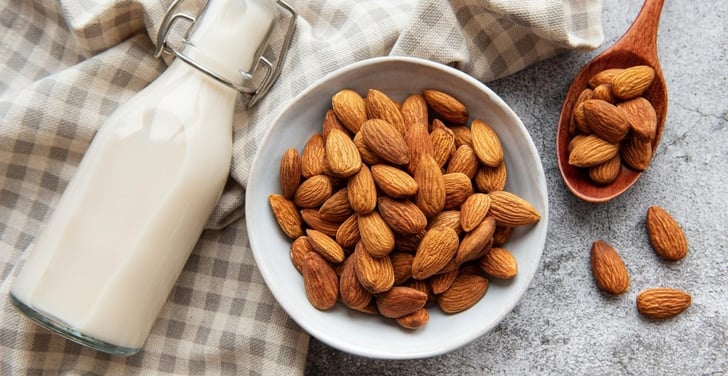 #2 Almonds are a good source of healthy fats.
The fats found in almonds are healthy monosaturated fats and omega-3 fatty acids. Together, they help our heart stay healthy, decrease inflammation, and lower blood pressure! They also lower our bad cholesterol caused by unhealthy foods and stress and increase our healthy cholesterol. Reduced cholesterol allows blood to flow better through our bodies and helps our hearts stay out of trouble!

#3 Almonds have antioxidant functions.
Our bodies produce reactive oxidative species (ROS) from regular body functions. This causes oxidative stress on our cells and body, leading to chronic inflammation. Antioxidants are vital nutrients that help fight and counteract the stress that ROS puts on our bodies. Almonds are an excellent source of antioxidants that can reverse harmful effects!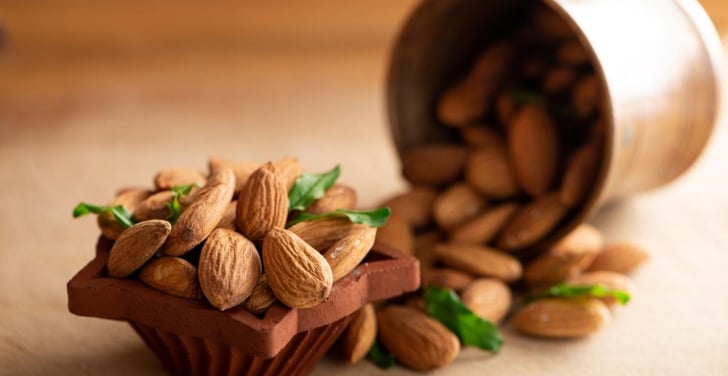 #4 Almonds can help you lose weight.
Almonds are packed with fiber and protein. They make you feel fuller faster and help you stop craving more food. The small number of calories almonds have means you can eat a large portion and not feel guilty the next day! It'll curb your desire to fill your stomach with more unhealthy snacks.

#5 Almonds are anti-aging.
Almonds can make you look and feel younger! Almonds are known to modulate serum lipids significantly. A study was done with a group of postmenopausal women that ate almonds as 20% of their daily diet for 16 weeks. At the end of the 16 weeks, the severity and width of skin wrinkles were reduced in these women. What a great way to look and feel so much better!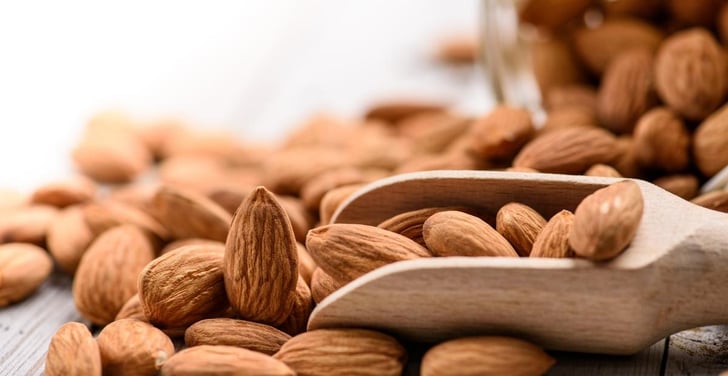 #6 Almonds are great for gut health.
Almonds contain prebiotics and probiotics! We all know yogurt is the classic poster child of probiotics. Eating the same thing repeatedly can get boring, so try something new! Filling the microbiome in your body with healthy amounts of good bacteria is essential to your health. A good microbiome is linked to a healthier immune system -- it helps prevent bacterial infections caused by food as well as other infections.

Almonds are delicious and easy to add to your diet!
Almonds are super versatile. They can be put into almost any recipe that you want. Almond milk can be used as a substitute for dairy, almond butter is a great and healthy alternative to peanut butter, and roasted almonds are a great topping to almost any dish! Even raw almonds are great to munch on if you're looking for a quick and easy snack! Plenty of options and flavors can be added to everyone's diet.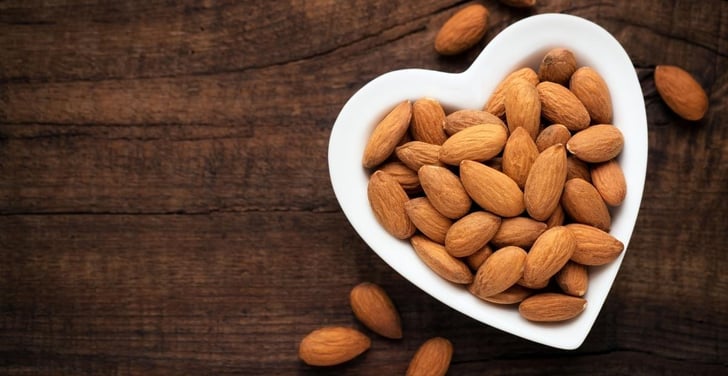 There are so many ways you can incorporate a daily helping of almonds. Not only will it taste great, but it will also make you feel much better about what you're eating and how you feel. Trust me, your body will thank you!