Dandelions can be an annoyance when they're invading your lawn, but did you know they offer several health benefits and have been used to treat ailments for centuries? The information presented in this blog is just the tip of the iceberg for what the powerful dandelion is able to provide.
Nutritional Facts:
1 cup of dandelion offers the following nutritional benefits:
| | | |
| --- | --- | --- |
| Calories 25 | | % Daily Value |
| Total Fat | .4 g | 1% |
| Saturated Fat | <.1 g | 0% |
| Polyunsaturated Fat | .2 g | |
| Monounsaturated fat | <.1 g | |
| Cholesterol | 0 mg | 0% |
| Sodium | 42 mg | 2% |
| Total Carbohydrate | 5.1 g | 2% |
| Dietary Fiber | 1.9g | 8% |
| Sugars | 2.1 g | |
| Protein | 1.5g | |
| Calcium | 103 mg | |
| Potassium | 218 mg | |
| Iron | 2 mg | |
| Vitamin A | 2712 mg | |
| Vitamin C | 19 mg | |
Why Dandelion?
Dandelions, or taraxacum officinale, have dietary benefits. They are herbs that contain Vitamin K, Vitamin A, and Vitamin C. They provide minerals, such as calcium and potassium. Not only are they low calorie, but they are high in fiber too. And, they are readily available!

Dandelions offer several medicinal benefits which include:
- As a holistic treatment, they have the potential to induce apoptosisselectively in cancer cells.[1] In other words, the dandelion root is able to rid the body of cells that have been damaged beyond repair.
- As a cholesterol reducer. In 2010, a study was done on 28 male rabbits to see if dandelion root had any effect on lowering cholesterol. The results showed that dandelion root lowered the 'bad' cholesterol (LDL) and raised the 'good' cholesterol (HDL) numbers.[2]
-They offer potential anti-diabetic properties for Type 2 diabetes. In Turkey and Mexico, dandelions are popular as a holistic treatment option because it is affordable.[3]
-They promote cellular regeneration. The leaf and flower extracts provide a protective agent against Ultraviolet (VB) damage.[4]
-They improve digestion by removing excess water from the body, and reducing constipation.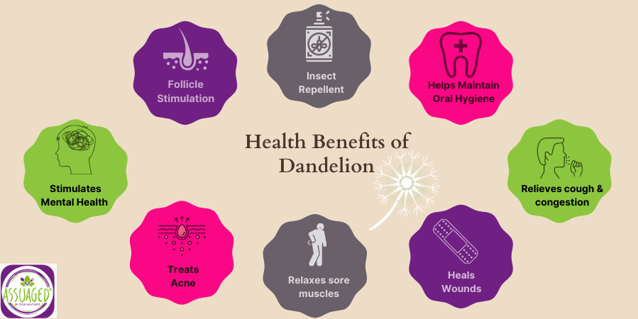 Dietary Forms of Dandelion
-They can be beneficial in both raw and cooked formats. They can be steamed, sautéed, or braised.
-Greens can be added to salads.
-The leaves are good for juicing.
-Tea can be made by infusingthe flowers and leaves.
-The roots can be made into a healing tea by a decoctionprocess.
-The roots can be marinated in vodka for 6-8 weeks to create a tincture
-The yellow petals can be used to make jelly or wine.
** The most important thing to keep in mind about ingesting dandelions is to make sure they have not been sprayed with any chemicals or herbicides! **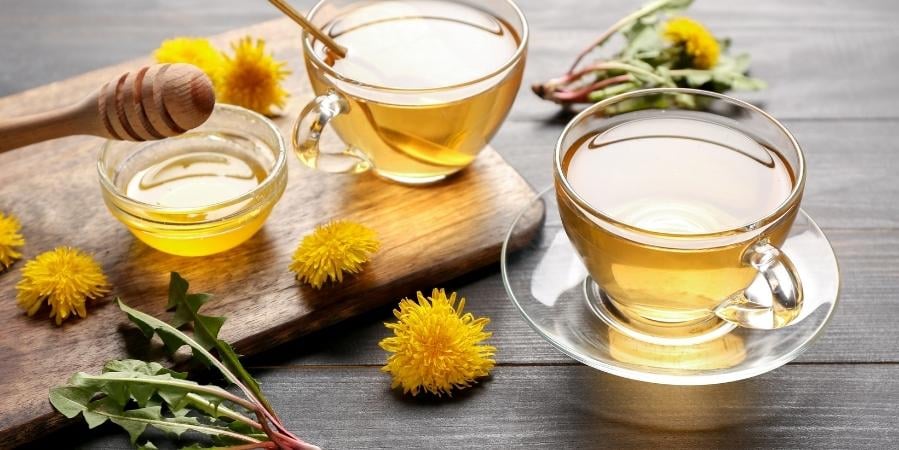 External Uses of Dandelion
Using dried dandelion heads and olive oil, infused oil can be made for use in balms, salves, and soap.
Salve - helpful for sore, tired muscles, & aching joints.
Balm - use on cracked lips, heels, elbows, or any dry, itchy skin.
Soap - provides anti-aging properties and helps prevent acne.
The milky substance inside the stem can be used on warts, cuts, and scrapes.
Summary
The roots, leaves, and flowers of a dandelion all offer health benefits, both inside and out. What are you waiting for? Find an untouched dandelion field or visit your local health food store now! The sky is the limit on how you can prepare dandelions to work for you!