Do you have trouble falling asleep or staying asleep throughout the night? Many studies suggest that practicing yoga can be a great way to improve sleep quality, aid in falling asleep faster, and improve the duration of sleeping hours, because of its physical and meditative aspects and its ability to relax the nervous system.
Yoga combines focused breathing with physical effort and relaxing meditation that has many positive effects on health and wellness. This ancient practice has improved mental and emotional stress, pain relief, weight loss, and better sleep. Nowadays, many people suffer from anxiety, depression, stress, insomnia, sleep apnea, and it affects every aspect of our lives. Sleep is essential for our overall health, and our bodies need it to function correctly and perform on a day-to-day basis.
How Can Practicing Yoga Help Improve Your Sleep?
Like any form of exercise, yoga can be a physically challenging practice, which causes fatigue in the muscles, tiring out your body, making it easier to fall asleep. Additionally, practicing yoga eases muscle and joint pain which can be an essential factor in lack of sleep.

Many people experience nighttime aches after a long day at work, especially those that work on their feet or sit at a desk the entire day. Without easing these muscle and joint pains, it is harder to have a good night's sleep.
With that being said, you don't have to be flexible or athletic to practice yoga for sleep. While the physical aspect may help, you don't need to be flowing through vinyasas and sun salutations before bed, just as you wouldn't go on a run before bed either. It is more of the meditative properties of yoga that will benefit your sleep patterns.

Stress and anxiety play a significant factor in sleep and whether or not you're getting enough of it. Regular yoga practice can lower cortisol levels and release tension, stimulating the parasympathetic nervous system, which helps you feel relaxed in mind and body, resulting in better sleep.
In addition to that, practicing meditation or yoga boosts melatonin levels. Melatonin is produced by the brain's pineal gland, which controls our sleep/wake cycles.

When we increase our melatonin levels, it leads to a more restful sleep. Lastly, yoga can revive the body by aiding in releasing toxins stored in our organs and tissues. By doing yoga before bedtime, you will be removing toxins, which will help calm your mind and take your daily stresses away, leading to a more restful sleep.
Yoga Poses to Try Before Sleep
Remember, the breathwork used in practice is an essential therapeutic aspect of yoga. I suggest holding these poses for one to five minutes each (or longer if desired), focusing all your attention on your breath. Finally, I like to close my eyes to visualize a positive, peaceful setting like a beautiful sunset on the beach.
Legs Up The Wall Pose: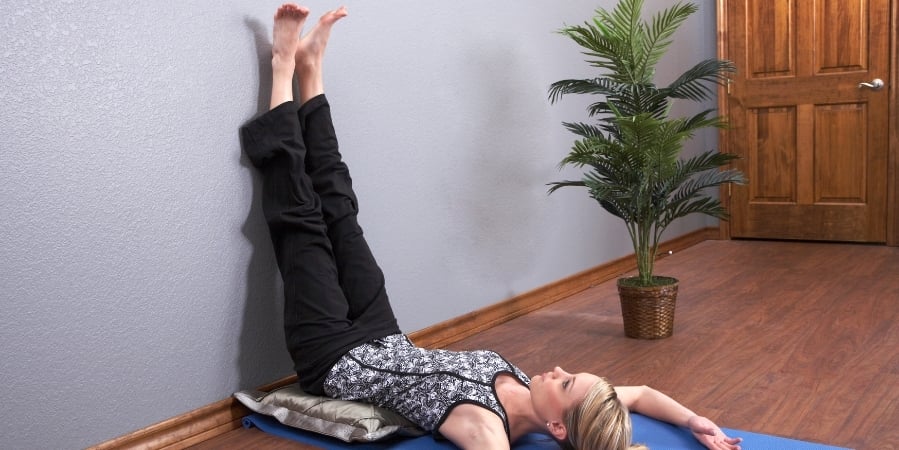 This restorative yoga pose is a very approachable pose that does not require much flexibility or strength with exceptional benefits. Legs up the wall pose can help with insomnia, anxiety, stress, headaches, menstrual cramps, and menopause, all of which impact sleep.

This pose is done by laying down against a wall with your hips as close to the wall as possible and your legs straight up with your calves and hamstrings flat against the wall. Let your arms rest by your side, on your belly, or above your head. Make any adjustments to find what works best for your body.

For example, adding a blanket or pillow under your head or hips may make it more comfortable!
Supine Spinal Twist: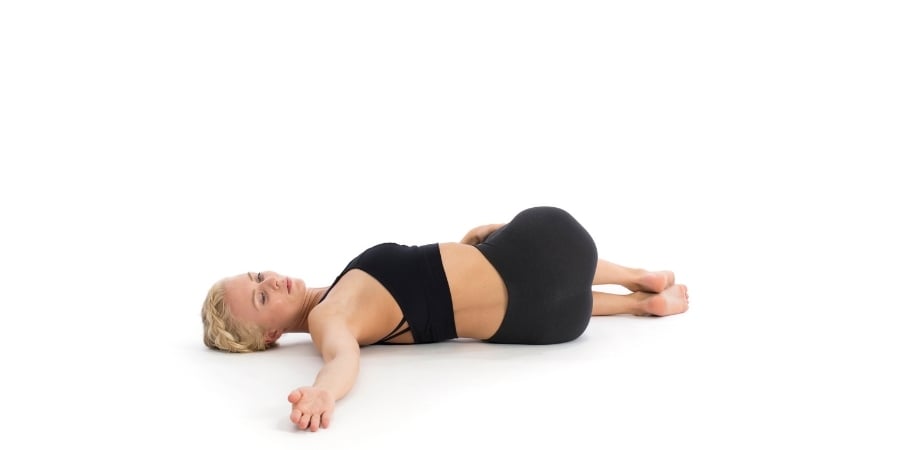 This pose is excellent for bedtime as it stretches and releases tension in the back and the spine. A spinal twist pose can be done by lying flat on your back with your arms out to a T, gently lift both knees together, and let them fall to the right. After a couple of minutes, switch it over to the left. Be sure to breathe slowly and deeply into this pose and feel the excellent benefits.
Child's Pose: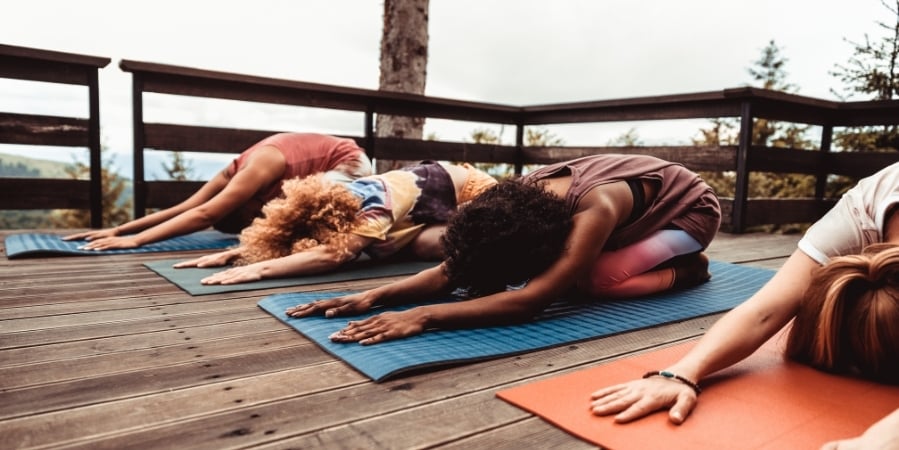 This pose helps calm the brain while creating an excellent stretch in the hips and thighs and easing lower back pain. If you suffer from back pain, it may be beneficial to place a pillow underneath your torso.
Child's pose can be done by going onto all fours, or tabletop position, then bring the tips of your big toes together and let your knees go apart. Walk your hands forward and rest your forehead (third-eye) on either a block or the floor. Be sure not to scrunch your shoulders up by your ears. Relax and breathe deeply in this pose.
Reclining Goddess Pose: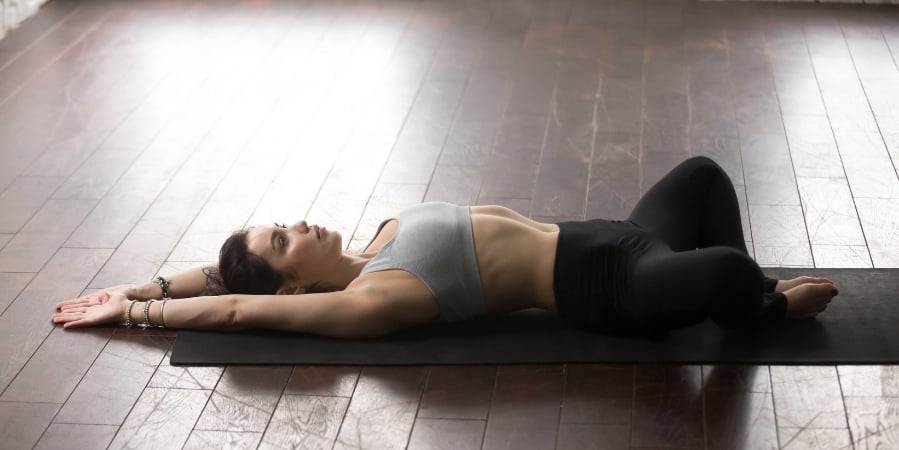 This pose is known to relieve stress and mild depression symptoms by easing the nervous system, improving blood circulation, and stimulating the heart. Reclining goddess pose can be done with a pillow under your head, spine, knees, or all three areas.
Lay down on your back and walk your feet up a bit closer to your hips. Wherever it is comfortable, drop your knees open like a book while keeping the soles of your feet together. You can place your hands wherever they are comfortable, whether that be both hands on your belly, one hand on your belly and one on your heart, or my favorite, above your head in a diamond shape.
Corpse Pose: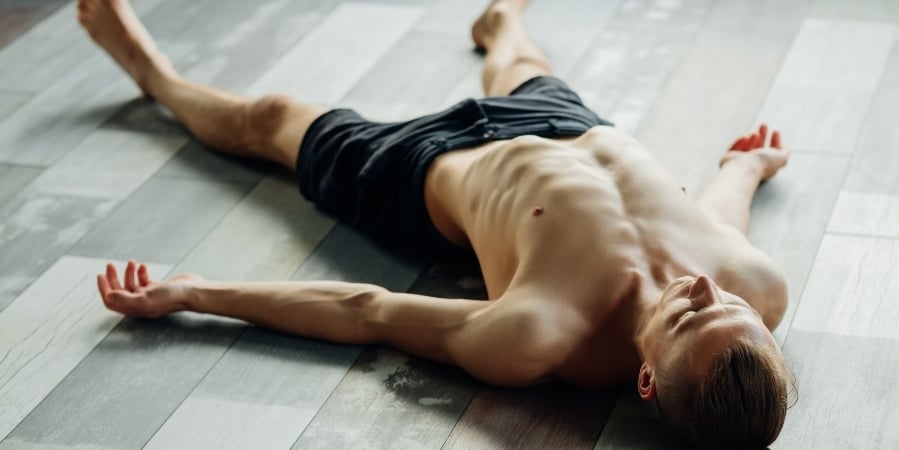 This pose can revitalize the mind, body, and spirit by releasing tension and getting rid of stresses from the day to relax the body completely. This pose can help to lower your blood pressure and decrease your metabolic rate. The Corpse pose is done by lying on your back with your legs straight and your arms by your sides.
Traditionally, palms face up for receiving; however, palms can face down for grounding if it's more comfortable. Let your feet flare out naturally and relax your muscles from head to toe. Try to keep your eyes closed and breathe slowly and evenly.
Anyone that suffers from a lack of sleep should give these yoga poses a try before bed each night. Whether you aren't getting enough sleep due to anxiety, depression, stress, an active mind, or muscle pain - yoga can help with these problems.
In addition, you will likely see immediate effects from doing these poses. With consistency, you will notice improvements within a couple of weeks in your overall wellness regardless of the time of day it is practiced. Best of luck, namaste!
Choosing a healthy plant-based and vegan diet is most beneficial when it comes to: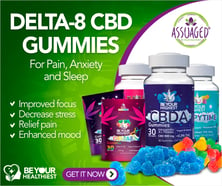 Higher levels of energy;

Improved sleep;

Aids in energy and overall happiness;

Provides a sense of comfort and relief;

Could prevent major diseases such as obesity and diabetes;

Accomplish weight-loss and management; and

Improves mental and cognitive functioning.
There are really no excuses not to try healthier habits in your everyday life. If you are a man or woman looking for specific benefits of adopting healthier habits or just want to know about the general healing properties of herbs. Please remember to comment or post any health questions, or contact us directly!


Also feel free to share any of your favorite recipes to make and share it with the Assuaged community on our ➡️ Share A Recipe ⬅️ page!


References:
Watts, M. (2020). Yoga Before Bed for a Better Sleep. https://www.siddhiyoga.com/benefits-yoga-bedtime.