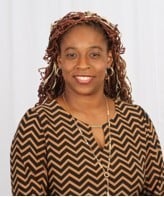 Kimberly Scott
Assuaged, Inc.
Public Health Research
Kimberly Scott currently lives in West Palm Beach, Florida. She is in the last year of the Master of Public Health program at the University of Florida. Her concentration is in Public Health Practice, and her interest in this area involves health promotion and communication and minority health and health disparities. Her focus surrounds healthy lifestyles, researching disease and prevention, and responding to chronic diseases such as diabetes and heart disease. Before entering the academic field, she had the honor of working for an Internist in Palm Beach Gardens, FL, as an advocate for public health. Additionally, her best friend and mentor, who passed away three years ago, was a public health professional from UMASS. Her work of facilitating numerous strategic plans and her appointment by former Attorney General Bob Butterworth to the Board of Palm Healthcare Foundation to represent the community perspective for the distribution of millions of dollars to support local health and human service programs increased her interest in Public Health.
Her career and work experience encompass teaching Medical Assistants, Health Service Administrators, and Business Administration students. She is a business management researcher, author, subject matter expert, and programmatic evaluator. She has taught undergraduate and graduate-level courses across concentrations encompassing international business, business administration, and healthcare management.
Kimberly earned a Medical Assistant Certificate from North Technical Educational Center twenty-three years ago. Her undergraduate degree is a Bachelor of Science with a concentration in Organizational Management from Palm Beach Atlantic University. The love for education inspired her to return and pursue a Master of Business with a concentration in Health Services Administration and Management and a Doctorate in Business Administration with a Global Business concentration from Keiser University. She is currently concluding her Master of Public Health at the University of Florida.
It is a remarkable opportunity to intern with Assuaged Foundation. She aims to apply what she learned while learning what the organization is applying by bridging the gap between healthcare and self-care.