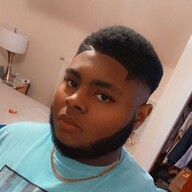 Chris-Henberson Jean
Assuaged Foundation, Inc.
Public Health Student
" You gotta keep your head up" ~ Tupac Shakur
Through the hard times and loneliness and in this harmful world, you have got to keep your head up. Determination and heart with a thoughtful and strong mindset makes a huge difference in this world. I live through and with these things with dignity. Living with a good sense of mentality brings reasoning and joy to oneself and can be a catalyst for both great change and great teamwork. God gives me my strength to help me push forward through life.

I am a very happy individual. I enjoy bringing joy and happiness to all of my loved ones and peers. Many of my companions can agree on me being a goofy, bubbly teddy bear who just enjoys bring himself

There are many accomplishments and achievements that I have under my belt, but personally I am not someone who brags about them. I'm a very proud person and someone who is a family man.