If you're looking for a fresh, vegan breakfast idea packed with superfoods, you've found the right recipe! This dairy-free French toast topped with maca powder is quick and delicious.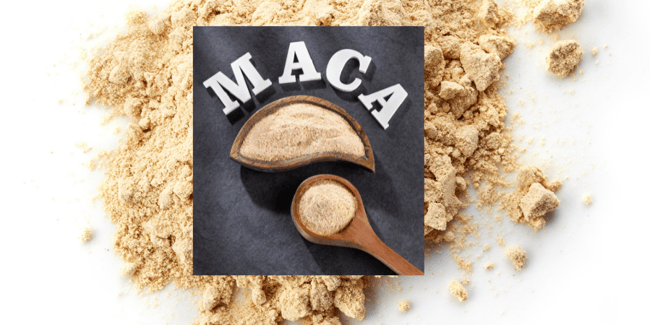 What is maca and why is it a superfood?
Maca is a root vegetable that has a nutty, butterscotch flavor even though it is part of the mustard family. It is native to the Peruvian Central Andes and has been in use for about 2,000 years. [1]
Maca is deemed a superfood because it's very nutritious with multiple vitamins and minerals. It is low-fat, yet contains significant amounts of vitamin B6, copper, potassium, and iron.
Other qualities of maca are:
1) It has been proven to increase libido in both men and women. In some instances, it can improve fertility in men as well.
2) It can boost energy and endurance.
3) Menopausal women see improvement in mood swings, vaginal dryness, hot flashes, bone density, and increased sleep quality.
4) It helps maintain blood pressure. [2]
About this Recipe:
Vegan French Toast with Maca Topping
The type of bread you use in this recipe is the key to its success. A loaf of bread with a thicker crust, such as ciabatta, sourdough, or French bread will work best.
Another key ingredient is cornstarch in place of eggs. Cornstarch will ensure the coating of the bread is crisp and delicious!
Finally, any derivative of a non-dairy beverage will work fine. This recipe uses hemp milk, but oat, soy, almond, or cashew milk may be used as well.
Good luck!