Herbs have been used throughout centuries in different cultures to help heal the human body by targeting specific ailments. Various different types of herbs serve such purposes.
The use of herbs as treatment is also known as herbal medicine, herbalism, and botanical medicine. This type of medicinal system is based on the use of plants or plant extracts that are consumed or applied directly to the skin.
Herbs can also be taken as pill capsules and liquid abstracts. Adding herbs to your everyday routine has proven health benefits, especially when adding raw or dried herbs as a culinary spice to nutritious dishes.
What Are Herbs?
Simply put, herbs are earthy plants that have savory properties. They can be used for cooking food, which adds aromatic flavoring. It's important to know that adding such aromatic quality to culinary dishes is crucial because it emphasizes the qualities of the food we eat.
Herbs are also used for garnishing food; in most cases, we like to eat what looks pretty and delightful. Including herbs in your diet can offer medicinal purposes, promoting physical and mental wellness. Herbs are also used for essential oils and fragrances.
Herbs should be included as part of an everyday healthy diet. Herbal remedies in raw, liquid, and dry forms contain powerful healing compounds that may ease physical and mental disease. This is especially useful to know during times of COVID-19.

Maca Root
Maca Root has a buttery scotch taste. It comes in three different varieties: red, black, and yellow. Each type has specific healing properties. Maca Root is most commonly bought in the form of powder, which can be added to drinks, cereals, baked goods, and other foods.

Although the three different types vary significantly according to color, they have multiple health benefits in common. This amazing superfood is known for its ability to boost stamina, reduce stress, improve fertility and libido, fight depression, increase energy levels, and more!
Learn what color Maca Root is best for you here!
Ginger Root
Ginger root has been used for over 5,000 years. This powerful aromatic herb can be found at grocery stores in the produce aisle. Its appearance comes in the shape of what may look like fingers and toes. Ginger root can be used in fresh, dried, and powdered forms. Ginger offers antioxidant and anti-inflammatory properties.

This herb can also be eaten raw or juiced. When consumed raw, it can offer relief from pain and enhanced digestion. Many health marketplaces such as Whole Foods offer wellness shots containing ginger and other herbs for an extra immunity boost and enhanced health. Ginger is a very common ingredient in culinary recipes and juices.
Learn more about the health benefits of ginger here!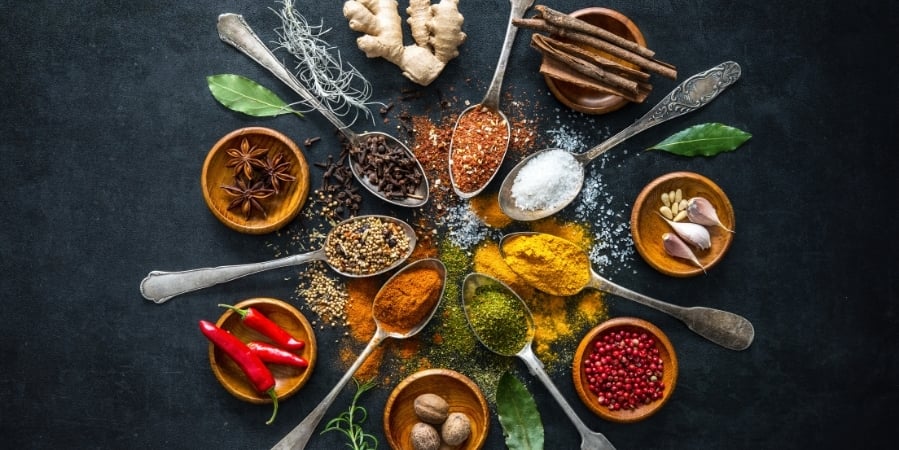 Garlic
Garlic is a powerful and potent antioxidant, used in various culinary dishes. This super-herb comes from the onion family. It can be consumed fresh, dried, or powdered. Garlic is also added to culinary delights such as soups for flavor and to aid in healing and relief.

Garlic is low in calories and highly nutritious. Consuming this herb daily can offer many health benefits, enhance immunity, and stimulate overall wellness. Garlic is also said to be used as an antibiotic in potent capsule forms that shouldn't be overused. If you have weakened immunity and face frequent illness, garlic may help you achieve optimal wellness and balance.
Yarrow
Yarrow is a flowering herb, closely related to chamomile and chrysanthemums. This herb goes back into ancient times and has several benefits such as improving and healing internal and external inflammation, digestion, skin wounds, menstrual imbalances, minor bleeding, insomnia, amenorrhea, anxiety, mastitis, asthma, and high blood pressure.

It's important to note that yarrow should be added to culinary dishes in finely powdered form or by using its soft leaves. The roots are sticky and woody and may be unpleasant to consume. Yarrow can also be used for the relief of nausea and menstrual pain.
Learn more about the power of yarrow here!
Oregano Oil
Oregano is used in cooking cuisines of all types and is one of the most used herbs today. There are several health benefits, including strengthening immunity, gastrointestinal healing, anti-fungal, and antibacterial properties.

This powerful herb is cancer-fighting, beneficial in treating UTIs, respiratory infections, yeast infections, and parasitic infections. Oregano can be used in fresh, dried, oil, and powdered forms.

When oregano is taken in the form of capsules, please note that they may contain animal byproducts in the gelatin shells. It's essential to look out for vegetarian or cellulose-based capsules that don't contain animal byproducts.
Ashwagandha
Ashwagandha is an ancient medicinal herb with many healing properties that especially benefit energy and fertility. It also contains adaptogens that can help your body manage stress and anxiety. Additionally, it reduces blood sugar levels and contains anti-cancer properties.

This herb is often taken in capsule and powder form. Ashwagandha can be added to soups, smoothies, and shakes. Ashwagandha may also provide countless benefits for your body and brain.

Learn more about ashwagandha here!
Sage
The herbal remedy sage is used in any and all forms, including the clearing of negative energies in household spaces. Sage is high in nutrients and has powerful antioxidants. This ancient herb may help support dental health, reduce overall blood sugar, and decrease bad LDL levels. Sage may even help relieve menopause symptoms.

Sage is aromatic and delicious, especially when added to soups and as a spice rub. This powerful herb may enhance physical well-being, memory, and improve brain health. Sage is not one to skip in your everyday spice blends, as it carries powerful healing compounds, including anti-cancer properties.
Learn more about sage here!
Herbs are most beneficial when it comes to:


Improved physical, mental, and emotional health;

Enhanced circulation and lower blood pressure;

Stress and tension relief;

Anxiety and depression;

May treat disorders such as cancer, heart disease, neurodegenerative disorders, autism, and Crohn's disease;

Pain relief;

Infertility and menstruation;
There are really no excuses not to try herbs in your everyday diet. If you are a man or woman looking for specific benefits of herbal remedies or just want to know about the general healing properties of herbs. Please remember to comment or post any health questions or contact us directly!




References
HealthLine (2020). 12 Health Benefits and Uses of Sage.

HealthLine (2020). 12 Proven Health Benefits of Ashwagandha.

HealthLine (2020). 11 Proven Health Benefits of Garlic.

HealthLine (2020). 11 Proven Health Benefits of Ginger.

Price, A. (2018). Yarrow Benefits on Par with Valium for Anxiety.
Mercola, J. (n.d.). Oregano Oil: How to use it to help treat almost all pains, sores, and infections without drugs.
HealthLine (2020). 12 Proven Health Benefits of Ashwagandha.